Relive Kentucky's Greatest Moments in Governor's Cup History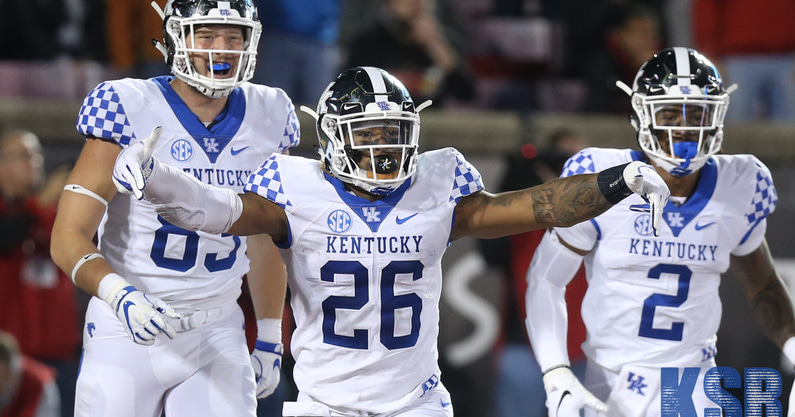 Before the next chapter of Governor's Cup history is written, relive the greatest moments from the rivalry that restarted back in 1994.  From Couch and Stevie Johnson to Lamar's fumble, enjoy every unforgettable moment.
1998: Couch Ruins Cardinal Stadium Opener
The first game of the series in Louisville since the rivalry was renewed, Tim Couch crashed the Cardinals' party in Papa John's Cardinal Stadium's inaugural game.  Couch's Air Raid racked up 801 yards of offense and the Leslie County native threw for seven touchdowns in a 34-point victory.
2002: Ragone Sucks!
J-Rock's favorite Louisville quarterback entered the season with Heisman Trophy hype, hype that was quickly erased by Jared Lorenzen, Guy Morriss and the probation-plagued Wildcats.  UK built up a 16-0 first half lead against the #17 Cards.  Louisville mounted a comeback, but ultimately could not overcome Kentucky's smothering defense.
2007: Stevie Got Loose
The ninth-ranked Cardinals were just a few games removed from an Orange Bowl victory.  Stevie Johnson Got Loose for a game-winning touchdown, Kentucky's first victory over a Top 10 team since 1977.  It was UK's first big win in a magical season and the beginning of Louisville's downward spiral.
2008: Rumblin' Bumblin' Stumblin'
Hunter Can't-Throw-Well only managed to gain 205 yards of offense against a suffocating defense that forced five turnovers.  Myron Pryor's scoop and score provided the perfect exclamation point.
2014: FIGHT!
Searching for a sixth win and bowl eligibility in Mark Stoops' second season, Kentucky came in hot against Bobby Petrino.  The two teams shared a heated exchange at midfield before the game.  Once the ball was kicked off, Kentucky punched them in the mouth.  UK was a dropped fourth quarter interception away from upsetting Louisville.
2015: Moonshot
Before Lamar Jackson's coming-out party, Kyle Bolin helped give UK a three-touchdown lead.  Josh Forrest returned an interception 81 yards and unleashed the greatest touchdown celebration in school history.
2016: Did you see Lamar do the Heisman? Did you see him fumble?
Louisville was a 28.5-point favorite over Kentucky, but that line should have been adjusted after the Cats' had pregame Dreams and Nightmares.
Stephen Johnson loved this shit on the first snap.
Kentucky's offense hit big plays, Mike Edwards picked off passes and Courtney Love recovered Lamar Jackson's infamous fumble to set up Austin MacGinnis' game-winning kick.  There have been many great wins in the history of the Kentucky football program.  Some would consider this the best they've ever experienced.
2017: Trashcan-gate
Hellbent on vengeance, Lamar Jackson brought his A-game to Kroger Field. Before he completely rolled Kentucky, he helped start quite a scuffle with UK's Jordan Jones.
Denzil Ware took the scuffle to extraordinary levels by throwing a trashcan.
Plenty of holier-than-thou people were embarrassed and offended by Kentucky's lack of discipline in the loss, but in hindsight, it's pretty hilarious. Fights in rivalry gamers are commonplace, but Ware's trashcan took it to new heights, ones that likely never been reached again.
2018: A Bobby-less Blowout
In a disappointing twist, Bobby Petrino did not receive his comeuppance from the Cats. The most hated man in the rivalry was fired before the 2018 season finale, taking some gusto out of a joyful blowout. Lynn Bowden caught two touchdown passes, Terry Wilson had 340 total yards and four touchdowns and Benny Snell and AJ Rose each surpassed the 100-yard threshold in a 56-10 win. The 46-point margin of victory was the largest by the Wildcats in the modern era of the rivalry.
2019: Bowden Runs Wild
Louisville fans actually believed the Cards built up enough late season momentum to take down Kentucky. Lynn Bowden had different plans.
Leading 17-13 at half, on the second play of the third quarter Bowden ran 60 yards through all 11 UofL defenders, serving as the catalyst for a 28-0 UK second half. The Wildcats ran for a school record 517 yards, led by Bowden's 284 and four touchdowns, an SEC record for a quarterback. Kentucky only threw two passes, one of which was a flea-flicker, in the dominant 45-13 victory at a rainy Kroger Field.
A friendly reminder ahead of the 2021 iteration of the rivalry: Chris Rodriguez and Kavosiey Smoke combined for 200 rushing yards on only 11 carries the last time the two suited up against the Cardinals.