Rhyne Howard drops 33 points in record-setting performance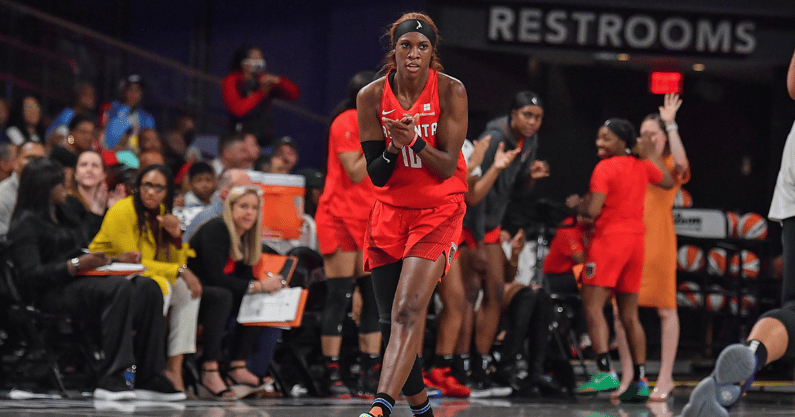 Four games into her WNBA career, Rhyne Howard has already whipped out a pen and inked her name into the league's record books.
On Sunday afternoon, the Atlanta Dream guard scored more points in the first quarter than any rookie in WNBA history with 17. Howard scored just three fewer points than the entire Indiana Fever did as a team (20) in the opening period. Her 17 first-quarter points were also the second-most in franchise history and third-most in league history.
But she wasn't done there…
Howard finished her night with 33 points, the most by any player in the WNBA so far this season, as the Dream snuck out of Indianapolis with an 85-79 victory. Atlanta's top overall pick finished her night shooting 9-18 from the floor, 3-8 from beyond the arc, and 12-17 from the free-throw line. She also added three rebounds, two assists, and three steals to her stat line in over 32 minutes played.
Her afternoon looked oddly similar to some of the games she had at Memorial Coliseum.
Sunday was just the latest example of Howard's budding greatness. She dropped 16 points and four blocks in her debut, 21 points and eight rebounds the next time out, then 13 points and four rebounds on Friday. According to ESPN, Howard's 83 combined points through her first four WNBA games ranks sixth all-time, trailing some of the game's greatest players such as Diana Taurasi, Cappie Pondexter, and Seimone Augustus.
Howard's former head coach at Kentucky, Kyra Elzy, was in attendance to watch the spectacular performance, accompanied by a busload full of Big Blue Nation fans. With the win, Atlanta moves to a surprising 3-1 record on the season.
It's only been four games, but it's becoming more and more clear that Howard is on the path to being a generational player.