Rhyne Howard becomes third Kentucky WBB player to score 2,000 career points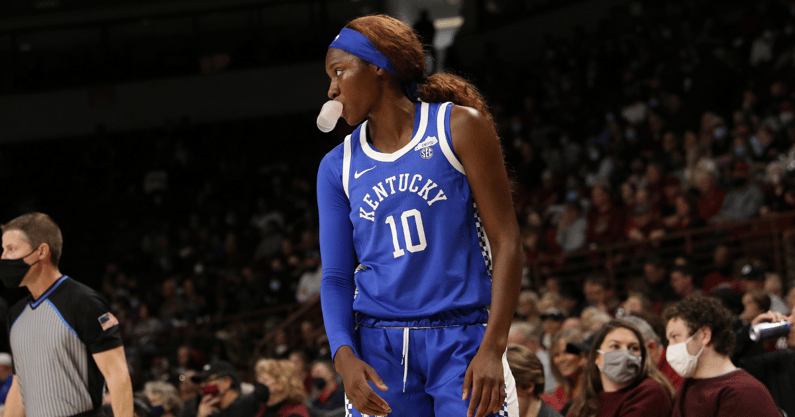 The talent that Rhyne Howard possesses doesn't come around all that often. For Kentucky Women's Basketball, a player of her caliber only comes to Lexington every 40 or so years. Valerie Still (1979-1983) will forever be known as the greatest female hooper to ever suit up for the Wildcats, but Howard continues to build her already Hall of Fame-worthy resume.
On Thursday night, despite Kentucky falling on the road to Vanderbilt 65-57, the two-time reigning SEC Player of the Year accomplished something that only two other players in program history have managed to pull off. Howard finished with 25 points against the Commodores, settling exactly on 2,000 points throughout her college career.
"I'm so proud of Rhyne Howard," Kentucky head coach Kyra Elzy said postgame of the All-American senior. "You know, the accolades continue but what she has done for Kentucky women's basketball — what she has done for women's basketball. She is very, very talented. But what I'm so proud of her, you know, she's really stepped up in a leadership role through adversity."
The native of Cleveland, TN joins both Still and A'dia Mathies (2009-13) as the only two Kentucky WBB players to hit the 2k mark. Howard will undoubtedly move past Mathies in the coming games on the all-time scoring sheet, needing just 17 points to surpass Mathies for second all-time. Catching Still will require some unprecedented scoring to close out Howard's final season though; Still is way ahead with 2,763 career points.
Expanding the criteria to the Kentucky Men's Basketball program, Howard is the third-quickest player to hit 2,000 career points, doing so in her 100th career game as a 'Cat. According to Corey Price, Dan Issel hit 2,000 points in just 79 games while Still needed 90 games to reach that point. Howard is fifth all-time in points when looking at both the men's and women's teams, and will likely finish ahead of Jack Givens (2,038 points), Kenny Walker (2,080), and Issel (2,138) by the time her career concludes.
Not counting potential postseason tournament games, Howard still has nine more contests left in the 2021-22 season. At her current average of 20.3 points per game, she's on pace to finish her UK career with at least 2,182 points, second-most ever by man or woman.
Howard is currently projected as a top-two pick in the upcoming 2022 WNBA Draft. She's on every midseason player of the year watch list and breaking program records every other game. At 6-foot-2, she's a unique blend of versatility, scoring, and defensive instincts. Howard is a coach's dream and expects to have a long and successful professional career.
Don't take her for granted. Enjoy the greatness while she's still around.