Rick Ross, Nelly Back New National Thoroughbred League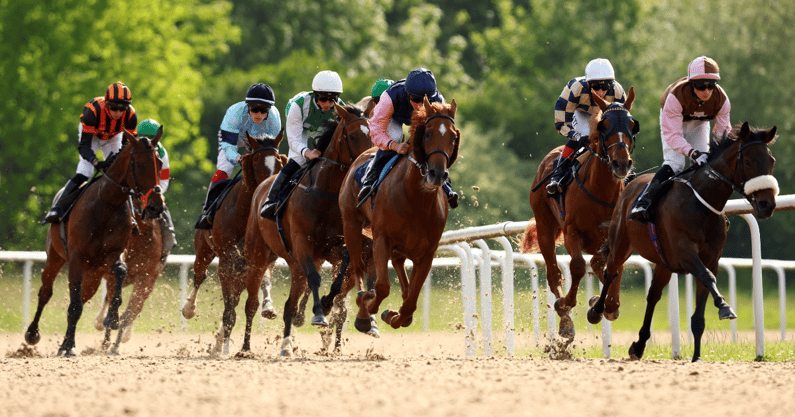 Hip-hop and horse racing. Name a better duo. I'll wait.
Amid concerns about the future of the sport, Rick Ross, Nelly and the New York Giants' Kayvon Thibodeaux are investing in horse racing. They are the mosts notable names that have purchased an ownership stake in a new horse racing venture coming this fall, the National Thoroughbred League (NTL).
The NTL is trying to take a page from the Liv Golf handbook without the sportswashing backdrop. The goal of the new venture is to make horse racing festival like atmosphere "akin to Formula 1." They're also turning horse racing into a team sport. Sound familiar?
Six ownership groups will represent six cities: New York, Los Angeles, New Jersey, Seattle, Nashville, and Philadelphia. Each "team" will have six horses in its stable. There will be five events this fall, called "Cups," with each team fielding a horse in three consecutive races. A points system will be in effect for each race, with the champion earning $1 million at the culmination of the season on New Year's Eve.
Tom Ludt, a former chairman of Breeders' Cup LTD., is the NTL's president of horse racing operations. He tells the DRF his goal is to fill the teams with high-allowance, low stakes-level horses.
"We're going to try to get the best horses we can get without breaking the bank," Ludt said. "It's going to be a balancing act. We're not going to be buying cheap claiming horses, but we're also not going to be buying Grade 1 winners."
The National Thoroughbred League wants to produce stars in horse racing that do not retire as soon a they hit their peak, creating rivalries for each "Cup." They also are steering into the team aspect. Chad Brown will be the head trainer for the New York team, essentially serving as the club's head coach.
Even though the teams represent some non-traditional horse racing cities, like Philadelphia and Seattle, the National Thoroughbred League will be racing at well-known venues across the country. It all kicks off in Franklin on Labor Day weekend at Kentucky Downs.
National Thoroughbred League Schedule
Sept. 2-3: Nashville (Kentucky Downs)
Sept. 15-16: Seattle (Emerald Downs)
Oct. 13-14: New York and New Jersey (Meadowlands)
Nov. 10-11: Los Angeles (Los Alamitos Race Course)
Dec. 30-31: Tampa, Championship Weekend (Tampa Bay Downs)
Will it Work?
I giggled when I saw an initial description that wants to make it an "event akin to Formula 1." Go to Keeneland in April or the Kentucky Derby and tell me that ain't akin to Formula 1.
The team aspect could be a fun way to keep casuals engaged. However, the NTL's primary money-making operation is through ticket sales revenues, and I don't know how many folks will be packing Los Alamitos or The Meadowlands to watch three low-level stakes races. They will need a Rick Ross and Nelly infield concert to draw in the masses.
Investing in horse racing is a risky business. You gotta spend a lot of money to make a little. Potentially earning $1 million after racing a few $100,000 horses five times doesn't sound like a wise investment strategy. It's going to take a whole lot of luck for this to be financially sustainable.