Rob Radio's Roundball Roundup - Week III
Hope everybody had a good Thanksgiving and avoided the awful 24-hour bug that's going around (got me something bad).
This is the time of year that is awesome for college sports in general
, with the football season winding down and basketball season hitting its stride. The classics, jamborees, tourneys, whatever you want to call them went as expected with some close games, upsets and blowouts. The quality of play will increase this week with some more hellacious match-ups between good teams.
Let's get to the week that was in college hoops..
-
Ladies man Bruce Pearl got a big win against defending Big East champ Georgetown
in an up-and-down affair. Cameron Tatum gets lost in the shuffle of all the talent, but has been playing very well so far this year averaging 10 points. Pearl has a legitimate 10 players who he is confident in, which allows him to play the frantic, chaotic, psychotic pace he likes playing.  Like with most teams, the Vols' weakness is at PG. Rap Wanksta Bobby Maze is currently leading the team in assists with 5.5 a game. -North Carolina is a absolute monster of a team. Seems like stating the obvious but they seem extremely close to unbeatable.
Psycho T is back to his old self, proving it on Wednesday when he laid 34 on Frankengody.
T is now been given the crown as "King of Ugly, Chromagnum-esque White Centers" for this year (breaking Mark Madsen's record of 2). Carolina made a preseason Top 10 team (Notre Dame) look like JV's.
I know every writer in American is swinging on the Heels right now, but it needs to be noted - this might be an "all-time" great team.
They seem to never tire out despite their staggering pace and have all the pieces (veteran backcourt, tournament tested, all-americans, ect.) to blitz through the ACC. Only a pitiful shooting night (below 35%) would do the Heels in right now. Plus, they get calls likeDuke used do with Hill/Laettner/Hurley.
Is it just me or does it seem like T should foul out of every game?
-What is Loyola (MD) coach Jimmy Patsos thinking?
He decided to double-team freak Steph Curry, holding him to ZERO on 3 shots, and still got backhanded by 30 to Davidson
. He said after the game,
"Anybody else ever hold him scoreless? I'm a history major. They're going to remember that we held him scoreless or we lost by 30?".
Very strange to me. Did he know he was going to lose and just wanted to be "the guy that held Curry scoreless" or is he just as stubborn as they get? Or is he just an idiot? If they didn't double Curry, would they have lost by 50? Too many questions here and I hope this doesn't start a ridiculous trend. [caption id="" align="alignleft" width="329" caption="Jonny Flynn"]
[/caption] -
Syracuse
was predicted to finish 8th in the Big East by the coaches bfore the season. If that holds, don't be surprised to see the conference with so much debate surrounding it, get a record 9 teams in the tourney this year. Orange PG
Jonny Flynn outdueled Nick Calathes'
Gators
on Monday and scored 25 points, hitting the
game-tying 3 in regulation that led to a victory over defending champ Kansas in OT
Tuesday. Paul Harris, who plays like he's been picked on his whole life, had 14 and 14 as well. Jimmy Boeheim doesn't like the way his patented 2-3 zone is playing right now, so this could just be the tip of the iceberg for this team. -
Gonzaga needs to finally make the jump this year and get into a Final 4.
They have the tools and Mark Few scheduled some non-conference "NCAA caliber" games in Memphis, UCONN, and Tennessee to get his team a few reps against styles they won't see in the WCC. 
Their first 7 is as good as the majority of top teams
. Every one of them could go off for 25 on any given night.  The true test will be against a running team - Tennessee (Old Spice Final on Sunday). It will be interesting to see how the Zags tire and how deep they can go (twss). The "underdog" label is long gone. - Oklahoma's
Blake Griffin
is making me rethink this whole "overrated" line I've been taking look pretty ignorant, so I'm going to make my first retraction of the year and say he's damn good.
27 and 19 a game are Durant/Beasley kind of numbers that warrant a possible #1 draft selection.
He, Curry and Psycho are going to battle for the Naismith throughout the year, but Griffin has the more upside of the three. His Sooners looked gained credibilty with wins against Purdue and UAB this week. However, Purdue was hamstrung by foul trouble the whole game and would beat Oklahoma on most occasions. - UCLA is feeling the effects of losing 4 contributors from last year's Final 4 team.
Love, Westbrook, Mbah a Mute and Mata provided nearly half of both scoring and rebounding for the team and they were still picked #6 in the nation?
Reminds me of when Louisville lost 4 starters off their 05 team, were picked in the same position, and failed to make the NCAA tourney. Not saying that this team is going to have the same problem, Jrue Holiday will blossom as the season wares on, but final 4 expectations may be a tad high. - Michigan's
Manny Harris
is averaging 22-8-4 on a team that upset the aforementioned Bruins and gave Duke a lot closer of a game than the score indicated (71-56). Funny thing is, Harris will get his second shot at Duke in a week when the Devils visit Ann Arbor. Harris, the Big Ten's leading returning scorer, is an old-school slasher and you can just sense his potential. As a leftover from the last year's insane frosh class,
he might actually make Michigan one of the teams in the Big Ten I can actually tolerate watching.
Check him out Wednesday against another surprise team in Maryland at 730 on ESPNU. -
Sam Young
of PITT has a video-game cheat of a move you probably remember from last year. It is his [caption id="" align="alignright" width="269" caption="Sam Young - Look at those toes"]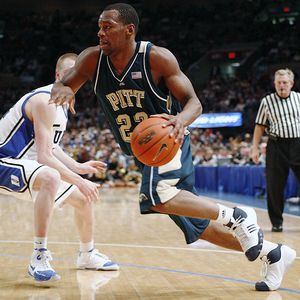 [/caption] shot fake.
It might be cheating and it might be the best move I have seen in a long time
. One of those things that makes you mad because someone on your team didn't think of it.  Such a simple move makes the best of defenders look foolish and confuses referees into thinking it's not a walk. PITT coach Jamie Dixon makes it a point to tell the officials about the tip-toe move before every game (kind of like the Contra code you put in at the start screen) just so they don't call it. 
I think his feet leave the ground
- you can be the judge in January when his team finally plays somebody TV worthy. Young is averaging 20-5 for the 6-0 Panthers.
What to look for this week...
Saturday
- Only 3 games on TV - a day dominated by football.
I heard Xavier is fun to watch
. They take on Miami (Oh) at 430 on FSN sans PG Terrell Hollaway, who was playing well as a frosh before injuring his wrist. He'll be out 3-4 weeks.
Your boy Tubby takes on some scrub team on the Big Ten Network at 3
as well.
Game I wish was on TV
: Dayton v Marquette -
The Flyers shot an abismal 0-24 from 3-point range last night and still managed to beat Auburn is OT
.
Chris "Top Flight" Wright can jump out of the gym and is now healthy
after an injury plagued freshman season. Marquette returns all of their pesky guards from last year including Jerel McNeal and Dominic James for new coach Buzz Williams.
Also, PITT does play on TV at 730 if you have HDNet
Sunday
- Tune into the Louisville game against Western Ky in Nashville at 3 pm just for the simple fact that you might see me make an idiot out of myself on TV. Western lost a lot, but
former Mr. Basketball Steffan Pettegrew probably has a chip on his shoulder that UL/UK didn't give him a shot and wants a little payback
. 530 -
Georgetown/Maryland
- Two great Xs & Os coaches go at it with a lot of talent and hope to end the Old Spice Classic with a win, making the trip to Disney worthwhile.  730 - Gonzaga/Tennesee -
Austin Daye of the Zags against Tyler Smith of the Vols should be as exciting a matchup as any so far this year
. I just don't think either team plays all that great of defense, so it could be a shootout.
Monday
-
Biiig Monday's here again...lotsa primo games on the tube again...you better wait til the half to hit the john my friend...cause Big Monday's here again (a little Robert Goulet for you)
- Only game of note on TV is the start of the Big Ten/ACC challenege between VTech and Wisconsin. I will be watching MNF, simply because
I'd rather watch Mike Tirico sunbathe than watch Wisconsin play ball
.
Tuesday
-
The ACC/Big Tean challenge continues with the start of 11 games in two day on the ESPN family of networks
. The Grandaddy ESPN will cover the two most intriguing games. First, Ohio St. and another top-notch big-man
BJ Mullens
take on the hot shooting
Jack McClinton
and future UK opponent Miami at 7. Duke visits West Lafayette at 9.
Robbie Hummel and Kyle Singler will push eachother around
and this game might just set a record for "most flops and/or charges drawn" in any organized game since Naismith had the volleyball and peach basket. [caption id="" align="alignleft" width="300" caption="Manny Harris"]
[/caption]
Wednesday
- ACC/Big Ten Challenge continues yet again. Early season upset mongerers, Maryland/Michigan. Both teams are very inconsistent, but have the potential for some real fire-power.
Greivis Vasquez for Maryland is one of those guys you hate because he's not on your team
. The two former national champs face each other at 730 on the U. 
The Heels take on the Spartans in a Top 10 match-up at Ford Field in Detroit at 930
. Izzo has no match for Psycho or Dijon Thompson on the inside although his guards can run with Lawson and Wayne Ellington. Two guys to watch in this game, both role players who could get better over time -
Marquise Gray on Michigan St. and William Graves on Carolina - both players can be asked to score, defend or rebound and fill essential team roles
.
Thursday
- Pac-10/Big-12 Challenge starts - and finishes basically - with a double-header on ESPN2 pitting
USC/Oklahoma
in the first game and
UCLA/Texas
in the second. It all starts at 7 on ESPN2.
Alleged frosh phenom DeMar DeRozan has been DeDissappointment
for the Trojans so far, scoring only 11 points total in losses to Seton Hall and Missouri. He is nowhere close to filling the void left by OJ Mayo. However,
Blake Griffin will finally square off against some competition on the interior in the form of USC's Taj Gibson.
UCLA and Texas have both had tough losses and look to bounce back. The question for Texas: Is AJ Abrams the answer at PG. He is averaging less than 2 assists a game for the Horns trying to fill in the shoes of DJ Augustine.
All 4 teams came into the season ranked around the top 20. This should be the best night of ball all week.
That's it for this week. Go to
lyesreport.blogspot.com
. PEACE