Scouting Report: South Carolina Gamecocks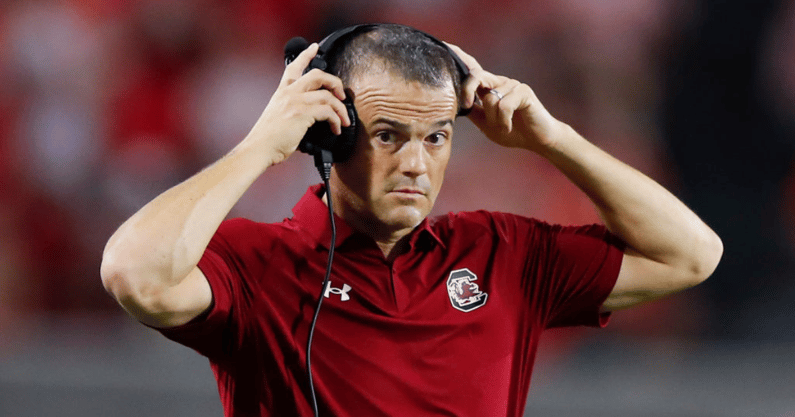 As a new era of football begins in Columbia, Shane Beamer is attempting to rebuild the South Carolina football program. The son of legendary head coach Frank Beamer has a long road ahead, but the Gamecocks have made some early progress.
This Saturday night, Kentucky will put their 3-0 record on the line in their first true road test since 2019. Meanwhile, South Carolina returns home after consecutive road games ended with a tough loss to Georgia.
To help set the stage for the pivotal divisional game, KSR's Scouting Report has everything you need to know about this year's South Carolina football team.
Nuts and Bolts
South Carolina made the jump from the independent ranks to the SEC following the 1991 season. In the 30 years since the Gamecocks are just 99-135-1 in conference play. One of those coaches owns 44.44 percent of those wins.
After gaining some traction with Lou Holtz from 2000-04 with a 33-26 overall record, 60-year-old Steve Spurrier was brought back to the SEC after a failed two-year stint in the NFL, and he led the Gamecocks to unprecedented heights.
In 10-plus seasons, Spurrier owned a .637 winning percentage at a school that is just 20 games over .500 in 114 seasons. Spurrier brought home 44 SEC wins, won the 2010 SEC East title, and recorded three top-10 finishes to go with a 33-6 overall mark from 2011-13. This was an epic run.
Since then, South Carolina is trying to recapture the magic.
After hiring another former Florida head coach, Will Muschamp was fired in the middle of year five with a 28-30 overall record. Athletic director Ray Tanner was asked to make another football hire. Instead of grabbing Coastal Carolina's Jamey Chadwell or entertaining the interest of Louisville's Scott Satterfield, Tanner decided to try to get some of the Spurrier magic back.
Shane Beamer was an assistant at South Carolina under Spurrier from 2007-10 before working for his dad, Frank, at Virginia Tech from 2011-15. From there, Beamer would spend two seasons at Georgia with Kirby Smart and three years at Oklahoma with Lincoln Riley. With multiple years of special teams coordinator history, South Carolina was thinking outside the box.
To begin year one, Beamer picked up a big road win at East Carolina and has his South Carolina team playing extremely hard. With new schemes on both sides of the ball, the Gamecocks are going through growing pains but this football team is fighting.
On the recruiting trail, South Carolins has 17 verbal commitments in the class of 2022 with a couple of blue-chip prospects. The Gamecocks are on pace to have a top-30 recruiting class in Beamer's first full haul, but that was not a problem under Muschamp when Carolina recruited at a top-20 level. Fixing the offense, finding a quarterback, and creating a winning culture are the top jobs for the new head coach in Columbia.
This will be the 33rd meeting between these two programs with South Carolina owning an 18-13-1 series lead. After winning 13 of 14 meetings from 2000-13, South Carolina has lost six of the last seven in the series. Mark Stoops is 6-2 against Carolina with a pair of wins as an underdog at Williams-Brice Stadium.
Out in the desert, Kentucky is a five-point road favorite with a total of 48.5. That's a projected final score around 27-22. Kentucky has been a favorite in every game this season and is 2-1 against the spread. South Carolina has a 2-0-1 mark against the number covering as a 31.5 point dog against Georgia and pushing as a three-point road favorite against East Carolina. Since arriving, Mark Stoops is 7-1 ATS in games against South Carolina.
South Carolina offense
The original plan for Shane Beamer was to inherit offensive coordinator Mike Bobo and offensive line coach Will Friend to continue some of the good things accomplished last season.
However, Auburn came calling.
Both Bobo and Friend made the move to the Plains and that put Beamer on the search late. The new head coach turned to a familiar face.
Both Beamer and Marcus Satterfield worked as graduate assistants at Tennessee under Phillip Fulmer from 2002-03 but went their separate ways afterward. However, the two are now reunited in Columbia.
This is Satterfield's 10th season as an offensive coordinator in college. The 45-year-old spent seven of those years in the FCS with UT Martin and Chattanooga while also serving as the head coach at Tennessee Tech from 2016-17. From 2013-15, he was Matt Rhule's offensive coordinator at Temple.
After leaving Tennessee Tech with a 6-16 record in two years. Satterfield reunited with Rhule at Baylor. The offensive coach has worked with quarterbacks, running backs, wide receivers, and tight ends in college. He would follow Rhule to the Carolina Panthers where he served under rising star Joe Brady for the 2020 season as the assistant offensive line coach.
At Temple, Satterfield's units never finished above 61st nationally in yards per play offense but the 2015 squad won 10 games behind NFL quarterback P.J. Walker and NFL receiver Robby Anderson.
At South Carolina, he is using a pro-style scheme that gets under center. The Gamecocks will utilize some two-tight end sets and will run some outside zone to help get the play-action passing game going. In structure, this has some similarities to the philosophy currently being installed at Kentucky. The Gamecocks want to be a run-first attack that creates explosive plays in the play-action passing game.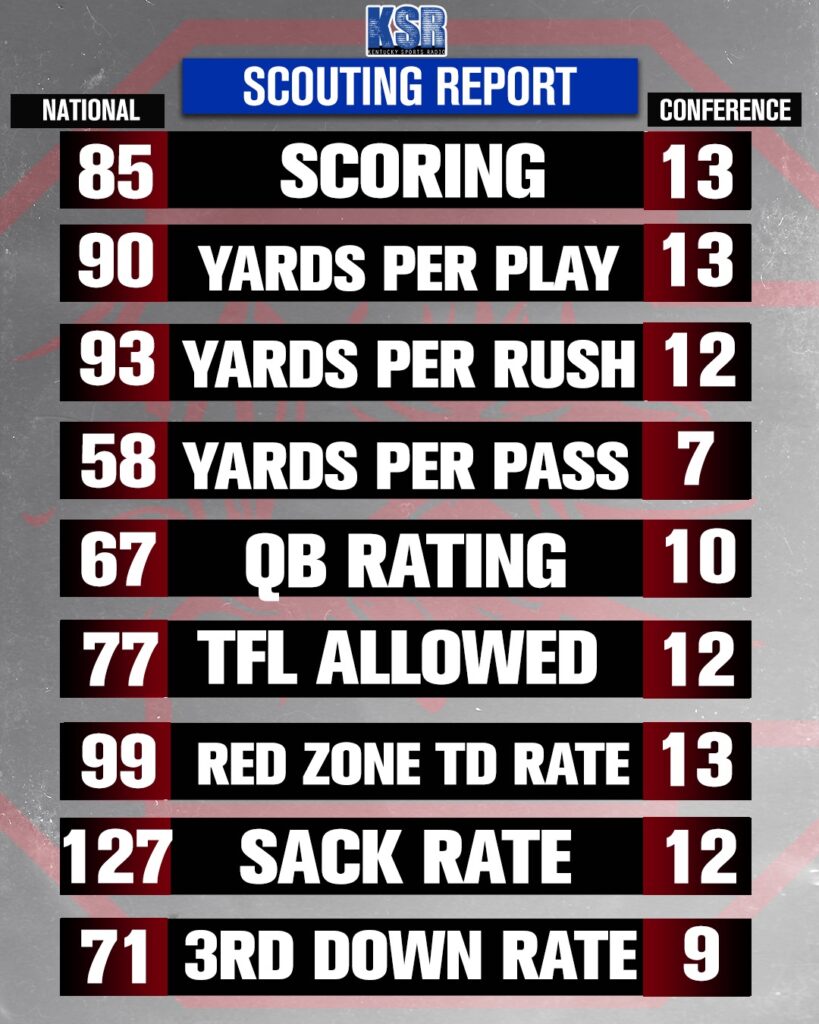 Through three games, South Carolina has a 56.5 percent rush rate proving that the Gamecocks are attempting to establish the run. However, the offense has had some issues doing that despite appearing to have four quality tailbacks.
In the tailback ground game, South Carolina's backs have combined to post a 42.55 percent success rate but the Gamecocks are averaging just 3.75 yards per rush as a team. However, All-SEC tailback Kevin Harris just returned to the lineup full-time last week after missing the majority of fall camp due to a minor back procedure.
Harris ripped off 11 carries of 25-plus yards last season, and his 16.22 percent explosive rush rate was one of the better marks in all of college football. He got an RB1 workload against Georgia last weekend and should see a heavy dose of action against Kentucky as South Carolina looks to fix their rushing offense.
Speaking of establishing the run, the South Carolina offensive line has been a disappointment to this point. Outside of right tackle Dylan Wonnum (No. 79), this group has been one of the weaker offensive line units in the SEC. Against East Carolina, the Gamecocks allowed seven tackles for loss and followed it up with a very disappointing performance against Georgia allowing 26 quarterback hurries. This is a unit with major issues and appears to be the weakest position group in this matchup.
At quarterback, sophomore Luke Doty (No. 4) is returning to the lineup after missing a good chunk of fall camp due to a foot injury. The former top-100 recruit didn't practice last week before playing against Georgia after Zeb Noland was knocked out of the game with a throwing hand injury. The results were not pretty.
Doty posted a passing success rate of just 19.23 percent on 26 throws as he faced constant pressure. The 210-pound quarterback averaged just 5.9 yards per attempt and completed just 50 percent of his passes last season. There are legitimate accuracy concerns, but he has the foot speed to hurt Kentucky with some designed runs and scrambles. However, his vertical passing looked improved.
The main reason for that deep ball success was due to senior wideout Josh Vann (No. 6).
A former four-star recruit out of Metro Atlanta, the 5-foot-11 receiver has become one of the best big-play receivers in college football. Vann ranks fourth nationally in yards per catch (28.2) with a 50 percent explosive catch rate and 62.5 percent success rate on 16 targets. Vann consistently beat press-man coverage against Georgia and is a player Kentucky must slow down.
Elsewhere in the passing game, it's been ugly. South Carolina's two main quarterbacks have a success rate of just 36.99 percent as efficiency just has not been there. The tight ends were supposed to be a big part of the offense, but Nick Muse (No. 9) and Jaheim Bell (No. 0) have received just 14 targets through three games with a 35.71 percent success rate.
In the red zone, South Carolina is currently tied for last place in the SEC with a 50 percent touchdown rate. If the big plays are taken away, it can be difficult for this unit to put long drives together due to the inefficiency in both the rushing and passing game.
South Carolina defense
For his defensive coordinator hire, Shane Beamer went into the Group of Five and plucked WKU's Clayton White. Per ESPN's adjusted efficiency SP+ rankings by Bill Connelly, White produced a pair of top-40 defenses in Bowling Green using a hybrid 4-2-5 scheme. He's installing that same structure in Columbia and has the Gamecocks playing some inspired football.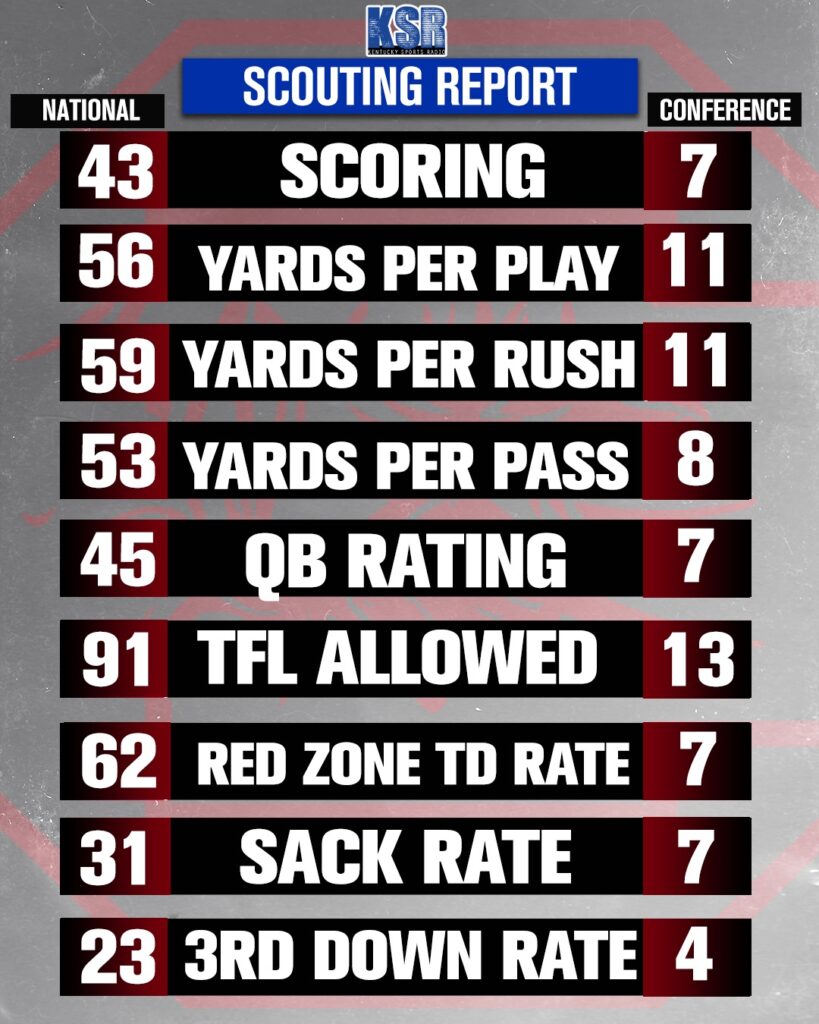 The Gamecocks give up some yardage on a per snap basis, but the defense is doing a really good job at getting off the field on third downs and making some key stops in other situational areas. The strength of the defense is at the line of scrimmage.
In this hybrid four-down scheme, an EDGE player is needed, and that player must be a havoc creator. Thankfully for South Carolina, Kingsley Enagbare (No. 1) is a dude and likely first-round pick in the 2022 NFL Draft.
The All-SEC selection from last season is a former four-star recruit who has emerged as an elite talent. With 12 career starts, Enagbare has recorded 19.5 tackles for loss and 13 sacks in his career at South Carolina. PFF has the Atlanta native as the top-rated EDGE player in the Power Five. The 265-pound rusher will give both Darian Kinnard and Dare Rosenthal issues on passing downs. Kentucky will need to give their tackles some help more times than not.
Inside, both Jordan Burch (No. 3) and Zacch Pickens (No. 6) were former top-10 national recruits out of the state of South Carolina, but the Gamecocks are still waiting for both to break through and have a big season. At defensive tackle, Jabari Ellis (No. 99) flashed last week against Georgia. Super senior Aaron Sterling (No. 15) has 18 career tackles for loss and 11 sacks.
The wild card of the bunch could be Georgia State transfer Jordan Strachan (No. 7). A former walk-on in the Sun Belt, Strachan recorded 9.5 sacks for the Panthers last year before moving to the SEC. He's performed well in a small sample size this year and could give South Carolina a dynamic 1-2 outside pass rush on obvious passing downs.
At the second level, South Carolina was hit with some very hard news this week. Starting Mike linebacker Sherrod Greene was carted off the field at Sanford Stadium and might miss the rest of the season. The redshirt senior was Carolina's clear top player at off-ball linebacker, and the Gamecocks are going to miss him.
To replace Greene, super senior Damani Staley (No. 30) is sliding inside to Mike from his Sam spot. Meanwhile, Beamer put walk-on Darryle Ware (No. 41) on scholarship this week because Carolina is going to need him to play snaps. Redshirt senior Brad Johnson (No. 19) mans the Will spot and has been disruptive recording two sacks this season.
In the secondary, Jaylan Foster (No. 12) is the name to know. A former walk-on that is now in his super senior season, Foster was not placed on scholarship until 2020 but has delivered to this point in the year. The 5-foot-10 free safety leads the team in tackles (16) and leads the country in interceptions (3). The veteran has been opportunistic and has made plays when they have presented themselves.
At cornerback, Cam Smith (No. 9) is a former blue-chip recruit that the program had high expectations for but the South Carolina native missed a good chunk of fall camp and got banged up against Georgia. Junior college transfer Marcellas Dial (No. 24) and former wide receiver Darius Rush (No. 28) have received the most snaps but have been exposed a bit through 12 quarters.
At nickel, Georgia Southern transfer David Spaulding (No. 29) and Divison II transfer Carlins Platel (No. 21) platoon at the spot. Kentucky appears to have a significant on-paper advantage with their passing attack against this back seven.
However, this has been an opportunistic unit. Carolina ranks 9th in the SEC in passes defended (interceptions, pass breakups) but leads the conference with six interceptions. When given a chance, this unit has been able to capitalize. A second-quarter pick-six against East Carolina totally changed the game for South Carolina and buoyed the Gamecocks to a second-half comeback on the road.
South Carolina special teams
Parker White (No. 43) is another super senior on this South Carolina roster, and the veteran is in his fifth season as the program's starting placekicker. Overall, White is 61 of 87 in his career and is nearly automatic from inside of 50 yards. White is 5 of 5 this season and is a legitimate weapon.
At punter, Kai Kroeger (No. 28) is in his second season as a starter. After averaging 43.3 yards per attempt last season, Kroeger is averaging just under 42 yards this season but is not giving up any yards on returns.
On kickoffs, Carolina is using both Alex Herrera (No. 45) and Mitch Jeter (No. 98) but each only has a touchback rate of 58.82 percent on 17 attempts. Opportunities for returns will be there for Kentucky.
In the return department, true freshman Juju McDowell (No. 21) had a huge return to set up a key scoring opportunity in the road victory over East Carolina.
Meanwhile, Beamer Ball is alive and well in Columbia. South Carolina appears to be extremely well-coached on special teams and is planning on making the third phase a huge part of their winning recipe. Already this season, the Gamecocks have blocked a pair of kicks.
Kentucky must avoid a special teams catastrophe on the road. Play the Gamecocks to a draw in the kicking game, and it's a monster win.
Keys to Victory
Is Kentucky's run defense good or bad? We likely won't know the former after Saturday, but we will surely know the latter. Through three games, opposing tailbacks are averaging just 3.74 yards per rush with a 32.86 percent success rate, but Chattanooga showed some chinks in the armor. The Mocs recorded five rushes of 10-plus yards with a pair of attempts going over 30 yards. South Carolina has struggled to establish the run but will likely try to attack the Wildcats similar to Chattanooga. If Kentucky's run defense holds up, it will be very hard for South Carolina to win.
It's pretty simple for Kentucky's offense this week: establish the run. If South Carolina copies the blueprint from Chattanooga and comes out with a ton of two-high safety looks, Kentucky must counter with a heavy dose of run. Lean on your talented offensive line and All-SEC tailback with a mixture of QB run. Make defenses pay for playing big-play prevention defense. Once established, then the vertical shots will be open over the top.
In the SEC, only Vanderbilt has created fewer red zone possessions than South Carolina. The Gamecocks have major issues sustaining drives and when they do the offense is then inefficient at finishing scoring opportunites. In their 10 redczone possessions, Carolina has just a 50 percent touchdown rate ranking last in the SEC. If Kentucky gets some stops in the red zone, things could become very difficult for South Carolina.
Outside of Josh Vann, the South Carolina offense has really labored. The senior receiver is an explosive playmaker. Challenging him in press-man coverage will not be smart. Kentucky must keep their defensive blueprint this week and keep rolling with their three-deep zone looks to take away big plays. Without explosive receptions from Vann it should be hard for South Carolina to consistently move the chains.
South Carolina is better than Kentucky at the kicking game. The Wildcats just need to get close to a draw in this matchup. Field punts, avoid blocked kicks and keep kickoffs in bounds. Kentucky's chances at a win go up drastically if South Carolina isn't able to create a large field position advantage in the game.
Against both ULM and Chattanooga, Will Levis threw interceptions on Kentucky's side of the 50 that led to immediate scoring opportunities for the other team. Kentucky will need their quarterback to avoid those turnovers on the road against an opportunistic defense. Holding onto the football would also help.
Kentucky's defense has yet to start a game fast. Both ULM and Chattanooga scored touchdowns on their opening drive. Mizzou went 75 yards in 10 plays on their second possession. This would be a good place for a fast start. If Kentucky builds an early lead that could force South Carolina to go pass-heavy. That is not a place the Gamecocks want to be.