Six Things we Learned on National Signing Day
[caption id="attachment_236672" align="alignnone" width="2048"]
@TheGoatSmoke and @ChristopherOats
[/caption]
1. The Best Possible Finish
When Mark Stoops came to Kentucky, he brought a large spotlight to National Signing Day.  The theatrics have never disappointed the BBN, but if there's a surprise, it's usually a bad one.  The last time fans were treated to more than one surprise addition on National Signing Day, Jason Hatcher and Ryan Timmons pledged to play for their home-state school just months after Stoops was hired. This year Kentucky convinced Chris Oats, a long-time Ohio State recruit, to turn down the Buckeyes and play for UK.  It's difficult to make a bigger splash on the recruiting scene.  The Cats also filled a vacancy in the running back room.  If Kentucky didn't get Kavosiey Smoke, the offense would be in trouble in 2019.  The Cats accomplished all of their National Signing Day goals.
2. All Hail the Early Signing Period
We knew the Early Signing Period would benefit Kentucky, but we didn't know it would help
this
much. Locking up 20 recruits obviously kept the traditional powerhouses from swooping in at the last-minute to steal some of the Cats' best recruits.  
The addition of Chris Oats
was an unintended consequence in this process.  Vince Marrow said yesterday he would not have been able to devote the time and resources to Oats without the early signing period. "I think us signing them guys and having 20 guys secure really played in factor in me going full bore on Chris Oats, because when you're trying to get that type of kid, it's a constant," Marrow said.  "You gotta recruit that kid everyday.  If we didn't have the early signing period, we probably would've been battling Ohio State for two more guys that we have that's already locked in.  I really like it.  You got most of your class signed and then you can focus on four or five guys, I'll take that anytime." Replicating this kind of success in the early signing period will not be as easy now that other schools have seen how things shake out, but you've gotta commend Marrow and Stoops for immediately finding the right formula.
3. Denzil Ware has Returned to Team Activities
When Jordan Jones and Denzil Ware announced they would return for one more season in the Bluegrass, it was safe to say they were in good standing with the team.  Mark Stoops confirmed they are participating in team activities, but there are still some requirements they must meet to be able to play for Kentucky this fall.
4. Vince Marrow's Hands are Ginormous
Even Andre the Giant would be impressed.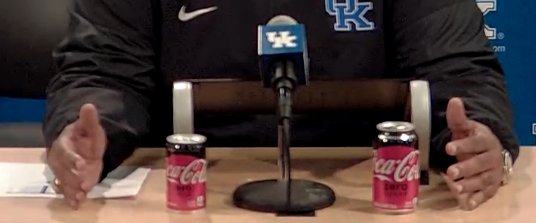 5. Expanding Territory
The addition of Michael Smith has given Kentucky a new recruiting option, Louisiana.  Smith's recruiting specialty was also the specialty of a former assistant, Bradley Dale Peveto.  At the time, Stoops didn't want to overstretch Kentucky's resources.  With an additional assistant and established success in Ohio, Vince Marrow said Kentucky will aggressively recruit new areas. "We are still going to stay in a six-hour radius but also do some spot recruiting." Marrow said Brad White will also do a little work around New Jersey and Rhode Island.  "It's just a platform that we keep going forward. We are going to Michigan, Maryland, Ohio, of course we're going to recruit Florida."
6. Be Patient with the 2018 Class
For the first time since Stoops became the head coach, UK's strength is their experience.  Loaded with upperclassmen, ninety percent of the defensive production is returning.  The numbers aren't quite as significant on offense, but most of the big pieces are back. With a ton of experienced talent, Kentucky didn't need to find players prepared to immediately perform.  They plugged all of the necessary holes and will redshirt the rest of the recruits. Kentucky only has one nose, Quinton Bohanna, on the roster, so they got the best player from Michigan and the highest-ranked player in the class to provide relief.  The Cats lost their punter, kicker (the school's all-time leading scorer) and quarterback.  They will be replaced by the Australia's best kicker, the No. 1 kicker in the continental U.S. and the nation's No. 1 JUCO dual-threat quarterback.  Not too shabby. The other stars in the class -- offensive tackle Darian Kinnard, tight end Brenden Bates, Oats -- all have the talent and potential to become stars; they just don't need to be stars right now.  Hindsight will eventually see the 2018 class as one of Stoops' best. [mobile_ad]