So I guess we're all Dallas Renegades fans now?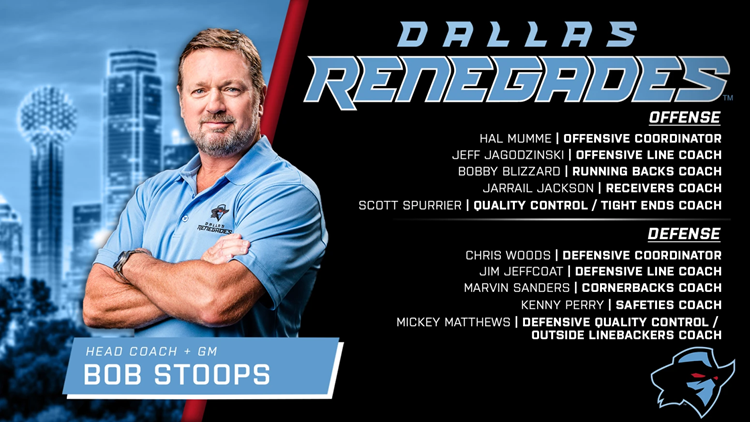 The XFL season will be here before we know it, and you can pretend you won't care and you can pretend you won't watch it, but you absolutely will care and you 100 percent will watch it because it starts after all other football ends at the Super Bowl and you love football. Facts. Stop lying to yourself. Good talk. Now that we've gotten that out of the way, let's pick a team. Dallas Renegades sound good? Perfect. Go Dallas Renegades. I'm a huge fan. Here's why we like Dallas: --
Bob Stoops
is the head coach. He's Mark's brother, so we should root for him to keep it all in the family. Go Bob Stoops. --
Hal Mumme
is the offensive coordinator. If none of these other reasons existed, I would still pick the Dallas Renegades as my XFL team because Hal Mumme is the offensive coordinator. Everything else is a bonus. -- The team's running backs coach is 
Bobby Blizzard, 
another familiar name around Kentucky. Blizzard played for two years at UK as the tight end in Mumme's "Air Raid" offense, but he left the program for UNC once Mumme resigned. -- The Renegades drafted
Austin MacGinnis
with the first pick in the open draft portion of the XFL Draft earlier this week. As soon as the draft format opened up to include all players, Dallas used its pick on a kicker, the former Kentucky kicker, MacGinnis. If I were a betting man, which I am, I would bet Mark Stoops had something to do with that selection. Just a hunch. -- Former UK wide receiver
Jeff Badet
was the team's first overall draft pick. Badet was a key member in Mark Stoops' first recruiting class at Kentucky, the one Stoops threw together quickly after taking the Kentucky job three months before National Signing Day. Badet caught six touchdown passes and amassed almost 1,400 receiving yards in Lexington before transferring to Oklahoma for his final season of eligibility to play for... Bob Stoops. So as I was saying,
Go Renegades
.