Stoops Unhappy with the Secondary at Today's Press Conference
[caption id="" align="alignnone" width="1200"]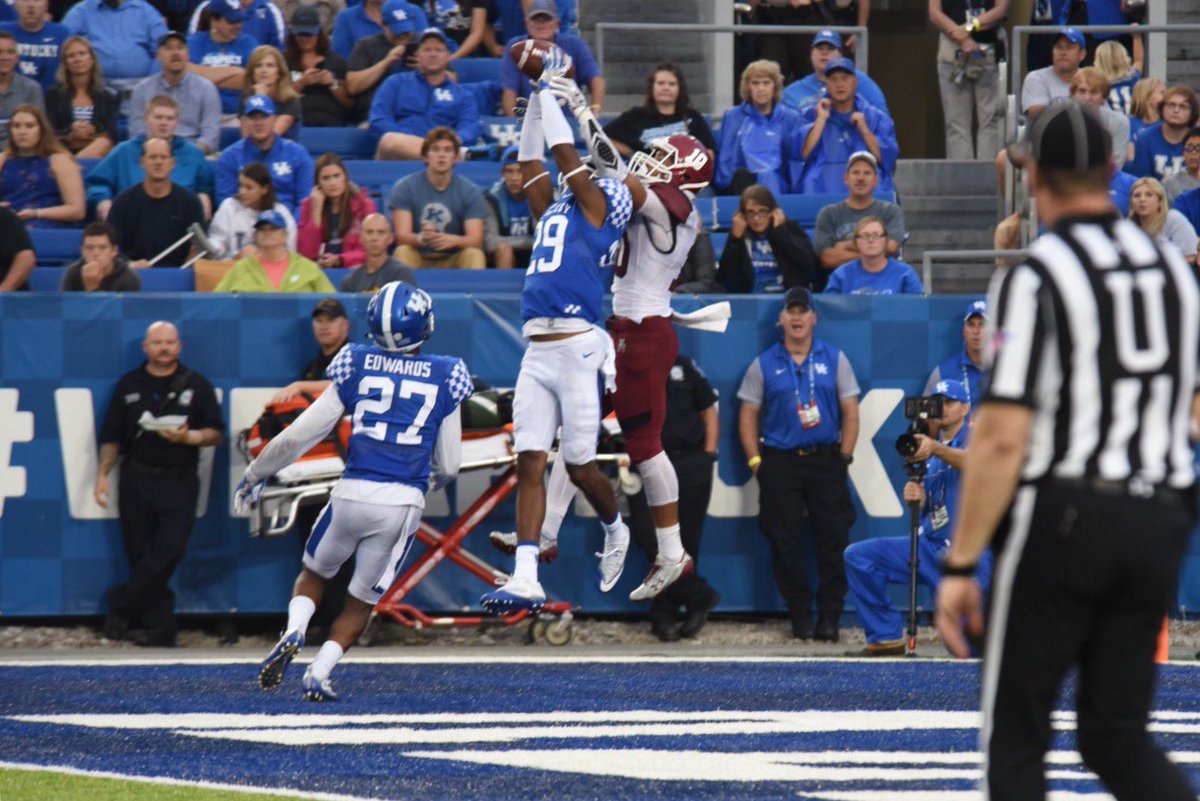 @Unsungheromedia[/caption] Mark Stoops was the happiest we'd seen him all season just two days after the first win of 2016, but that changed when discussing the status of his secondary. "You can't give up big plays.  Just the first touchdown alone is enough to piss me off all week." There were multiple instances of
"common sense" mistakes
that resulted in big plays.  The reverse pass for a touchdown was bad, but that wasn't as aggravating as the "inexcusable" score right before half against UK's deep cover-four zone. "Why were they back there so far?  Because the first time (against Southern Miss) they threw it over our head.  So now they throw it under.  Now they're back so far there's no way they're getting it over our head, and then they catch it intermediately and we don't tackle," he said.  "You gotta get it fixed, period." The inattention to detail is frustrating.  Even though the entire unit must improve,
he didn't hesitate to call out one individual (a rare move by Stoops): Marcus McWilson.
"He's a guy that needs to play better.  I was counting on him coming into the year to play well.  Darius (West) got hurt, but I thought that Marcus would battle him for that spot all along.  With Darius going down it weakened us.  He's gotta step up and play better there." Since McWilson has failed to answer the call, they've been forced to move Blake McClain from nickel to free safety and move Kendall Randolph to nickel.  The inexperience of the two at each position has caused the entire unit to suffer. Opposing offenses have discovered how to take the strengths of the cornerbacks out of the game.  Derrick Baity and Chris Westry excel in press coverage, but
offenses have forced the defense to play more zone, Westry's greatest weakness
.  Even though they're making some inexperienced mistakes, Stoops is pleased to see them respond. "You can't lose your nerve.  If you make some mistakes you gotta go to the next play.  (If) You play that position you're gonna lose some battles, but you gotta come back and win some.  It was nice to see Derrick come in and make that interception." Moving forward, there are some things the secondary must be able to change immediately, without their struggles and mistakes affecting their play later in the fame. "They have to grow up.  They have to take the criticism.  We all have to take the criticism.  It goes with the territory.  Those guys gotta understand, 'you wanna go play in the arena, then deal with it.'" Stoops said, "You just gotta continue to work."  
Other Notes 
"I'm sure it was a legal play."
That was a snide remark for the obvious horse collar the officials missed when Stephen Johnson was taken to the ground in the second half.  After that play, Stoops told Gran to call off the zone reads.  When Johnson came to the sideline, he told him not to pull the ball away from the running back for the rest of the game. [caption id="attachment_207454" align="alignnone" width="722"]
UK Athletics
[/caption]
Hurt or Injured?
The question has been around football since they were playing without facemarks.  It may seem like they have the same meaning, but as Mark Stoops pointed out today, they do not. "I'm never gonna play a guy that's injured.  In football, you better play when you're hurtin'; you're always gonna be hurt."
Experience Helps the Young Guys on Offense
On the defensive side of the ball, mistakes have plagued the inexperienced group.  On the offensive side of the ball, there's enough experience where they can "sprinkle in" Benny Snell and Landon Young, setting them up to be more successful than their defensive counterparts.
Adding to the Defensive Line Rotation
The most critiqued position on the football field, Stoops needs to see more from the interior of the defensive line.  There's plenty of room for improvement, but he likes what he's seen so far from T.J. Carter, Adrian Middleton and Tymere Dubose. Matt Elam has been limited to strictly playing nose when the opponents are in big sets.  When teams spread it out and he's forced into the pass rush, he's not very effective.  Moving forward, more teams play a style that suits his set of skills.  His backup, Naquez Pringle, needs to be more active on the line.
Second Half Adjustments
Fans can finally applaud Stoops' defense for making some quick fixes at halftime to slow down the NMSU offense.  He applauded D.J. Eliot for finding some things from the press box that were used as quick fixes, but he did not elaborate on specifics.
An Extensive Injury Report
--  Cole Mosier should be back to practice today, but they'll see how his ankle responds throughout the week. --  JoJo Kemp has never had a bad game vs. South Carolina.  Stoops hopes his ankles are back to full strength but "we'll see." --  Dorian Baker's hamstring injury continues to linger.  An injury that can creep up at any time, Baker's status moving forward remains uncertain. --  Kengera Daniel could play an important role for the defense, but the defensive end will have to miss another week as part of a suspension.