Ten Players Who Passed The Look Test
Media Day is the first opportunity we have to hear what the players have to say before the season starts.  It's also the first time we've seen them since spring ball.  For freshmen, it's usually the first time we've seen them outside of a Hudl highlight reel. Since Mark Stoops came to Kentucky, more and more players are passing "The Look Test."  These guys looks like they belong in the SEC, especially after spending the summer relentlessly conditioning their bodies.  There were a few guys you had to see to believe.
Matt Elam
Arguably the most talked about player all summer, when Mark Stoops said at SEC Media Days that Matt was taking his weight seriously, skeptics arose from every corner of the Commonwealth.  A few pictures provided evidence leading up to today, but it didn't paint the full picture. When I saw Matt in  full pads for the first time, I didn't know whether to tip my cap or give him a round of applause.  He's taken his weight loss seriously and dropped down to 350 pounds, with the hopes of shedding 10-15 more by the conclusion of camp.  
He will be in the best shape of his life when the season starts
.
Kayaune Ross
Jeff Drummond says it best: https://twitter.com/JDrumUK/status/761612008076800000 He's bigger than most tight ends and he has hands.  While waiting for pictures, he played a game with Mikel Horton.  Horton held a football three feet off the ground and Ross had to catch it with one hand before the ball touched the turf.  Only a few made it all the way to the turf.  With JUCO experience, he should be able to create separation for big plays downfield.
Boom Williams
Mark Stoops had this to say about Boom's health in the press conference:
"He had to work very hard at conditioning.  Again, capacity. He needs to be able to handle the ball and have a long run and get right back in line and do it again. I think he's trained to build some endurance and, of course, strength. A big part of strength is injury prevention. Hopefully he can stay healthy."
Not only does he look healthy, he feels 100%, and he looks stronger than ever before.
T.J. Carter
Carter didn't receive much hype out of high school, only a 2-star recruit, but after seeing him today I understand why Jeremy Jarmon fell in love with him as soon as he saw his highlight tape.
C.J. Conrad
[caption id="" align="alignnone" width="900"]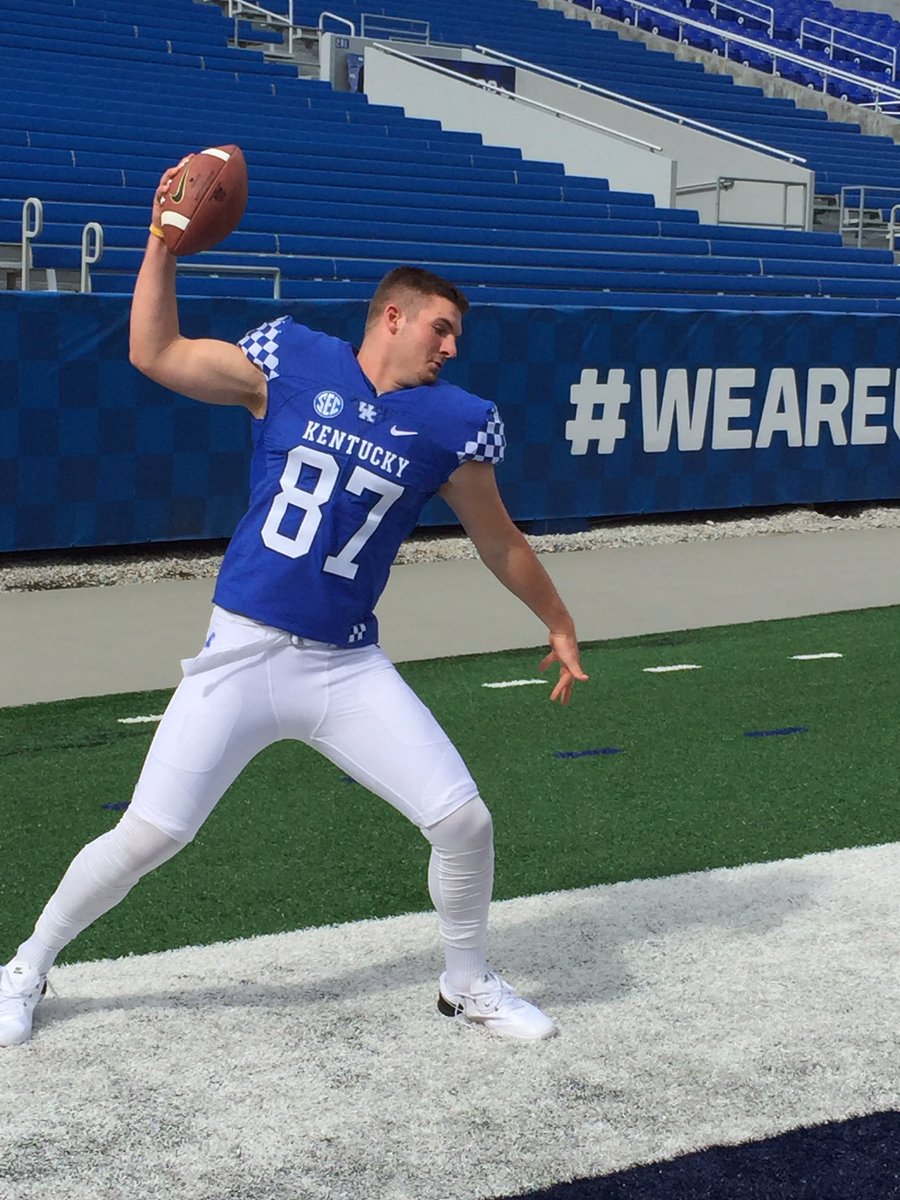 @CoachColosimoUK[/caption] Need I say more?
Derrick Baity
The corner on the other end of the field, Chris Westry (who put on 12 pounds of muscle), receives most of the attention, but the sophomore version of DB is much different than the true freshman that started the last half of the season.  The smashmouth corner's broad shoulders are thick, holding up bulging rocks beneath his biceps.
De'Niro Laster
Of the two transfer linebackers, Laster is seen as the hard-nosed run-stopping thumper.  Even though I've been around him multiple times, I didn't realize how much he looked like a defensive lineman.  As big as he is, he can still be agile in space.  I'm excited to see some big hits from him this fall.
Kash Daniel
[caption id="attachment_204135" align="alignnone" width="2000"]
I should hold my shirt up the next time I interview players.[/caption] Drew asked Kash after we interviewed him, "You been lifting weights?"  Yes, he's been lifting weights.
Kengera Daniel
When the DLine posed for a pic, I didn't know why No. 20 was with the group.  Upon checking my cheat sheet, I asked myself, "THAT'S Kengera Daniel?"  An early enrollee at defensive end last year, I saw Daniel on the basketball court once and thought, "That guy can ball for a big guy."  The big guy trimmed excess off his wide frame.  He's always been an exceptional athlete, but now he's cut-up like one.
A.J. Rose
The true freshman running back did not look like a true freshman.  One of Freddie's favorites in the Class of 2016 did not disappoint.  We might not see him on the field for awhile, but his future is promising.