Terrence Jones and the Rockets aim to tie the Warriors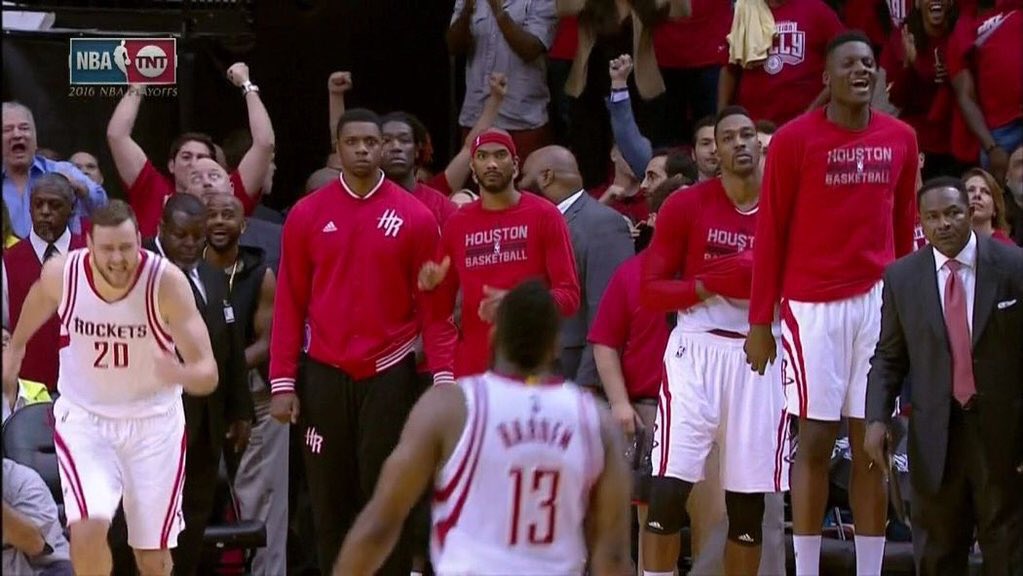 After pulling off a shocker in Game Three and ruining Terrence Jones and Dwight Howard's trip to a tropical island on Monday the Rockets now have some signs of life. The 2-1 series deficit is already better than the start Houston had in last year's Western Conference finals where they fell into a 3-0 hole before losing the series against the Warriors 4-1. So could Houston find a way to salvage their terrible, horrible, no good, very bad season and take down the best team in two decades? Here's the keys to making it happen:
Inbound to Harden, Get out of the Way
Not that this is any surprise as this is the only strategy the Rockets have employed for the past two seasons. In Game 3 Harden punished Golden State with 35 points, 9 assists, and 8 rebounds, including the game winner. James Harden is an offensive force of nature. He's what happens when lightning strikes a radioactive disc of NBA2k in which every custom character has all of their skill points put into jumping shooting. If you spring for unstoppable finisher, there aren't enough points left over to put into defense. The Rockets were up by 17  before Golden State made a late run to claim the lead, in part to the general malaise that has defined Houston's season.
Hope Steph Curry Has an Off Night
The reigning MVP of the association has missed the last two games after twisting his ankle in game 1. That was honestly the only chance that Houston had and they took advantage. But with the loss, the great one must stop resting up for OKC and return to put H-town back in their proper place. So the Rockets have to hope and pray that Steph is rushing things. That he can't glide through the lane with incredible ease or stop and pop from anywhere on the court that he pleases. In other words, they are dreaming. The Warriors haven't lost back to back games all season.
Unleash Terrence Jones
In last year's playoff win over the Warriors, our man T. Jones taught em about 14 points, 5 rebounds, and 2 blocks. The Rockets won by 13. I'm not saying Terrence was the X-Factor but Houston has a secret weapon on the bench in the young man from Kentucky. Jones heads into the offseason as a restricted free agent and a big game against the top team in the NBA could make him millions. Unleash the beast.   Game 4 tips off on ABC at 3:30. Who ya got?