The Five Greatest Anti-Heroes of Kentucky Basketball
  After James Gandolfini's sudden death earlier this week, the word "anti-hero" was thrown around a lot while describing his legendary portrayal of Tony Soprano.
An antihero, if you didn't know, is a protagonist who doesn't possess the traditional moral fortitude that we've come to expect from the people we revere.
In Tony Soprano's case, his vices were pretty deplorable: cheating, lying, murder, and more.   Here at Kentucky,
we grow up idolizing basketball stars,
forgetting sometimes that they're just college kids who still have a lot to learn. But sometimes, just by virtue of being in the spotlight at a program such as ours, the kids' missteps get magnified and fans may question their commitment to the program. Luckily, a lot of our boys are able to turn it around and end their careers on a strong note, leaving a much more favorable memory than perhaps how they entered Kentucky. With that in mind, I'd like to offer the five greatest anti-heroes of Kentucky basketball- and how they were able to leave Rupp as heroes.  
Joe Crawford.
See that picture up there? It came very close to not happening, if Joe hadn't changed his mind about transferring shortly into his freshman season. The Detroit native originally committed to his hometown team of University of Michigan- only to change his mind later to come play for Tubby Smith alongside fellow freshmen stars Ramel Bradley, Rajon Rondo, and Randolph Morris. However, the ride for Joe wasn't so smooth. After starting his freshman season averaging 3.8 points and 2.4 rebounds in 13.3 minutes for the Top Ten-ranked Cats, Joe's minutes dropped drastically against South Carolina and Kansas- a total of seven minutes between the two games, actually.
After that perceived slight, Joe decided that he was going to transfer from Kentucky, right before conference play began.
He was serious enough to have his parents meet with Tubby to discuss his options, which were mostly limited to sitting out the rest of his freshman season and the next season as well, and to clean out his room ate Wildcat Lodge. However, within a week, Joe had changed his mind and decided to uphold his commitment to Kentucky and his teammates.
He went on to become a member of the 1,000 point club, average nearly 18 points per game his senior year, and score 35 points (tying a career best) in his final game as a Wildcat, an NCAA first round match against Marquette.
He's currently taking a lead role in this weekend's inaugural
International Hoops Expo
. From complaining about playing time to reaching out to international basketball players, Crawford has grown leaps and bounds since his freshman year of college.  
Scott Padgett. 
The Louisville kid started slow his freshman year, playing behind future Kentucky legends Antoine Walker and Walter McCarty and only making appearances in fourteen games. Padgett was further plagued by academic problems, perhaps partially due to his self-admitted reputation as a "party animal," causing him to flunk out of school and be suspended from the team.  "There were so many people that were better than me," Padgett told the
Cincinnati Enquirer in 1999
.
"I gave up on basketball and academics as well. It was, like, "What's the point?' That really wasn't the right attitude." 
While at home for his academic suspension, Padgett put his nose to the grindstone and worked three not-so-glamorous jobs: landscaping, selling kitchen appliances, and delivering exercise equipment. After watching his team win the 1996 championship on television, he asked Rick Pitino for his spot back on the team- which Pitino granted, under the condition that Padgett earned a 3.0 GPA. He did, and the rest (1,000 point club, plus averages of 12.6 ppg and 5.9 rpg his senior year) is history. Kentucky fans love Scott today for his classic comeback story, and hitting that shot against Duke doesn't hurt either.  
DeMarcus Cousins. 
Cousins is a little different in the sense that he didn't truly become an anti-hero until after his year at Kentucky. Big Cuz, Boogie, whatever you wanted to call him, DeMarcus Cousins won Kentucky fans over with his candor and goofy antics. Sure, he had flares of hot-headedness on the court (case in point:
an elbow to Jared Swopshire's face
) and the occasional whine to a ref, but for the most part, Cousins loved everything about being at Kentucky- and Kentucky fans loved him right back. With Calipari vouching for him, Cousins had an incredibly successful one-year stand at UK, nearly averaging a double-double and playing a key role in getting Kentucky's swagger back along with John Wall and Eric Bledsoe. However, once in the NBA, trouble seems to follow Cousins around. He's picked up a reputation as one of the game's worst foulers, tangled publicly with former coach Paul Westphal and the director of USA Basketball Jerry Colangelo, and endured two suspensions from his team for (basically) not playing well with others. At the end of the day, Kentucky fans know him as one of the most beloved players in recent memory, and Big Cuz still has BBN cheering for him as he travels the NBA waters. To us and Calipari,
DeMarcus will always be our baby
(do do do, dooo).  
Terrence Jones.
 You may be asking yourself, "How can a young man with such a flattering glamour shot be considered an antihero of Kentucky basketball?" Well, it took awhile for Kentucky fans to know the real T-Jones. Originally committed to Washington, Jones later changed his mind and decided to attend Kentucky. He made a splashy debut- scoring 25 points with 12 rebounds against Eastern Tennessee State- and continued to thrive during his freshman year, even setting the single game scoring record for a freshman with 35 points against Auburn. However,
Jones' freshman season may best be remembered by an unfortunate phrase yelled by Cal during a loss at Alabama.
The "selfish mother f-----" comment stuck with fans and media, despite Cal's quick apology. Another blemish against Jones came in a November 2011 late night car wreck, which led to Calipari instituting a team curfew. Despite a couple bumps in the road and a broken pinky, Terrence made the most of his sophomore year and won the long-awaited championship number eight for Kentucky. However, I'm pretty sure that achievement is secondary to his instant classic rap song entitled "Teach Me Bout Kentucky." Errbody in the crowd always going wild.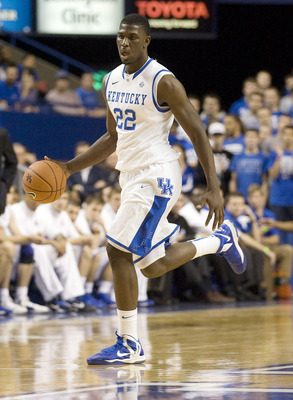 Alex Poythress. 
Sure, this is jumping the gun a little bit, but consider for a moment. Poythress came into Kentucky last season with the reputation of being an absolute beast on the court. With an NBA ready body, Poythress was poised to be the breakout star of Kentucky's team last year. However, as we all know, that didn't turn out to be the case. Poythress showed flashes of brilliance with
rim-altering dunks
, but more often than not, Poythress failed to roar on the court. Fans grumbled that he was too tentative, didn't look like he was trying, and showed a lack of leadership on and off the court. Calipari worked with him privately, but ultimately, Poythress was labeled by many as a huge disappointment, despite freshman averages of 11.2 ppg and 6 rpg.
Luckily, we have the chance to see Poythress make a huge turnaround since he decided to come back for his sophomore season.
Already, we've heard whispers of epic one-on-one battles between Poythress and Julius Randle, which should be sharpening Alex both physically and mentally. Come Big Blue Madness, all eyes in Rupp will probably be on the freshmen; me, I'll be watching to see how Alex reintroduces himself to BBN.  
@KristenGeilKSR