The Top 5 Dynamic Duos In Kentucky History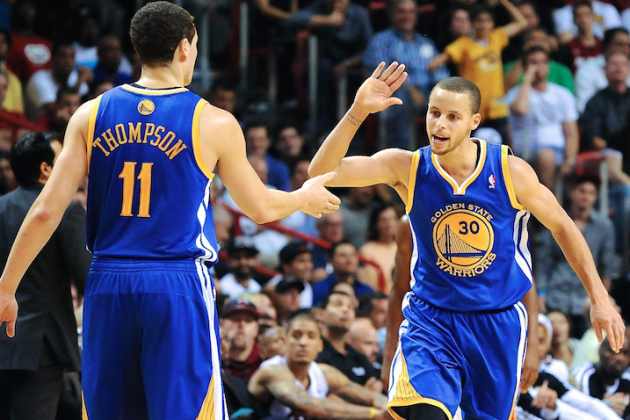 Game 6 is currently underway on ABC and despite the fighting Lebron James' best efforts it is likely that the Golden State Warriors will end tonight as NBA Champions. All season long a large part of the Warriors' success has been the dynamic duo known as the splash brothers. Steph Curry and Klay Thompson are averaging 26.2 and 18 points per game in the finals respectively to form a two headed monster that has been nearly impossible to stop. In honor of the splash bros. I've decided to look back at some of Kentucky's greatest wing talents. Here are my picks for the top 5 dynamic duos in Kentucky history:
5. John Wall and Eric Bledsoe
You give Wall and Bledsoe more than one season like these other guys had and there is no question they come in higher than fifth. John Wall is arguably the first or second best point guard to ever play in Lexington and holds the single season assist record with 241. Eric Bledsoe just scratched the surface of the things he could do in his first season but still showed flashes of the player he would become today. While their finish in the elite 8 was disappointing there is no question they are one of the best duos to ever unite at this school.
4. Wayne Turner and Jeff Sheppard
Here's a breakdown of "Tha Burner"'s four years in Lexington: NCAA National Championship, NCAA National Runner-Up, NCAA National Championship and NCAA Elite Eight. Jeff Sheppard has that same resume but it was his senior year that saw him breakout and be named the 1998 NCAA tournament's most outstanding player.
3. Andrew and Aaron Harrison
[caption id="" align="alignnone" width="693"]
Via UK Athletics[/caption] While their accomplishments are have yet to be viewed through the lens of time it's hard to imagine the things the twins accomplished will be any less impressive. Aaron hit 4 of the biggest shots in the history of this school. Andrew led his team to the only undefeated season UK may ever see. It's a shame they couldn't find a way to win a title, otherwise they would probably leap to the top of the list.
2. Anthony Epps and Tony Delk.
Anthony Epps ranks second in school history in
career assists
. Sixth in school history in
career steals
. And he tallied a 40% mark from beyond the arc. Oh yeah, and he led his team to back-to-back championship games. Tony Delk needs no introduction as he earned his place in the rafters earlier this year. There is a reason every team is compared to 1996.
1. Kyle Macy and Jack Givens
Kyle Macy has a claim to be the best point guard in the history of this school. Jack Givens is without question one of the best scorers. Both jerseys hang in the rafters for good reason as the sophomore Macy and the senior Givens combined to bring home the first non-Rupp title back in 1978. A dynamic duo indeed!   Who do you think is the best outside combo to play at Kentucky?