This Week in Kentucky Basketball: Back to the SEC Grind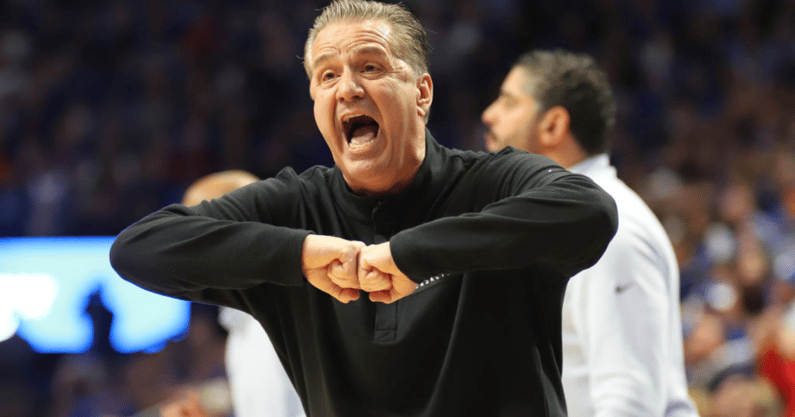 In the final year of the Big 12/SEC Challenge, the Big 12 came away with a five-games-to-three victory. Tennessee took care of business against Texas, but otherwise, the SEC struggled in their marquee matchups. Auburn lost to West Virginia, Alabama was pummeled by Oklahoma, and Kentucky lost at home to Kansas. Now it is back to the grind of the Southeastern Conference schedule. Two games a week through the rest of the season as the calendar flips to February. The Kentucky Basketball team hits the road for a trip to Ole Miss on Tuesday. Then, the Wildcats are back at home for a big matchup against the Florida Gators on Saturday evening.
14-7 overall, 5-3 in the Southeastern Conference, outside of the Top 25, and on the NCAA Tournament bubble is not where any Kentucky fan wants to be. However, that is where the Big Blue Nation finds itself heading into the final month of the season. The Wildcats are entering a stretch where they will likely be favored in their next four games. A lackluster beginning of the season has put the 'Cats in a position where these are must-win games. It is back to a just-take-care-of-business type of approach for the next two weeks. That journey begins with a trip to Oxford Tuesday night to face the 1-7 Rebels. A win won't do much for the resume, but any loss at this point could be crippling. Kentucky has to keep beating the teams they are supposed to beat.
As we do every Monday, it is time to take a look at the week ahead as it pertains to the Kentucky Basketball program. It is all SEC games from here on out. In this article, we will highlight the biggest storyline currently surrounding the Wildcats, preview Ole Miss and Florida, take a look at the SEC standings, and feature the top games to watch nationally. Let's dive on into another edition of this week in Kentucky Basketball.
Top Kentucky Basketball Storyline: Getting Back in the Win Column
It felt like the Kentucky Basketball team was turning a bit of a corner with their four-game SEC winning streak. However, they've been brought back down to Earth some after Saturday's loss to Kansas. Losing to a Top 10 team is nothing to be ashamed of, but there are only so many Quad 1 opportunities left on the schedule. The Wildcats still need some quality wins to even make the NCAA Tournament, let alone improve their potential seeding.
These next two weeks are going to be a big "prove-it" opportunity for Kentucky. They did an excellent job of taking care of business with three wins following the upset at Tennessee. Now they must bounce back after an emotional loss and win the next four. We can't win four in a row without the first one though. That next challenge is at Ole Miss on Tuesday night to visit the cellar-dwelling Rebels.
During the Wildcats' four-game winning streak, they rebounded at an elite level and vastly outshot their season average at the free throw line. Those are two very difficult areas to sustain. Both numbers were actually still above season averages against Kansas, but they weren't high enough to beat such a quality opponent. The one area of improvement that is more sustainable has to do with offensive structure. Moving Sahvir Wheeler to a backup role with Cason Wallace as the primary point guard does unlock some space on the offensive end. Additionally, more minutes for Antonio Reeves and CJ Fredrick puts constant pressure on the opposing defense to take away their shooting ability. Those lineups were effective against the Jayhawks as well.
For Kentucky to reach its ceiling though they need more consistent shot-making from Reeves and Fredrick. There is a stark contrast in their numbers in wins versus losses. On Saturday night they got several quality looks but were a combined 0-8 from three-point range. The Wildcats simply won't win many games, especially against strong competition, with those sorts of numbers. Sometimes winning and losing can truly be as simple as "just play better." For the next two weeks, the only thing that will matter is stacking up more "Ws" in the win column.
This Week in Kentucky Basketball: Ole Miss Rebels & Florida Gators
The Ole Miss Rebels started off the season with a 6-0 record including a couple of quality wins. They are still the only team in the country to defeat Florida Atlantic. Additionally, the Rebels reached the ESPN Events Invitational championship before falling in a close one to Oklahoma. However, Ole Miss has only managed four more wins since while accumulating 12 total losses. Their 1-7 mark in the SEC has them tied for last place. This is a team that has lost nine of their last 10 games and hasn't been within single digits of their last three. We might be witnessing the end of the Coach Kermit Davis era in Oxford.
As for the Florida Gators, they have been through a rollercoaster of a season. A very strong non-conference schedule, followed by two losses to begin SEC play, had new head coach Todd Golden and the Gators sitting at .500 on the season. However, since then they have won five of their last six conference games to get to 12-9 overall, 5-3 in the league. The Gators have a Top 10 defense anchored by elite rim protection. Transfer portal additions plus freshman Riley Kugel have played very big roles alongside All-SEC center Colin Castleton. Before coming to Lexington on Saturday the Gators must take on the Tennessee Volunteers on Wednesday evening. This current four-game stretch, including Saturday's loss at Kansas State and next week's trip to Alabama will tell us exactly how good this Florida team might be.
Around the Southeastern Conference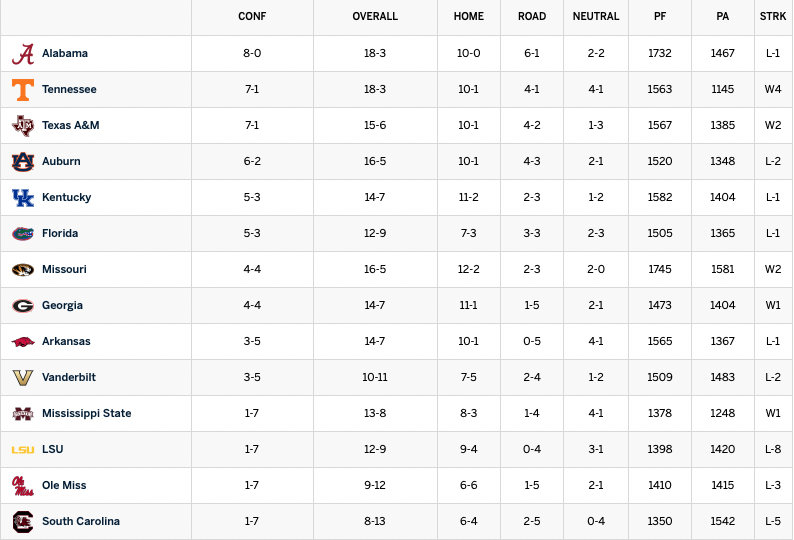 Alabama was beaten badly by Oklahoma in the Big 12/SEC Challenge on Saturday afternoon, but that does not impact their spot at the top of the league standings. The Crimson Tide put their 8-0 record to the test this week against Vanderbilt and LSU.
Tennessee was the most impressive SEC team on Saturday with an 82-71 win over a very good Texas team. Olivier Nkahmhoua went for 27 points on 12-15 shooting while Zakai Zeigler added a 22-point, 10-assist double-double. The Volunteers have now won four straight games. However, they have a tough week coming up with a weekday trip to Florida before hosting Auburn.
Speaking of Florida, they are in the middle of an insanely tough four-game stretch. They fell 64-50 at Kansas State on Saturday only to return home on Wednesday to host the #2 ranked Volunteers. Then, they travel to a face Kentucky Basketball team that is still trending in the right direction despite Saturday's loss to Kansas. A trip to Alabama looms as well to finish off this brutal stretch.
Arkansas versus Texas A&M will be an interesting one on Tuesday night as well. The Razorbacks have won two straight SEC games and took Baylor down to the wire on the road on Saturday. Can they start to climb the league standings? That matchup against the Aggies will be a big one.
Games to Watch Nationally
Monday, January 30th
Syracuse vs. #6 Virginia @ 7:00 p.m. Eastern Time (ESPN)
#10 Texas vs. #11 Baylor @ 9:00 p.m. Eastern Time (ESPN)
Texas Tech vs. #13 Iowa State @ 9:00 p.m. Eastern Time (ESPN2)
Tuesday, January 31st
Boston College vs. #20 Clemson @ 7:00 p.m. Eastern Time (ACC Network)
#23 Miami (FL) vs. Virginia Tech @ 7:00 p.m. Eastern Time (ESPNU)
#8 Kansas vs. #7 Kansas State @ 8:00 p.m. Eastern Time (ESPN+)
DePaul vs. #24 UConn @ 8:00 p.m. Eastern Time (FS1)
#4 Alabama vs. Vanderbilt @ 8:30 p.m. Eastern Time (SEC Network)
#15 TCU vs. West Virginia @ 9:00 p.m. Eastern Time (ESPNU)
Maryland vs. #21 Indiana @ 9:00 p.m. Eastern Time (ESPN2)
Nevada vs. #22 San Diego State @ 11:00 p.m. Eastern Time (CBS Sports Network)
Wednesday, February 1st
#1 Purdue vs. Penn State @ 6:30 p.m. Eastern Time (Big Ten Network)
#16 Xavier vs. #17 Providence @ 6:30 p.m. Eastern Time (FS1)
Florida vs. #2 Tennessee @ 7:00 p.m. Eastern Time (ESPN2)
#25 Auburn vs. Georgia @ 7:00 p.m. Eastern Time (SEC Network)
#14 Marquette vs. Villanova @ 8:30 p.m. Eastern Time (FS1)
Thursday, February 2nd
UAB vs. #19 Florida Atlantic @ 7:00 p.m. Eastern Time (CBS Sports Network)
Wichita State vs. #3 Houston @ 9:00 p.m. Eastern Time (ESPN2)
#9 UCLA vs. Washington @ 9:00 p.m. Eastern Time (FS1)
#5 Arizona vs. Oregon @ 10:30 p.m. Eastern Time (ESPN)
#12 Gonzaga vs. Santa Clara @ 11:00 p.m. Eastern Time (CBS Sports Network)
#18 Saint Mary's vs. San Francisco @ 11:00 p.m. Eastern Time (ESPNU)
Friday, February 3rd
#22 San Diego State vs. Boise State @ 9:00 p.m. Eastern Time (FS1)
Saturday, February 4th
Virginia Tech vs. #6 Virginia @ Noon Eastern Time (ESPN2)
#13 Iowa State vs. #8 Kansas @ Noon Eastern Time (ESPN)
Georgetown vs. #24 UConn @ Noon Eastern Time (FS1)
#11 Baylor vs. Texas Tech @ 1:00 p.m. Eastern Time (CBS)
#2 Tennessee vs. #25 Auburn @ 2:00 p.m. Eastern Time (ESPN)
#14 Marquette vs. Butler @ 2:00 p.m. Eastern Time (FS1)
Oklahoma State vs. #15 TCU @ 2:00 p.m. Eastern Time (ESPN+)
#20 Clemson vs. #23 Miami (FL) @ 3:00 p.m. Eastern Time (ACC Network)
#21 Indiana vs. #1 Purdue @ 4:00 p.m. Eastern Time (ESPN)
LSU vs. #4 Alabama @ 4:00 p.m. Eastern Time (ESPNU)
#7 Kansas State vs. #10 Texas @ 4:00 p.m. Eastern Time (ESPN2)
Charlotte vs. #19 Florida Atlantic @ 4:00 p.m. Eastern Time (ESPN+)
#16 Xavier vs. St. John's @ 5:00 p.m. Eastern Time (FOX)
#9 UCLA vs. Washington State @ 7:00 p.m. Eastern Time (PAC 12)
#5 Arizona vs. Oregon State @ 9:30 p.m. Eastern Time (PAC 12)
#18 Saint Mary's vs. #12 Gonzaga @ 10:30 p.m. Eastern Time (ESPN)
Sunday, February 5th
Temple vs. #3 Houston @ 6:00 p.m. Eastern Time (ESPN2)