Thursday's News and Views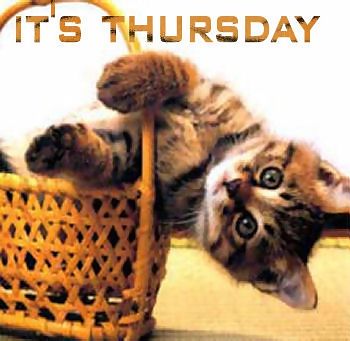 Hello.  Today is Thursday.  According to Wikipedia, it's the fourth day of the week and is derived from the phrase "Thunor's Day", which has something to do with Thunder.  It comes after Wednesday and before Friday.  And today, it comes with some notes on your beloved Wildcats.  Here they are...  - I heard something about
Coach Cal cussing at Terrence Jones
during the Alabama game, but couldn't find anything online about it.  Oh well, I guess we'll just let it go.  Sour.  - With Kentucky's third loss on the road and second in a row in conference play, most of the discussion around the program has centered on diagnosis for the road woes.  There are hundreds of theories, and many of them center around the team being young and are likely true, but the biggest issue appears to be
the team's success is too deeply intertwined with Brandon Knight's individual performance
.  In the three road losses, Knight is averaging 13 points per game and shooting under 40% from the floor.  While that has hindered Kentucky significantly in those contests, it often leaves Terrence Jones forcing the ball offensively, which further breaks down the offensive continuity.  You can assume that Knight will find success more often than he will struggle, but in those games, Kentucky has to be even more focused on shot selection and keeping the ball moving on offense.  Jones will get his, as we've seen throughout the year, but it's more important that the rest of the players find a way to not only get buckets, but be able to provide a consistent threat.  Sour.  - The other obvious theme in the losses so far this season is
the struggles of Kentucky to contend with big men
who can score inside and provide a shot-blocking presence on the defensive end of the floor.  And, while the SEC might not be the strongest conference in the nation, the Cats will see little relief on the schedule in terms of those types of players.  The Cats will face Georgia and Trey Thompkins again and face a Florida team that boasts Vernon Macklin and Patric Young twice.  And while Brian Williams and Tobias Harris of Tennessee might not be the type of long and athletic players that are going to do a lot above the rim, they could still present similar matchup problems.  Even Vanderbilt's Festus Ezeli is developing into a guy who could give UK problems.  So, essentially, not much is changing going forward on the schedule.  It's up to the Cats to develop and adapt.  Sour.  - On Wednesday, UK
officially announced that Twany Beckham had joined the team
.  While Beckham said it was the greatest day of his life when he accepted the offer, I'm guessing he might have been fine with waiting another day or two.  Not the most pleasant of days to join the team.  Sour?  - In the always sought after "players with possessive nouns in their first name" department, Adam Zagoria reported late Wednesday that Orlando Antigua has reached out to
2011 junior college big man God's Gift Achiuwa
.  For a roster that will be void of a physical body inside, God's Gift could be well-received.  Double sour?  - In an interview with a Houston radio station Wednesday,
Billy Gillispie resurfaced and stated his desire to again get back into coaching
.  He made an interesting comment about how he was successful at UTEP and Texas A&M because he had an adminstration that supported him, but never spoke directly about his two years at Kentucky.  With his private life apparently back on track and after a couple of seasons away, it wouldn't be surprising to see him get a chance for next season.  Texas Tech fans seem to be campaigning for him on their message boards and a job like that seems like a good fit for a guy who has great connections in the state and allowed the pressures at Kentucky to turn him into a caricture of himself.  Whiskey sour.  - Speaking of Gillispie, Jeff Goodman reported that former Cat
AJ Stewart was kicked off of the Texas State team
last month after appearing in only nine games for the Bobcats.  Stewart posted 9 points per game in his brief career and will now take his sleepy head to Rogers State, an NAIA school in Oklahoma.  I don't know how competitive the basketball is, but there's no way the girls there are anything like the girls at Texas State.  It's truly one of the most underrated campuses in the country.  Sour-like symptoms.  - After Riyahd Jones departed from the commitment list due to academic issues, Joker Phillips landed
three-star tight end Alvin Dupree,
the first of what the staff believes could be a handful of commitments in the next week or so.  Signing Day is February 2 and there is a confidence from the UK coaches that a number of targets, many of whom have been on campus recently, will fall into place before then.  Not sour in the least.  - Finally, a giant truck full of money made a stop in Austin Wednesday as ESPN and IMG reached a deal with the University of Texas to
create the Texas Longhorn Network
.  The deal is for 20 years and $300 million and will create a channel with 24 hours of programming dedicated to Texas athletics and, no joke, campus musical performances. The portion of the money going to the school breaks down to about $13 million per year.  For their investment, ESPN will get one football game per season.  Yes, one game.  I know what you're thinking.  All that money and they still can't get Drew Franklin to go ambush someone?  Seems pretty crazy.  Great for the school, though.  Longhorn sour. That's it for now.  Stay tuned throughout the day as we talk about a lot of things that don't involve profanity.  The fun gets going with
Matt and Zach at 10 am on Talk Radio 1080
.  Make sure you check it out.  See you in a few...