[caption id="" align="alignnone" width="480"]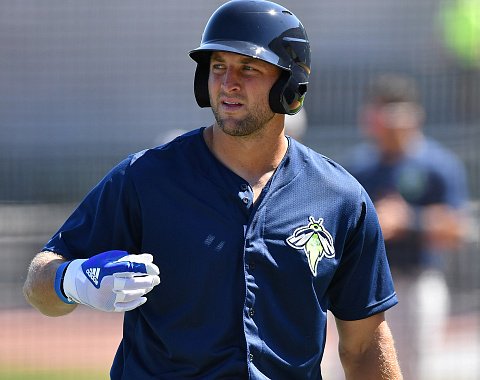 MiLB.com
[/caption] The former Florida quarterback who beat Kentucky regularly (but got knocked out that one time in Lexington) is now a baseball player.  In his first game, he proved that no matter what he does, he will do it magnificently. In Tebow's first career at-bat for the Columbia Fireflies, he went yard over the right-field fence.
Tebow hits a two-run homer in his first minor league at bat. pic.twitter.com/sd04xyvPgW

– Carson Mason (@CarsonAnnMason) April 6, 2017
Tim Tebow with a homerun in his first at-bat! #LetsGlow pic.twitter.com/82cV2y573N

— Columbia Fireflies (@ColaFireflies) April 7, 2017
This is fantastic news...except that I wasn't there to witness it firsthand.  Visiting my sister in Columbia, South Carolina, on my final night in town he's just two miles away, yet I am not in the stands to witness Tebow's miracle.  I could've been there to catch the baseball, sell it and subsequently quit the blog life.  Instead, I have nothing but a reason to feud with her.  Thanks, Christine.