Today on KSR: National Signing Day After a Kentucky Basketball Win
Between National Signing Day and the fallout from UK's win over South Carolina, it's going to be a busy morning around the Big Blue Nation.  There's no time to waste.  Let's get right to it.
Kentucky Rolled South Carolina
And it wasn't ever really close.  The Gamecocks played a physical brand of basketball,
forcing Reid Travis to take an IV after the game
, but it did not produce points.  Kentucky closed the first half on a 17-4 run and never looked back, beating the Cocks 76-48. https://www.youtube.com/watch?v=fporbCvoQZg&t=1s
Incredible E.J.
The Real MVP came from an unexpected source.  As Nick Richards combatted foul trouble and Travis slogged through a rock-fight with Chris Silva, E.J. Montgomery starred.  The freshman embraced the opportunity to get his first career double-double.  Montgomery posted career highs in points (11) and rebounds (13). "He's starting to come around," John Calipari said after the game. "This was a great game for him to prove it against a really physical team, that they're going to get body-to-body on you. He was able to still get it done." https://twitter.com/KentuckyMBB/status/1093136504635838464
Ugh Oh, Ashton
After an excellent month of basketball in January, Hagans has struggled since the calendar flipped to February.  After a so-so performance at Florida, the UK point guard turned it over six times in the first half against South Carolina. "His decisions weren't good," said Calipari. "But in the second half, he got a better feel for it and had a better flow of it and he made better decisions. He had no assists and six turnovers at half. He had four assists and no turnovers in the second half, which is why the score was what it was."
Joe and Smooth Return
Two of KSR's favorites from the pre-Calipari era, Joe Crawford and Ramel "Smooth" Bradley, were the "Y" last night at Rupp Arena.
For more photos from last night's win, check out Dr. Mike's Facebook album.
Special Olympics
Following the win, the UK basketball team returned to the Rupp Arena court to meet with Special Olympic athletes from around Kentucky. "It was great, I love doing things like that," Baker
said
. "Jonny (David) told us right after the game that we were going to come back to the court and take pictures with them. That's part of the reason we came here, to do things like that." On the other side, the Kentucky football team is playing their part to benefit Special Olympics.  Mark Stoops leapt into the ice tub at the Joe Craft FTC with athlete Morgan Turner to promote Saturday's Polar Plunge at Lexington's Texas Roadhouse on Richmond Rd.  Visit
Stoopsplunge.com
to give these athletes an opportunity to participate in Special Olympics.
The Final Four
After signing 21 players in the Early Signing Period, Kentucky focused its recruiting efforts on four four-star recruits: wide receiver Devonta Lee and three defensive backs, MJ Devonshire, Jay Ward and Jammie Robinson. The secondary was a priority following the departure of Kentucky's top five defensive backs.  Mark Stoops and Vince Marrow expect to fill those vacancies with a few more top 30 cornerbacks.  Devonshire is a physical, yet versatile athlete from Aliquippa that could be dangerous in the nickel.  Ward is lengthy cover corner from the state of Georgia.  Robinson's status remains up in the air for a few more hours, but most believe he'll sign with South Carolina. To make NSD an overwhelming success, Devonta Lee needs to leave the state of Louisiana.  That's much easier said than done.  While most recruiting analysts from the area believe he'll play for his home state school, folks close to Kentucky's program believe the Big Blue is still a possibility for Lee.  It's a game of "wait and see" for Lee, who would make an immediate impact at wide receiver next fall for Kentucky.
NSD Schedule
Devonshire and Ward could announce at any moment, but the rest have a more set schedule.
1:45 -- Devonta Lee announces on ESPN NSD Special.
2:00 -- Mark Stoops and Vince Marrow's NSD Press Conference.
~2:00 --  Jammie Robinson announcement on Instagram Live.
The First NSD Signing
Australian kickers are all the rage in college football.  Manny Diaz went to Australia and found a person that in no way shape or form resembles a kicker.  You can't convince me Louis Hedley is a kicker. [caption id="" align="alignnone" width="750"]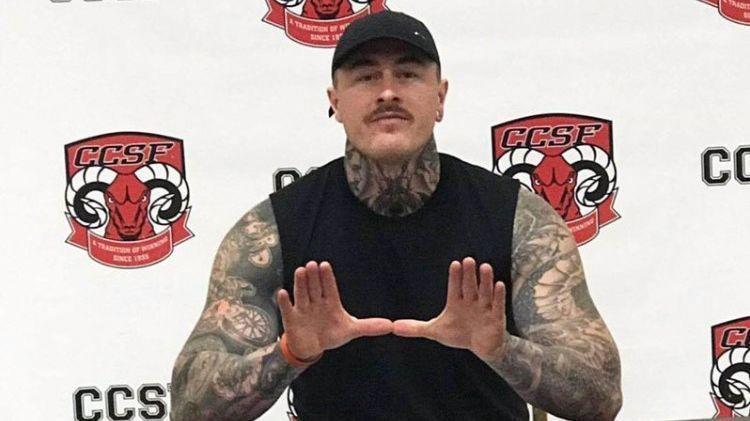 @SunSentinel
[/caption] The U is Back. [mobile_ad]