Todd Grantham, Florida defense will look to challenge, confuse Kentucky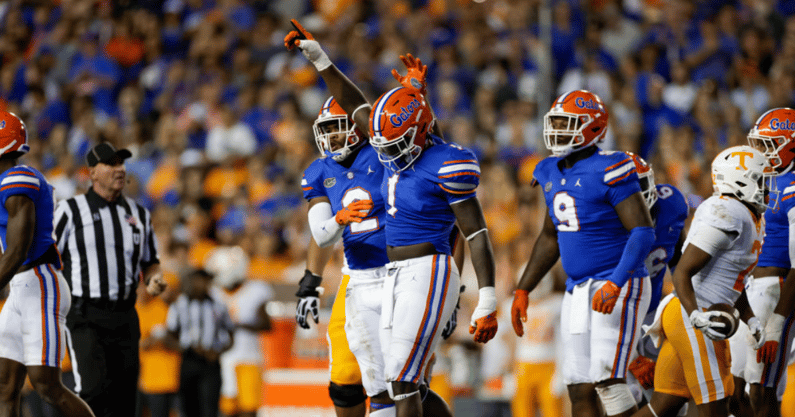 Mark Stoops and Kentucky are very familiar with Florida defensive coordinator Todd Grantham. For the 12th season in a row, one of his defenses is an opponent.
The 55-year-old has been a defensive coordinator at four different programs since 2010 — Georgia, Louisville, Mississippi State, Florida — with each being a yearly opponent for Kentucky. The Wildcats know Grantham and his pressure-heavy scheme well.
"Defensively with Todd Grantham, does a wonderful job," said Mark Stoops on Monday. "A lot of respect for Todd and his defensive philosophies and the way they play. Very long, athletic defensive group.
The long-time defensive coordinator has been with Dan Mullen since 2017 and has given many offenses issues. When in doubt, Grantham sends pressure and likes to dictate the terms of the game to the opposing offense. This is a havoc hunting defense that isn't afraid to give up some big plays in exchange for negative plays and to put pressure on opposing quarterbacks.
"To Todd's credit, he really will change things up a lot too," said Stoops. "He really does. He does a nice job to be — and I say this in a complimentary way — can be unpredictable."
The Gators will go to zone in certain situations and will almost absolutely show some two-high safety looks with deep four-deep coverage to take advantage of some stuff that Kentucky has struggled with over the last eight quarters. However, there is no hiding from the identity of this team.
The Gators have recruited the cornerback position very well, and Todd Grantham will put those players on islands asking them to win in isolation situations. This will challenge Kentucky, but the Wildcats had a ton of success when Missouri used a similar scheme against them.
Through four games, Florida ranks T-62 nationally in yards per play defense (5.17) and T-46 in 20-plus yards plays allowed (15). Meanwhile, this unit can still get after the passer ranking 22nd in sack rate (9.79%).
After a bad year in 2020, Grantham seems more willing to not go for the gold every time. The Gators will go to some zone coverage when required. Dan Mullen got on Grantham for not using zone in a key third down in last year's matchup with Kentucky.
However, "Third and Grantham" principles are still alive in Gainesville. The Gators will bring pressure and man up on third downs. Kentucky must be able to win in these matchups.
Saturday will be Liam Coen's first matchup with the long-time defensive coordinator, but Grantham's scheme is very much an NFL philosophy. Kentucky's new play-caller should know how to attack Florida, but at the end of the day this game will be all about execution.
Through 12 quarters of football, Kentucky might have an advantage. The Wildcats rank ninth nationally in third-down conversion rate (54.35%) and Florida ranks 82nd in third-down defense (40%).
After seeing both Chattanooga and South Carolina dedicate players in deep zone coverage to stop the vertical passing game, Kentucky will see more opportunities to land haymakers against Florida. This will be especially true on third down.
The Wildcats must execute because there is no hiding from what Todd Grantham wants to do on defense. The Gators are going to bring some heat, but this will open up opportunities for big plays.
"We're going to play press pretty much majority of the time," said Grantham this season.
Can Kentucky take advantage? We'll find out soon.