Top 10 Plays 2022 Kentucky Football Season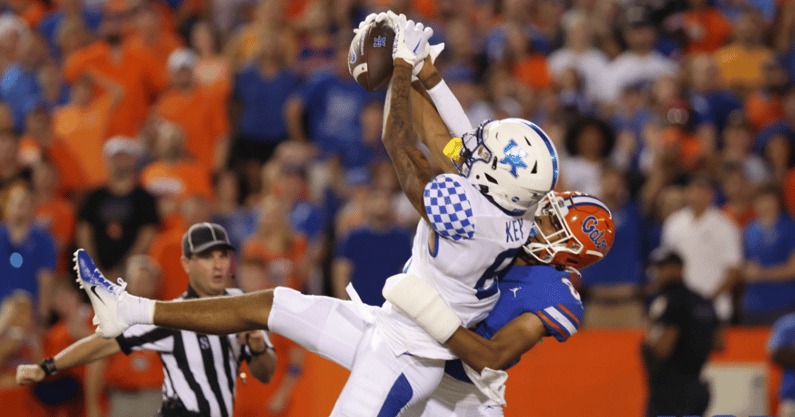 And just like that, the 2022 Kentucky football season has come to a close. The Wildcats ended the underwhelming campaign with another poor offensive performance, this time without their best players on the field in the Music City Bowl loss to Iowa. The 7-6 Kentucky football season will be defined by missed opportunities that forced the Cats to fall short of expectations.
We have all offseason to pick it apart. Celebrating the New Year on a sour note just doesn't seem right.
Let's ring in 2023 by reliving the best moments from a Kentucky football season that was far from perfect, yet still featured big wins over Florida and Louisville, and an appearance at No. 7 in the AP Poll in October.
10. Deone Walker Eats
Entering the season we talked a lot about potential impact true freshmen. We heard Deone Walker could play and marveled at his size, but nobody thought he could do all of this. In his second ever college football game on the road in The Swamp, he completely blew up a third down play for a TFL.
Walker made plays like that all year to earn Second Team All-SEC honors from the AP, one of the only three true freshman on the list. His future is bright.
9. Tayvion Robinson Takes it to the House
Facing the blitz on third and long, Will Levis hung tight and delivered a beautiful pass through traffic for Tayvion Robinson to run 69 yards for a touchdown. He caught seven passes for a career-high 147 yards and two touchdowns in the win over Northern Illinois.
8. Dane Key Dives for the End Zone
Dane Key was a man possessed against Missouri. Needing a win on the road, the freshman used physicality to get through the Tigers' defense. He caught four passes for 53 yards and two touchdowns, diving for the end zone on third and long to give Kentucky a late lead.
7. Josh Kattus Stiff-Arm
Each time Kentucky plays Louisville, a Wildcat emasculates a Cardinal. Lynn Bowden pantsed the entire team. Will Levis broke ankles, then jumped over a guy. This year true freshman tight end Josh Kattus shoved his knuckles through a Cardinal Bird's teeth.
6. Chris Rodriguez Runs Over Vanderbilt
Desperate for offense against a bad Vanderbilt defense, Chris Rodriguez was prepared to save the day. He put the team on his back and scored the longest touchdown of his career, a 72-yard score, with five minutes to give the Cats a late lead. Unfortunately, it still was not enough for Kentucky to come away with a win.
5. Barion Brown Almost Beats Ole Miss
Barion Brown played hero ball against Ole Miss. Similar to Chris Rodriguez, it's a damn shame his efforts were not rewarded with a victory. This play, along with the kickoff return where he was tripped up, are just a couple of the many great "What If" moments from the 2022 season.
4. Colin Goodfellow Missouri Punt
The Wildcats avoided a disaster thanks to heroics from an unlikely character. Colin Goodfellow made a season-saving punt, corralling a bad snap and drawing a 15-yard penalty, to preserve a much-needed Wildcat win at Missouri.
3. Dane Key Goes UP!
Every Wildcat win in The Swamp features at least one improbable, long touchdown pass. This one seemed more impossible than Lynn Bowden's. Playing in just his second college football game, Key reeled in a 55-yard bomb from Will Levis over a Florida defender at the goal line to breathe life into the Wildcats.
2. Barion Brown Return Touchdown
Barion Brown's first touchdown as a Kentucky Wildcat was the first kickoff return touchdown since Derrick Locke in 2009. He hit a second gear while sprinting 100 yards down the sideline into the end zone.
1. Jordan Wright Interception
In his season debut, Jordan Wright made arguably the greatest interception of the Mark Stoops era. The one-handed pick spooked Anthony Richardson, stifling college football's hottest commodity in The Swamp. Keidron Smith also scored on a Pick Six to pave the way for Kentucky's third win over Florida in four years.