Toppin, Collins, Watkins fly high in Big Blue Madness Dunk Contest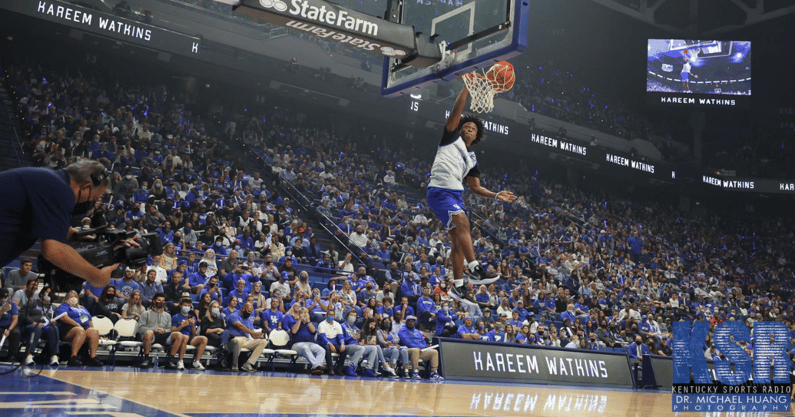 Going through the trio of participants for Friday night's Dunk Contest at Big Blue Madness, one individual stood out more than the others. Kareem Watkins, who is listed at 5-foot-8 according to UK, doesn't exactly see eye-to-eye with the other two participants: 6-foot-9 forwards Jacob Toppin and Daimion Collins.
But that didn't stop Watkins from damn-near winning the event. And if you're someone who was in attendance for the Fans First Fans Fest, held in conjunction with ProCampsU and KSR (plug!), you weren't surprised when he powered home a pair of tough dunks at Big Blue Madness.
The panel of judges was loaded with familiar faces, including former Wildcat fan-favorites and legends Darius Miller, Wayne Turner, Jack "Goose" Givens, Jodie Meeks, and Dominique Hawkins.
Watkins' first dunk was a bounce to himself off the hardwood before slamming home a one-handed hammer, which brought a score of 45 out of 50. But it was his second dunk that got the Big Blue Nation on their feet. Watkins tossed the ball between his legs and off the backboard before delivering the two-hand slam–an easy 50.
(video of every dunk is located at the bottom of this post)
But Toppin and Collins also possess otherworldly athleticism. It was the freshman Collins who actually got the Dunk Contest started, executing a full-extension windmill for his first run that came up a bit shy of a perfect score. His second dunk was the show-stopper, though.
The young Collins brought out Oscar Tshiebwe, a 6-foot-9 mountain of a human being, to stand in the middle of the paint with his head down. Instantly, all of Rupp Arena knew what was coming…
Boom. Instant 50. No debate.
Despite the impressive dunks from Watkins and Collins, they couldn't outperform arguably one of the most athletic players in the country: Mr. Jacob Toppin.
We didn't get to see Toppin showcase his dunking talents at the Fan Fest due to a minor shoulder injury, so he made sure to give everyone in attendance a special treat on Friday.
Toppin brought out assistant coach Jai Lucas for his first dunk, using the former point guard's passing skills to dial up a perfect dime off the side of the backboard. Toppin snagged the ball and executed a beautiful windmill that brought the first 50 of the evening.
It was his next dunk, though, that still has the Big Blue Nation buzzing.
The junior from Brooklyn pulled off a move that you might see in the NBA's Dunk Contest. Toppin lined up at halfcourt, stutter-stepped his way inside the three-point arc, and then did this…
Like, what?
Both of Toppin's dunks received 50s, gifting him the title of Dunk Contest champion in the process. If he can somehow pull off either during a game this season, he'll be receiving 50s in the form of dollar bills.