UK Women's Team - Top 15 In The Preseason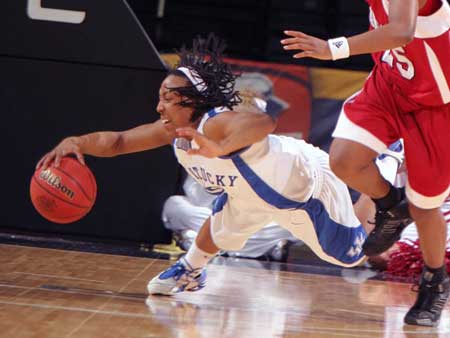 With the Florida football game coming up, and the Bledsoe ruling coming out slower than Tom Cruise, I get literally tens and tens of people asking me to write about the women's basketball team more often. So here you go.
The Kentucky Women's team, who had their best year historically last year, are starting off this season ranked in the top fifteen in three basketball magazines preseason rankings. Last year that Cats came as a surprise to the NCAA and made believers out of their fans, this year they've made believers out of the nation.  The teams top three scorers are returning, and they are being joined by a strong recruiting class.  Not to mention the return of Matthew Mitchell, former KSR podcast guest.
While the Lady Cats aren't ranked higher than Tennessee in any of the polls, they are the next highest SEC team in each.
They rank:
-9th in Lindly's Preseason Poll
-11th in Athlon Sports Preseason Poll
-12th in Sporting News Preseason Poll
I know the stigma that goes along with Women's basketball, and I usually agree with it.  But believe me when I say that this Lady Cats team was actually really fun to watch last year. They play aggressively, they play fast, and they run the ball. All things Kentucky fans say they love.
As Pat Forde would say, the bus is filling up.  Get on it.
Go Cats.