Vince Marrow shares insight on Eight Rising Wildcats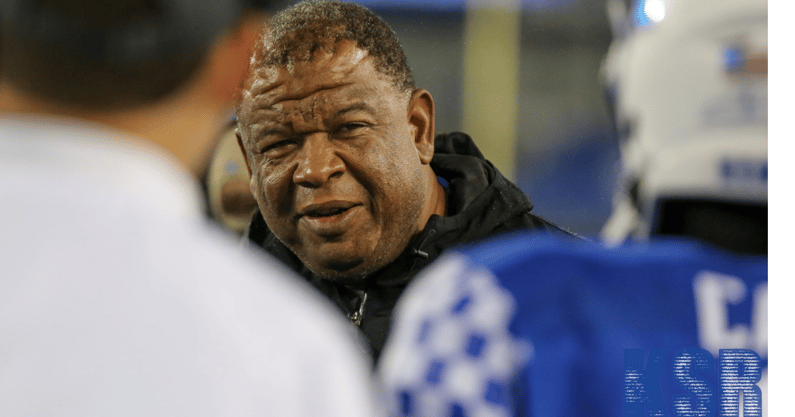 The Kentucky Wildcats will kick off the 2021 season in just nine days. As the team looks toward game week, Vince Marrow and the rest of the UK coaching staff are cranking up the heat in practice.
"Expectations are big here. It's not like when we first came. Our guys better be ready," the associate head coach said after Thursday's 90-degree practice.
Although expectations are high, Mark Stoops seems much more mellow this preseason. When Marrow was asked if he saw something similar, he responded:
"I think when most coaches relax, they know they got a pretty good team," said Marrow. "We still gotta go out and play and win games, but I think he's been in this for so long and our staff, we have certain guys still in place that he trusts. He can sit back a little bit and just do the head coaching duties. He's still going to mess around with the DBs, that's just something he does, but I love the way he's grown from our first year. It's crazy from our first year to year nine. I'm very excited that I'm still here doing it with him."
Kentucky's Big Dog was excited to talk about a few players the BBN has been playing extra close attention to this preseason. As you'll see, Marrow did not hold anything back.
Wan'Dale Robinson
Robinson turned down Kentucky once before. Even though it broke Marrow's heart, there are no hurt feelings. He's proud of the attitude Robinson brought to Lexington.
"Wan'Dale is a professional young man. A lot of guys with that type of talent, you would think that they got a chip on their shoulder or they're arrogant. He's a class act. He broke my heart two years ago. I know y'all — but he came back and I know the whole state is excited that he's back.
"He didn't want nothing when he came in here. We knew he was talented as a staff but he did not want his teammates to think something was given to him so he came in and earned it the right way, just like Will (Levis) did. I'm excited to see him. Wan'Dale's a good football player. I don't care what league he's in, he's going to make plays."
Justin Rigg
The talk of the tight end room this preseason has centered around Izayah Cummings' move from wide receiver. Marrow joked that Cummings has been giving him gray hair, but all in all, it was a smooth transition. Much of that credit goes to Justin Rigg, Kentucky's unsung super senior.
"I've seen him grow as a man. He's graduated already. He is a leader. We've got a lot of young tight ends in that room. He really took Izayah under his wings. He's helping Izayah and Dingle. Justin to me is one of the captains of the team. He's a professional, he does everything right and he always plays hard. I'm very excited he came back. It was a big get for him to come back."
Marrow used his time at the pulpit to preach the Gospel of Rigg. Okay, I may have gotten carried away there. Simply put, the newest toy in the toolbox is not always the most reliable. Rigg has fought off the competition and earned a spot atop the depth chart.
"I don't think Justin gets enough credit," Vince Marrow said. "I think Justin is an NFL tight end. He's exactly what you look for in a lot of guys. He came back and lost about ten pounds. He really, you can ask him this, in the spring it was close between Justin, Keaton and Bates. Right now, to me, it's not even close. Justin is the guy. Justin is a professional. I can always count on him. He's never late. He never misses games or practices. You see how hot the heat is out here and he wants to take a lot of reps. I think people do not give him a lot of credit, but he is very important to our offense."
Mike Drennen
Kentucky fans salivated when Drennen committed ahead of the 2020 season. Finally, the Wildcats had another four-star pass-catcher. That was the initial plan, but those plans were altered this offseason. He moved from slot receiver to running back, the position that helped him become one of the top recruits in America.
"With the offensive coordinator change, when we recruited him Mike we told him that he was going to play running back and receiver, but we wanted him to learn one position. Mike's a 3.8 student. He's a very smart kid, but he just seems more fresh at running back, more settled in there. He's got more of a running back build to him. Mike's going to help us a lot in this offense."
Kavosiey Smoke
There's an old saying in football, "You can't make the club in the tub." Smoke was sidelined for some of the early practices. Now back in action, if he stayed out much longer, he was going to get passed by.
"I think he can smell that game coming around next week. It ain't like when we was here in '13 and you can be hurt and be out and you're still going to be the running back. We got a lot of good running backs. It's like the NFL, you better get in there or somebody may take your spot," Vince Marrow said.
"I don't think Smoke gets enough credit. He's an explosive running back. I think you guys saw that at Auburn last year. He gets one crease and he's gone."
Cedrick Dort
Marrow's eyes are not always focused on the offense. Cornerback Cedrick Dort lost his starting spot to Kelvin Joseph last fall. Now he's back in business with the ones. His former teammate is proving that losing your starting spot isn't the end of the world.
"This ain't no charity. You gotta be able to go every year. You gotta be able to play. We got a lot of depth and I do take my hat off to him, but he's seen it," said Vince Marrow.
"I just got a text, Chris Westry beat out somebody for the Ravens. That's another DB that's going to be in the NFL that played for us. He knows our reputation. We have a lot of scouts here. They know we've had good DBs in the past. If he does what he needs to do, he'll be another guy in the NFL. You gotta bring your strap every week, every day. There's competition everywhere and if you talk to any of these guys they'll tell you there's competition. It's not like when we was here in '13 and '14 and we couldn't even put five receivers out there. You better be ready to go."
Rahsaan Lewis
The talk of UK Fan Day, Lewis is an explosive athlete that has consistently brought it throughout preseason practice. Marrow stopped just short of saying the walk-on was going to earn a scholarship.
"Come on man, y'all know who his father is. The genetics are good. The kid is an athlete. Great basketball player. We play PIG over there sometimes. He's probably got like a 40-something inch vertical. He's just a natural football player and he will help us this year," said Vince Marrow.
"I'm very excited about him. He was a walk-on. It's like with anything else, to me he's a guy that's earning — I don't want to say it — but he's going to be here. He's really doing a good job, helping us out a lot.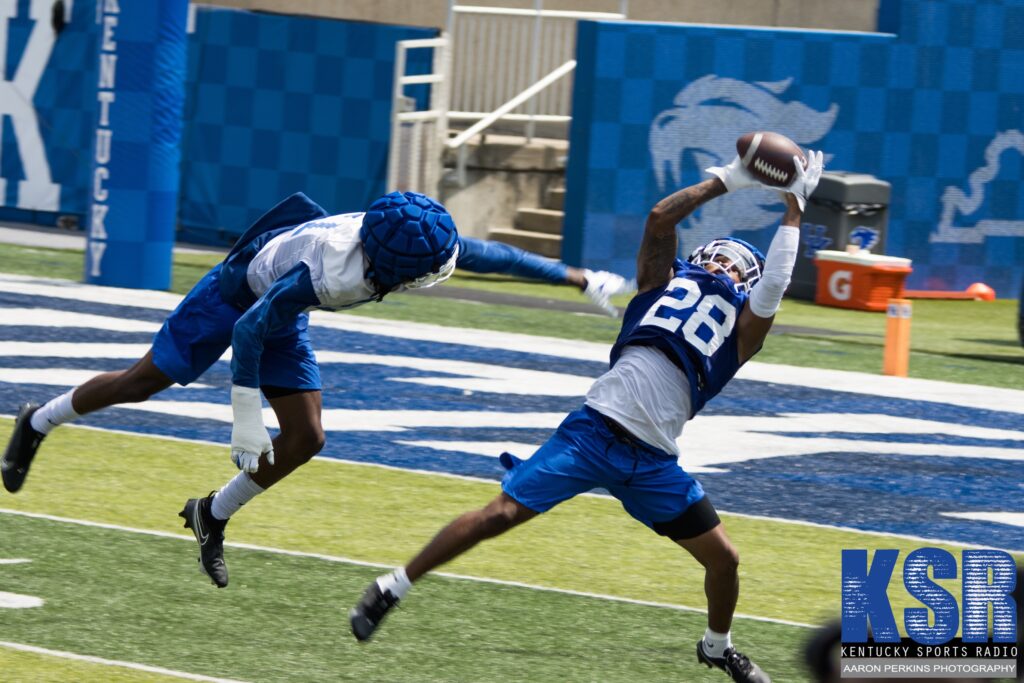 Tre'Von Morgan
One offseason addition that often gets glossed over is Tre'Von Morgan. It's probably because the enormous wide receiver from Michigan State was sidelined with a nagging injury. Marrow believes there's still a lot to love about the pass-catcher from Massillon, Oh.
"He's another Ahmad Wagner. He's actually taller than Ahmad. That's the scary thing, he's taller than Ahmad. He had a little nagging (injury). We're working through that, but once he gets through it, he'll be out there."