Vince Marrow on Will Levis, Dane Key, and Kentucky's rising stars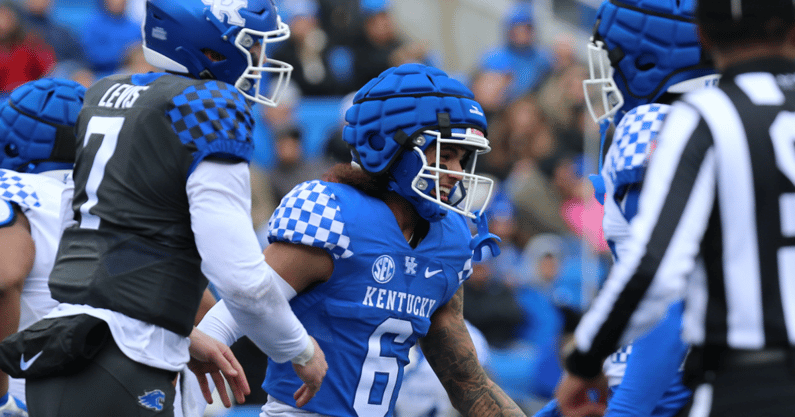 Last week, Vince Marrow said he believes Will Levis has the potential to be the No. 1 pick in the 2023 NFL Draft. During his appearance on KSR today, Marrow went in-depth on why Kentucky's starting quarterback impresses him so much. Obviously, the talent is there, but what strikes Marrow the most is Levis' leadership, which was clear from the first day he stepped on Kentucky's campus last summer.
"One NFL team called me and we were going over our guys for next year and when he got to Will and — off the rec — ['We're on the record. You're on the radio.'] I can't really explain it. They really liked him. I think when they came to that Pro Day and watched him throw and he can make every throw but I think what people really don't see is his leadership and how tough he is and how he can galvanize a team.
"You have to understand, he was coming in here when some other guys were a favorite because they were cool with a lot of guys on the team. Joey Gatewood and them guys. I watched him come in, win the team, and then I said, 'Okay, win the offense.' I said, 'Alright, yeah, you win this defense.' We have some different dudes over there. And when they all start following him, I knew we were gonna have — it was gonna be a good season. And now he is the leader. There ain't no doubt. You know, he's the leader."
In his first season with Kentucky after transferring from Penn State, Levis threw for 2,826 yards and 24 touchdowns, while rushing for nine more. As Marrow said, his NFL Draft stock is soaring. Levis is a top-ten pick in almost every major 2023 NFL mock draft, which Marrow says is no surprise.
"You guys have seen the dude. I mean, he looks like a tight end. But he's every bit what you want in a quarterback at that next level. He's tough. He's a leader. And he can make every throw."
Dane Key: "He's a bad dude, man"
One of the guys Levis will be throwing to this fall is Dane Key. The freshman from Frederick Douglass turned heads in spring practice, most notably hauling in a 22-yard line drive from Levis down the middle for a touchdown in the spring game. Marrow raved about Key this morning, much to the delight of a proud Ryan Lemond.
"He's a bad dude, man," Marrow said. "I'm telling you this. I knew Dane was good; I did not know he can be that good. He has the potential to be really good. He's tough and he's a student of the game. He's up here every day."
"Dane is a sponge, man. When Rich [Scangarello] looked at all our receivers, he said, 'This kid will play for us and he will be invaluable.'"
Marrow on Kentucky's rising stars
Casual fans know who Will Levis and Dane Key are. Who are the guys that might surprise us this fall? Marrow singled out sophomore tight end Jordan Dingle from Bowling Green first.
"He made just as much noise as Dane [Key] the spring. He's really a good player."
The Big Blue Wall is reloading after losing Luke Fortner and Darian Kinnard to the NFL. Marrow sees promise in sophomores David Wohlabaugh and Jager Burton and Auburn transfer Tashawn Manning.
"He's a grown man," Marrow said of Manning. "He's a grown man."
On the defensive side, Marrow mentioned defensive back Jordan Lovett and Darrion Henry-Young, a defensive lineman that transferred to Kentucky from Ohio State. Marrow said that Henry-Young initially wanted to commit to Kentucky, but was pressured into picking the home-state Buckeyes.
"He came down and he really wanted to go here, but the pressure. His dad actually admitted to me, he said, 'We actually made him go to Ohio State.' He said the kid did both official visits and was like, 'Dad, I want to go to Kentucky.' But because he was the No. 2 player in the state, that pressure was it. But now he's a good spokesman for me for kids from Ohio."
God bless Vince Marrow. Check out his entire interview below on podcast. He was on for all of hour one and the start of hour two.