Wan'Dale Robinson battles through injury to help lead Kentucky to road win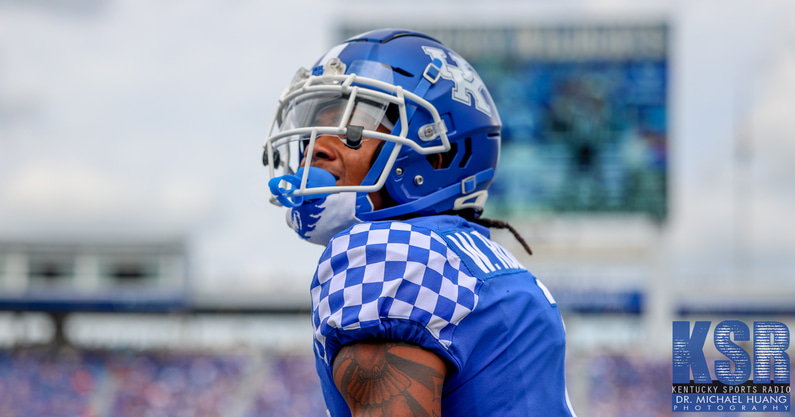 In the days leading up to Kentucky's road trip to Columbia, whispers of a hamstring injury for Wan'Dale Robinson began growing louder in Lexington. The extent of the ailment was uncertain, but it was enough to limit the standout receiver in practice throughout the week.
To open the day Saturday, word got around that Robinson would play, but potentially on limited reps. At minimum, it was a nagging issue likely to bother him throughout the game.
When push came to shove, though, the team knew Robinson would fight through the pain and help his team however he could.
"He's a tough guy."
"We knew he was going to play. There wasn't a question about his health or anything. He's a tough guy," quarterback Will Levis said following Kentucky's 16-10 win. "With the amount of targets he gets, how he plays, he's going to get banged up, as are a lot of guys on the team."
Not only did Robinson fight through the pain, he found a way to produce at a high level. The 5-foot-9 wide receiver finished the day with 65 yards on seven catches, good for 9.3 yards per reception. He also added a five-yard run to give him 70 total all-purpose yards.
He may have been fighting through the pain, but you couldn't tell watching him play. Once again, Robinson proved to be the electric playmaker this team needs to win SEC football games.
"Sometimes the week before the game is meant to get your body ready, but we knew he was ready," Levis said of Robinson. "Glad he was able to go out there and play a good game."
Through four games, Robinson has racked up 337 receiving yards and two touchdowns on 18 receptions. He's also added 73 rushing yards on three attempts, good for 410 combined offensive yards.
He combined for 701 total yards in 2020 at Nebraska. Just four games into the season, he's already over halfway there.