Wan'Dale Robinson inks NIL deal with Paul Miller Ford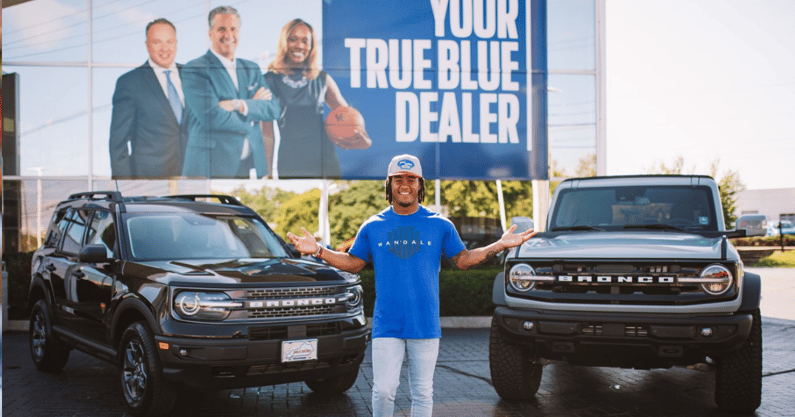 John Calipari, Mark Stoops, Kyra Elzy, and… Wan'Dale Robinson? Those are now the Mount Rushmore of faces that represent the Paul Miller Ford car dealership, located right here in Lexington, KY.
On Monday afternoon, Paul Miller Ford announced that the automotive company has entered into a name, image, and likeness agreement with Kentucky Football wide receiver and native of the Bluegrass State, Wan'Dale Robinson. This NIL deal is the first of its kind between a University of Kentucky student-athlete and a car dealership.
The partnership was agreed upon in conjunction with the Virtus Brand, a sports management company created by Tony Delk, Tyler Ulis, and Chris Lofton to help student-athletes better understand the rules of NIL.
"Hi, I'm Wan'Dale Robinson. I'm excited to announce that I'm joining the Paul Miller family," Robinson said in the above video. "They've been serving central Kentucky for over 65 years and counting. We're excited to be your true blue dealer."
Robinson won't be doing this without giving back a little, too. He later announced that a portion of all his NIL proceeds will be donated to the Wanda J. Robinson Foundation for children with incarcerated parents.
I am proud to announce that I am now an official member of the Paul Miller Ford Family. I greatly appreciate the opportunity to be partners with such a well respected organization that has been a part of our community for over 60 years. So the next time you check the line-up to see the stats from my performance on the field, make sure you check the line-up of high performance vehicles offered by the team at Paul Miller Ford. I am also very excited to announce that a portion of the proceeds from every NIL parternship that I am involved in will go to the Wanda J. Robinson Foundation for children with incarcerated parents. This cause is very near to my heart and I would personally like to thank The Vitrus Brand for helping me to make support of this foundation a reality as we work together through the NIL process. I am looking forward to having a positive impact in the future, on and off the field. Stay tuned.
#WR1 #PaulMillerFord #TheVitrusBrand #GoCats #BBN

Wan'Dale Robinson via Twitter
Robinson has only played three games in a Kentucky uniform after transferring over from Nebraska, but the Frankfort native has quickly made a significant impact in UK's new offense. The 5-foot-8 do-it-all junior has already caught 18 passes for 337 yards and two touchdowns. Robinson has also rushed for 73 yards on three attempts.
"We are dedicated to Kentucky, and of course love our Wildcats," Paul Miller President and CEO, JP Miller, said in the company's press release. "Having Wan'Dale Robinson represent our dealership is true to what we stand for. He's a great athlete and a wonderful representative to our Kentucky pride."
The only question left to ask is this: what color Mustang did Robinson get???