Why Jazmine Massengill is an X-factor for Kentucky WBB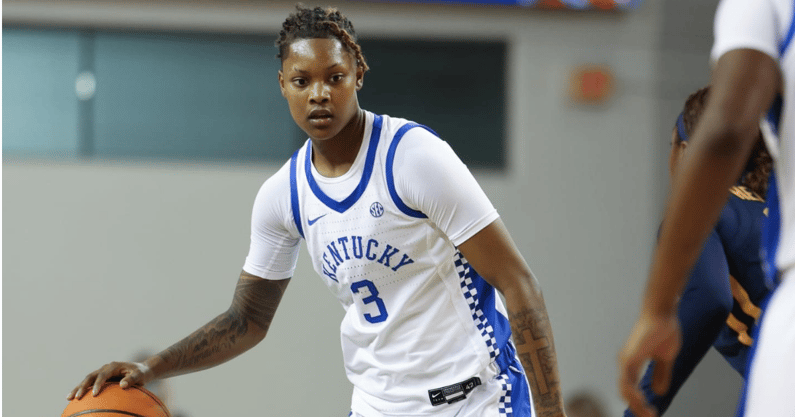 Kentucky's stars shine bright, but the fire that ignites them is often overlooked. Jazmine Massengill is that fire.
On Wednesday evening, the senior point guard recorded six points, four rebounds and nine assists in No. 16 Kentucky's (5-1) 83-60 statement win over West Virginia (4-2). Further, Massengill played a team-high 34 minutes and led the 'Cats in +/- at +25.
Kyra Elzy on Jazmine Massengill
Though Massengill's figures don't always stand out, her in-game leadership does. Head coach Kyra Elzy acknowledged her starting point guard's impact after the Wildcats' impressive victory.
"She's a veteran point guard. She understands the pace. She understands the offense that we're looking for," Elzy said. "She is the coach on the floor. She has a calming presence about herself. She's one of our leaders, they follow her."
While Massengill's nine assists against West Virginia was a season-high, being a facilitator is nothing new to the 'Cat. Massengill was tied with Howard for the most assists on the team coming into Wednesday. However, even Howard can't completely keep up with Massengill's distributing skills. The 6-foot guard boasts a ridiculous 6.40 assist to turnover ratio.
Most coaches would be satisfied with a passer like Massengill in the driver seat, but Elzy knows Massengill can do more. And quite frankly, she's demanding that extra mile.
"She was like, 'Coach I'm doing good on my assists.' I say, 'You're doing great, but I want more.'" Elzy said. "'I want you to get to 10 points. I'm gonna keep pushing until we get that.'"
New Massengill mindset
Elzy's desire for Massengill to put up more shots isn't a secret. After shooting only three times against WVU, Massengill faced a question in the postgame press conference about her timidity.
"My teammates and my coaches get on me constantly about being more aggressive and shooting the ball more. That's something I'm constantly working on," Massengill said. "I'm working on being more aggressive for the rest of the season."
Getting up shots doesn't come naturally to the pass-first guard. Last season, she only averaged five field-goal attempts per contest. However, her field-goal attempts did gradually increase as the year progressed. With a little extra push from her fellow 'Cats, that trend may appear even sooner this season.
When her teammates were asked how they felt about Massengill's offense, they were complimentary and encouraging.
"We want Jaz to shoot more. Like she said, we tell her that all the time," Dre'Una Edwards said.
Rhyne Howard followed up Edwards's words with her own perspective.
"We can't be mad at her for being pass-first because she had nine assists and one turnover, so like what can you say about that? She'll shoot when she's open. She's going to shoot."
Looking forward..
Massengill will have plenty of opportunities to find extra looks. The guard has the second-most minutes on the team, only trailing Howard. More importantly, she deserves every second.
Massengill is tied with Howard for leading the 'Cats in +/- this season with a total of +124. To simplify the matter, the 'Cats are at their best when Massengill is on the floor. If the veteran leader can increase her scoring, they'll only get better.