Will Levis intends to enter 2023 NFL Draft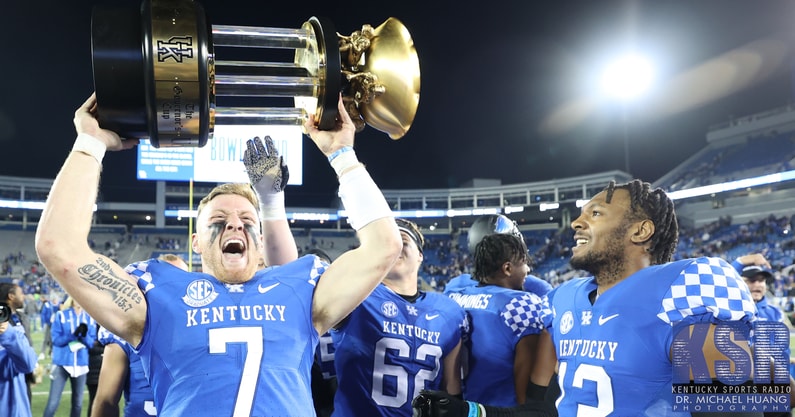 Kentucky quarterback Will Levis plans to declare for the 2023 NFL Draft, the standout senior announced Wednesday evening.
Live in a Twitter Space with Blue Chips — an NIL partner — Levis made it clear he plans to turn pro at the conclusion of the season.
When his season will end, though, remains unclear, as he's still weighing his options regarding the bowl game. That decision will be coming soon.
"My intentions are to enter the draft after the season," Levis announced. "I still don't know about the bowl game yet. I talked to the coaches and people in my circle that I've needed to these past couple of days, and I will be making that decision soon. Nothing is final. But where my mind is at, I do believe — I'll make an official announcement once I feel it's necessary and appropriate, but I do believe after this year I'll be declaring."
In his second and final season at Kentucky, Levis completed 185 of 283 passes (65.4%) for 2,406 yards, 19 touchdowns, and 10 interceptions. Banged up the latter half of the year, his injury status will certainly factor into his bowl decision.
Mark Stoops said on his radio show on Monday that Levis is "mentally and physically exhausted" and needs time before deciding whether or not to play in the bowl game. Like the Kentucky quarterback confirmed Wednesday, no final decision has been made.
"He and I had another great talk (Monday) and it was really good to see," Stoops said. "I saw him yesterday as well, he had a bunch of family in town, they were up in the building and I got a chance to see his parents and his grandparents, just spent some time together. Then today, he and I had a talk and we'll keep that between us for right now. I don't think he's — he's just mentally and physically exhausted and beat up right now. He needs a little bit of time to heal and think about what he needs to do.
"I told him the same thing I told Josh Allen back in the day. In the same way, his legacy is set. I'm quite sure all of our listeners, you, me and everybody who's listening to this is appreciative of what he's done and how hard he's played, what he's done for us. If that was his last game, then none of us will think any different because he is a tough human being, a tough guy, laid it on the line for his team.
"And I'm not saying he's not, but either way. I love him and appreciate him, so we'll see where it goes. He definitely needs a little time right now to see how his body reacts."
Levis will make an announcement regarding the bowl game in the coming days, but where do things stand with the draft? In Dane Brugler's newest update released over at The Athletic, Levis is projected to come off the board at No. 14 overall to the Indianapolis Colts. Elsewhere, Matt Miller and Jordan Reid had Levis going seventh to Detroit in their latest mock draft for ESPN, while Todd McShay ranked Levis 13th on his Big Board two weeks ago. Mel Kiper said as recently as a few weeks ago that he believes Levis could still be the No. 1 overall pick.
Needless to say, it'd be a shock to see Levis fall out of the first round, let alone beyond the first 15 picks or so.