Where Will Levis stands in Dane Brugler's first NFL Mock Draft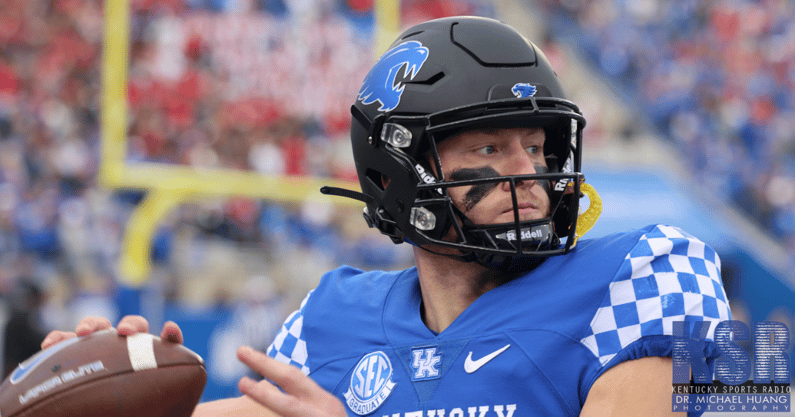 For many football guys, Dane Brugler is the preeminent NFL Draft expert. Unlike most pundits, Brugler waited until the college football regular season was over before releasing his first mock draft. Where does Brugler believe Kentucky quarterback Will Levis will land following discussions with scouts and front-office personnel? Not that far from Lexington, actually. Brugler has Levis going No. 14 to the Indianapolis Colts, the second quarterback off the board behind Ohio State's CJ Stroud.
14. Indianapolis Colts: Will Levis, QB, Kentucky

Where the Colts go from here to address the quarterback position is a mystery. The veteran route obviously hasn't worked, but is there a quarterback in this year's draft worth targeting in the mid-first round? Though Will Levis has struggled to elevate the Kentucky offense this season, the Wildcats' recently-fired play caller (Rich Scangarello) and a shaky supporting cast deserve blame as well. Levis still should check enough boxes (well-built, athletic, power arm, super competitive) to entice a quarterback-needy team, like the Colts, in the top half of Round 1.

Dane Brugler, The Athletic
The Colts' quarterback room currently includes Matt Ryan, Sam Ehlinger, and Nick Foles. Ryan, age 37, was benched in favor of Ehlinger, a 2021 sixth-round draft pick, last month but returned to the starting lineup when Jeff Saturday replaced Frank Reich as Indianapolis' head coach. Lots of uncertainty at quarterback in Indy, which will put Levis in the mix.
In his second year at Kentucky, Levis was 185-283 (65.4%) for 2,406 yards, 19 touchdowns, and 10 interceptions. Those numbers are behind last year's, but as Brugler noted, there were other factors in play, including several nagging injuries. Despite his "struggles," Levis remains a projected first-round pick. In their latest mock draft for ESPN, Matt Miller and Jordan Reid had Levis going seventh to Detroit. Todd McShay ranked Levis 13th on his Big Board two weeks ago and Mel Kiper said as recently as a few weeks ago that he believes Levis could be the No. 1 overall pick. So, the stock is still strong.
Levis has yet to announce bowl plans
As a result of that draft stock, it wouldn't be a surprise if Levis opted out of Kentucky's bowl game; in fact, I think most of us expect that. For what it's worth, Mark Stoops said on his radio show on Monday that Levis has yet to make that decision (or at least inform him of it).
"He and I had another great talk today and it was really good to see. I saw him yesterday as well, he had a bunch of family in town, they were up in the building and I got a chance to see his parents and his grandparents, just spent some time together. Then today, he and I had a talk and we'll keep that between us for right now. I don't think he's — he's just mentally and physically exhausted and beat up right now. He needs a little bit of time to heal and think about what he needs to do.
"I told him the same thing I told Josh Allen back in the day. In the same way, his legacy is set. I'm quite sure all of our listeners, you, me and everybody who's listening to this is appreciative of what he's done and how hard he's played, what he's done for us. If that was his last game, then none of us will think any different because he is a tough human being, a tough guy, laid it on the line for his team.
"And I'm not saying he's not, but either way. I love him and appreciate him, so we'll see where it goes. He definitely needs a little time right now to see how his body reacts."