Will Levis talks draft prep; trash talk for the GOAT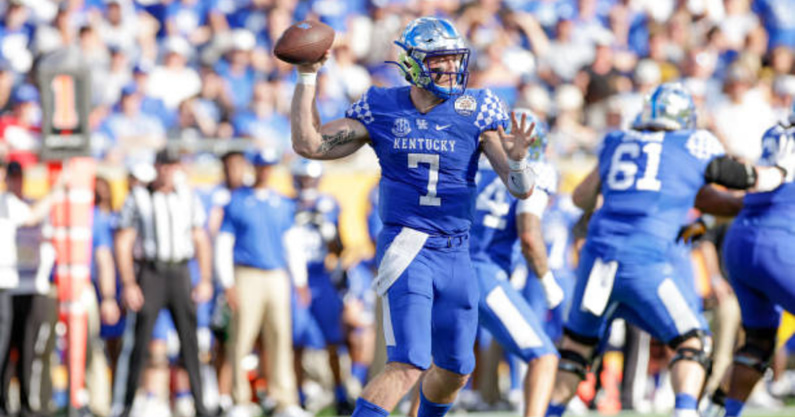 With some time off during the summer before camp starts up in a few months, Will Levis went on the Harvester Sports Podcast to spill some information about his path to Kentucky and what it's like to currently be one of the hottest prospects heading into the 2022 season.
Levis needed a guaranteed spot to play QB
Most of us at this point generally know why Levis decided to pack up after three years at Penn State and become the signal caller for the Wildcats. The Connecticut native lost out on a QB battle in preseason to Sean Clifford and was forced to hold a clipboard for the majority of his time there. It wasn't that he didn't think he would eventually start for the Nitanny Lions, more that he knew he needed as much experience as he could possibly get.
"I want to play quarterback. And traditionally guys need, or have had, two years of starting before they declare. With the situation I was in it looked like there was a possibility that I would really only get one year guaranteed starting there." Levis said on the Harvester Sports Podcast.
He never had Kentucky circled as a dream destination when the thoughts of transferring started to materialize in his psyche. He just wanted to find somewhere that would allow him to further his abilities and experience as a quarterback at a high level.
It just so happens that Mark Stoops and the Wildcat staff were eager to jump on the possibility of bringing Levis into Lexington.
"After that last season I spent at Penn State I spent a lot of time talking to my parents and coaches and all that. Just trying to make the most educated decision I could. Just came to the decision that to get where I ultimately want to go, that was the best path for me." Levis said. "Kentucky when I hit the transfer portal, they were one of the first teams that came calling. I already had a relationship with the OC at the time, Liam Coen… with Kentucky being in the SEC playing against such a good schedule, I thought it just kinda gave me an opportunity to prove myself and show that I can be a quarterback at this level and the next level."
He isn't done in Lexington just yet
Levis proved himself and more during his first season in Lexington, leading Kentucky to a second-place finish in the SEC East only behind the eventual national champions in Georgia. He was eligible and had the opportunity to enter the 2022 NFL Draft, but truly believes he needs one more year to hone in on his craft and boost his stock as a prospect.
"I wasn't really comfortable until halfway through the season. So with only six or seven games of having that comfort I feel like one more season could've done me well." He said while discussing why he chose to come back to Kentucky for another year. "Just from the feedback from what I heard where I was projected to be drafted and all of that, I just thought that if I went back and played well again I would have a shot of being where I want to be in the draft."
At first glance it seems a bit too hopeful, Levis has always been looked at as a good quarterback, definitely draftable, but not the type to break out as one of the better prospects in the nation. That is, until CBS Sports decided to set the college football world on fire a few days ago with a 2023 NFL Mock Draft that has Will Levis going number one overall.
We all saw the intangibles last season, it's refreshing to see our assessment come to fruition, at least right now.
Levis takes a shot at the GOAT
As we all expected after one breakout season at Kentucky, Will Levis wants precisely all of the smoke with Tom Brady. The New England-based quarterback mentioned how highly he thought of Brady and what it would mean to be able to go up against his hero at the next level, if possible.
"I grew up in New England as an all-Boston sports fan and Patriots fan so I idolized the guy growing up and I think one of my personal goals is for him to still be in the league when I get there eventually. And to kick his ass when I get there…. I can't wait to meet him, I hope I do someday. He's definitely someone where I'll be locked in on everything he says and taking notes."
He's looking far beyond football anyway
It's certainly not a normal thing to be openly discussing what someone would want to do after their career while still in college, but we got some cool tidbits from Levis about how he always wants to stay involved with the game of football.
"There's a lot of avenues that I could go down. One of them with just my personality and my ability to communicate broadcasting is something I could see myself getting in to."
I, and a lot of others in Lexington, will surely be tuning in to that broadcast down the line.