Young Kentucky Football Receivers must "Prove It" to Will Levis in Spring Practice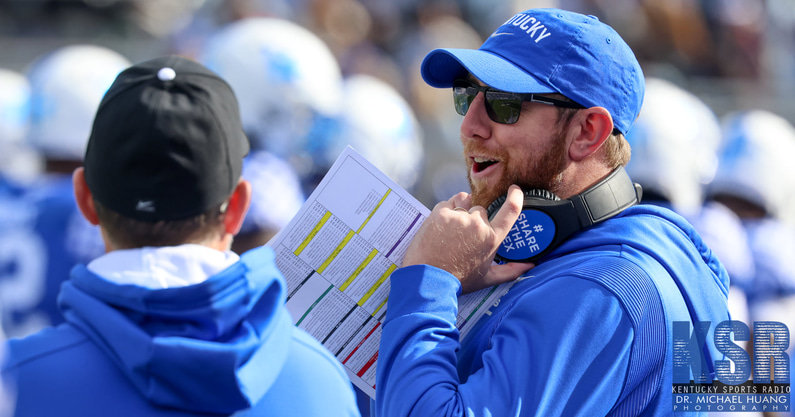 Mark Stoops is maintaining momentum from a 10-win season by returning about 75% of the Wildcats' starters in 2022. With Will Levis leading the charge, there are plenty of reasons to be excited, but one big question remains for the offense: Which receivers will be catching the quarterback's passes next fall?
Liam Coen revitalized the Kentucky offense in his first year as offensive coordinator by adding Levis and Wan'Dale Robinson from the transfer portal. Along with Josh Ali, the grounded aerial attack took flight. This offseason Kentucky must adapt once again without a record-breaking receiver to lean on.
Inexperienced, Talented Receivers
Wan'Dale Robinson concluded his UK career by breaking the Wildcats' single-season receptions and receiving yards records. The hero of the Citrus Bowl, Robinson and Ali accounted for 68% of the Wildcats receiving yards and 62% of Levis' completions. Neither are irreplaceable, but the task at hand will be a challenge, one Coen is putting on the receivers.
"Those guys need to prove it this spring," Coen said this week on KSR's 11 Personnel. "They need to prove that they can make plays and that they can get trusted to make plays from Will. That's to me — the vote of confidence needs to come from him."
Coen can call plays for certain players, but it ultimately comes down to which one Levis can trust to make big plays. Chauncey Magwood played significant snaps as a true freshmen, yet was inches away from making the biggest play of his career late in the fourth quarter of the Citrus Bowl.
"Chauncey, I would've loved to see him make that play, more for him, not really for us; just for him and for his confidence moving forward, for Will to have confidence in him."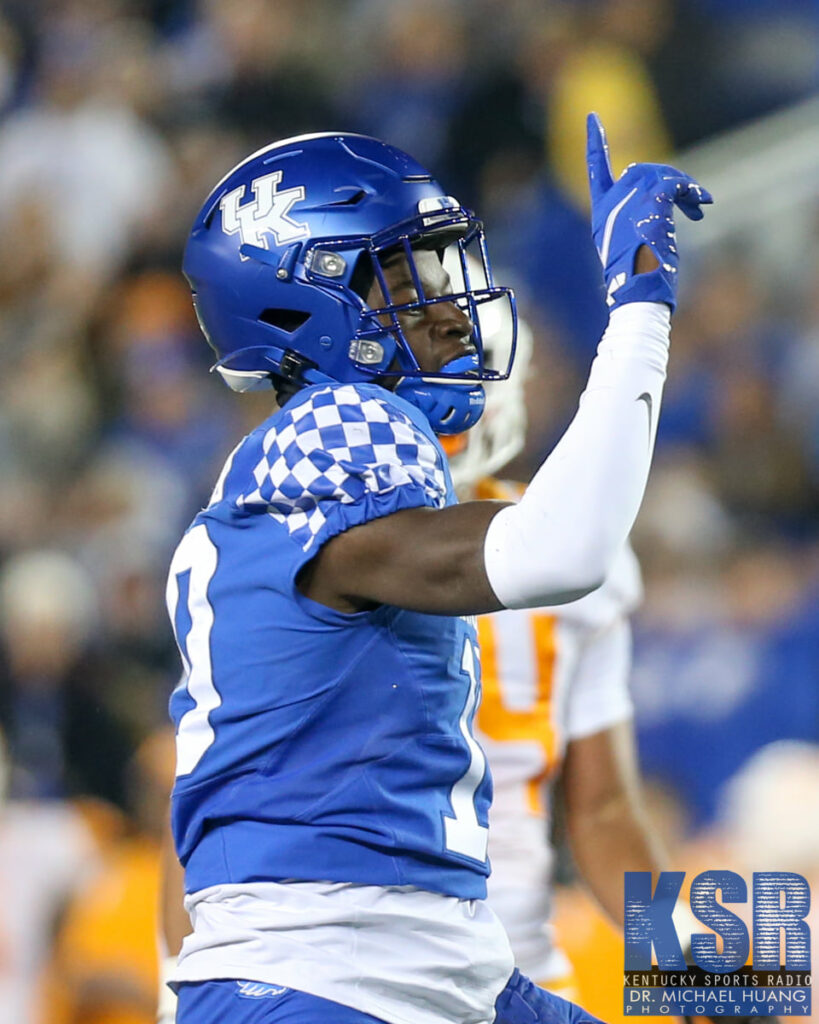 Levis will be orchestrating workouts throughout the spring and summer to develop his chemistry with young, inexperienced receivers like Magwood, Dekel Crowdus, Dane Key and Chris Lewis. He will also have a few contributors returning. DeMarcus Harris and Rahsaan Lewis flashed at various times, along with returning vet Clevan Thomas. The time they spend together this spring will be crucial to the wide receivers' development after Wan'Dale received a lion's share of the reps in 2021.
"I believe though that those guys will make some plays this spring because I think at times, Wan'Dale's success might have, not hindered some of their development, but we were throwing the ball to Wan'Dale and Josh. That really wasn't a secret and it wasn't a secret within the building either.
"The kids still worked. They still worked, they still worked and they weren't getting a lot of targets and production, but I do believe that these guys will take this spring — you can already tell that their mindset. As much as they loved Wan'Dale and Josh and they learned a lot from those guys — I think they're ready to show what they can do and get some of that chemistry. If at the end of spring somebody hasn't emerged, then we have to look elsewhere at that time. I'm excited to see them hopefully make some plays this spring and show what they can do."
Don't forget about the Tight Ends
Vince Marrow's tight ends are often set to the side when calculating the pass-catching equation. There's one player in particular that people forget, Keaton Upshaw. One of the most most promising playmakers throughout the spring, his 2021 season ended before it began when he suffered a torn pectoral muscle during summer workouts.
"I was excited about Keaton in the spring when we were able to work together before he got banged up. What's sad is this past summer I thought he was having one of the best summers of anybody in the building," Coen stated.
Even though coaches could not work with players using a football during the offseason, Coen said, "I thought he was taking a big step before he got injured."
Upshaw was able to run around with the Wildcats at Citrus Bowl practice, but he will not receive the green-light to return at 100% capacity until spring ball. Even though he is behind after missing a full season of football, Kentucky's tight end room will be loaded in 2022.
"The room is very strong. With (Brenden) Bates coming back, Keaton, Izayah Cummings and (Jordan) Dingle, I think Dingle is going to be a really good player too. I'm excited to see what Keaton can do, he's just a little bit behind mentally because he lost a lot of those reps. This will be huge for him. This winter will be huge. This spring will be huge for his development and I am excited about that room. It could be a really dynamic room."