BREAKING: 4-star PF Corey Chest commits to LSU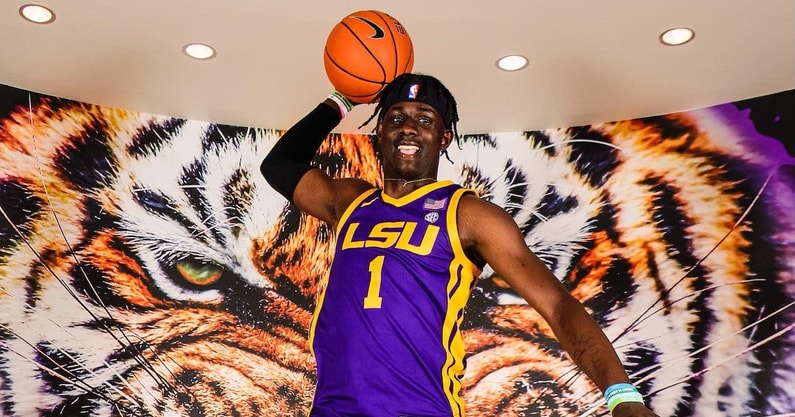 On Tuesday, LSU landed a commitment from 2023 Link Academy power forward Corey Chest, a New Orleans native. His pledge is the first of the 2023 recruiting class for Matt McMahon.
"I chose LSU because of the coaching staff and their atmosphere," Chest said to On3. "I just love it there and it really feels like home! Coach Matt (McMahon) and the entire LSU staff recruited me very well and I felt very wanted when the head coach constantly called and built a bond with me."
The 6-foot-8 power forward picked the Tigers over Houston, Kansas, Texas A&M, Ole Miss, and the Overtime Elite league.
It was LSU that won him over though thanks in part to assistant Ronnie Hamilton.
"I'll be visiting when the players get back and get a good feel for the team and the guys," Chest told On3's Joe Tipton before his decision. "Coach Ronnie (Hamilton) recruited me when he was at Ole Miss. He has been on me heavy, and he is a cool dude."
McMahon made him a priority right away as well. LSU hosted Chest for an official visit in June.
"He is a very cool dude. Lots of energy when we talked," Corey Chest told The Bengal Tiger earlier this summer. "Right away I knew I was welcomed there. He said he can't wait to get me in that Purple uniform that got them three bold gold letters, L-S-U. He said he likes my motor, my upside and I impact winning.
"I'm the guy he needs in that 2023 class."
Corey Chest Scouting Summary
"Corey Chest is a lengthy and high motor forward. He is not afraid to stick his nose into the mix. Chest is an active rebounder. He finishes well around the basket. Chest runs the floor at a high level. You would like to see him develop the ball skills and range on the jumper. He can defend multiple positions and has a projectable frame once he gets into a college strength and nutrition program." – Jamie Shaw, On3's National Recruiting Analyst
According to the On3 Consensus, a complete and equally weighted industry-generated average that utilizes all four major recruiting media companies, Corey Chest ranks as the No. 88 overall prospect and No. 19 power forward nationally.