Phil Martelli on what Michigan forward Will Tschetter needs to do to see the floor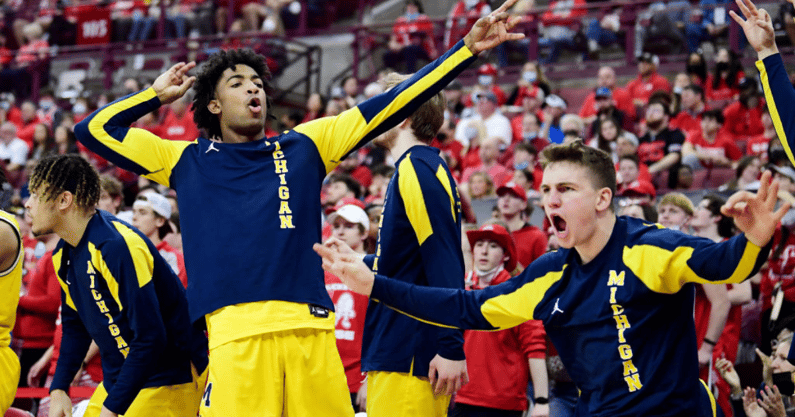 Michigan assistant coach Phil Martelli admits he became one of redshirt freshman Will Tschetter's biggest fans during the recruiting process, for several reasons. The Minnesota forward is an unbelievable person, he said, and earned high major offers despite playing at lower levels in high school.
RELATED: Signee Jett Howard seems ready to take off
His play earned him a scholarship to Michigan, but it has yet to get him on the floor for playing time. Martelli said recently there are still things Tschetter needs to work on before he'll be a rotation guy, but he's definitely on the right track.
"First of all, Will, the human being, I thought he would be wildly successful," Martelli said. "I thought he would be a kid that embraced the whole experience of Michigan, the whole experience academically. I was dead right. His work ethic, again, was unmatched in high school, and he has really worked here."
Both in the classroom and on the court. Michigan is "for competitors only," head coach Juwan Howard likes to say, and Tschetter appears to be the ultimate.
He's come a long way on the hardwood in just a year, Martelli praised.
"Will is a legitimate outside shooter. He is a terrific, explosive athlete," he said. "Now he's going to have to combine the mental with the physical defensively. Will's going to have to balance defensively physicality with awareness … 
"He has got that physicality. He's a banger, banger, banger, but he's got to combine that mental and physical and not just be out there slamming away."
 On offense, Martelli added, Tschetter will have to get better with the ball to be trusted offensively.
"He has a tendency to get a little loose with the ball," the Michigan assistant continued. "Saying that, in the half court setting he's got to be able to put the ball on the floor and get to the rim. He's getting better."
But redshirts often appear to make strides, he admitted. It's when the "popcorn starts popping," as he likes to say, that you find out what a player is made of.
"They all seem to be getting better, but if you take a step back you say, 'yeah, but there are no consequences. So, if he isn't getting better …
"A redshirt who is getting better, it still has to be shown. I can go back over my career and say, 'man, I had two transfers that at the end of the year banquet I would have given them MVP. They didn't play a game, so yeah — it was because there was no pressure. If Will shows up at practice and today he's [simulating] Keegan Murray, that's pretty cool. But at the end of that day, you don't say, 'you were a lousy Keegan Murray.'"
Overall, Martelli said, he still believes the Michigan redshirt frosh has a bright future.
"I'm not backing off this. If he ends up being good enough as a basketball player, this is a movie. It's a movie," he said. "I'm a big fan, so I think I'm biased. But I think it's a good situation. And I get the Big Ten is different … but there are days I would say let's line it up, Will's team against [others starting], and let's see whose team ends up winning."
Often it was Tschetter's. Soon, he hopes to see him doing it for the Michigan team on the floor when it counts.