Center Jarrett Patterson puts NFL Draft on hold for one more year at Notre Dame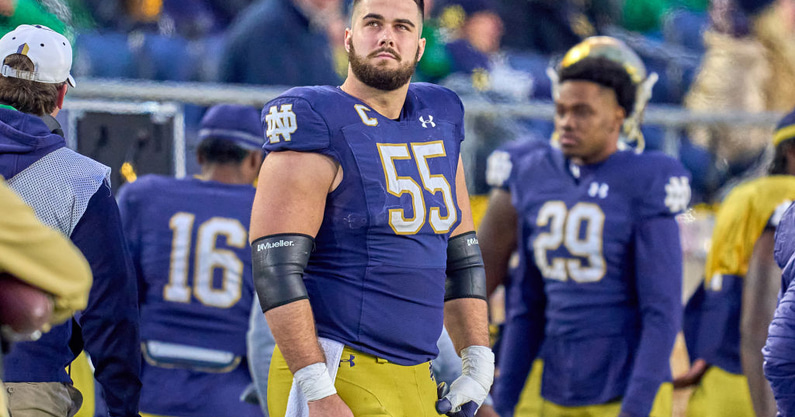 Jarrett Patterson is bypassing the NFL for one more season at Notre Dame.
Patterson, the Irish's starting center, announced he will return for a graduate season and forego the 2022 NFL Draft, in which he was a projected Day 2 pick. ESPN's Todd McShay rated him as the No. 55 overall prospect, while colleague Mel Kiper Jr. ranked him as the No. 2 center.
It wasn't enough to sway him.
By returning, Patterson puts himself in line to be a four-year starter. He has started 34 games over the last three seasons, including all 13 in 2021. He has not allowed a sack in 1,306 career pass-blocking snaps and has surrendered just 28 quarterback pressures in that span, per Pro Football Focus. He was also a team captain this year.
Notre Dame signed Patterson, a four-star offensive tackle recruit in 2018, after flipping him from Arizona State in the final month of the cycle. He began his career at tackle, but moved to center following a redshirt season. He trotted out with the starting offense in the first spring practice of 2019. Save for a foot injury that cost him four games in 2020, he hasn't left that spot.
If the injury hadn't sidelined Patterson for spring practice in 2021, Notre Dame might have experimented with him at another position. Freshman Blake Fisher's rapid ascent and the addition of graduate transfer guard Cain Madden, though, lessened the need to move him off his best position. Former head coach Brian Kelly declared on the first day of fall camp Patterson was staying at center, and that was that.
Patterson's announcement means Notre Dame will return four of its five 2021 offensive line starters, with Madden as the only departing one.
Freshman left tackle Joe Alt and junior left guard Andrew Kristofic are back. Right tackle Josh Lugg (20 career starts) is using the COVID-19 waiver to play a sixth year. Fisher was the opening-day starter at left tackle, but suffered a meniscus tear in that game. He returned for the Fiesta Bowl and started in place of Lugg, who tore his meniscus in a December practice.
Additionally, junior Zeke Correll started five games at left guard, and sophomores Tosh Baker and Michael Carmody started two games each at left tackle.
Notre Dame's offensive line heads into 2022 in a sturdy spot, but has some lineup questions to address. Those start at offensive tackle and how to best to use Lugg, Fisher and Alt. Sorting that out will be one of head coach Marcus Freeman and new offensive line coach Harry Hiestand's spring practice projects.
They know in January the center position is set, though.