Notre Dame baseball NCAA Tournament hopes take hit with loss to Pitt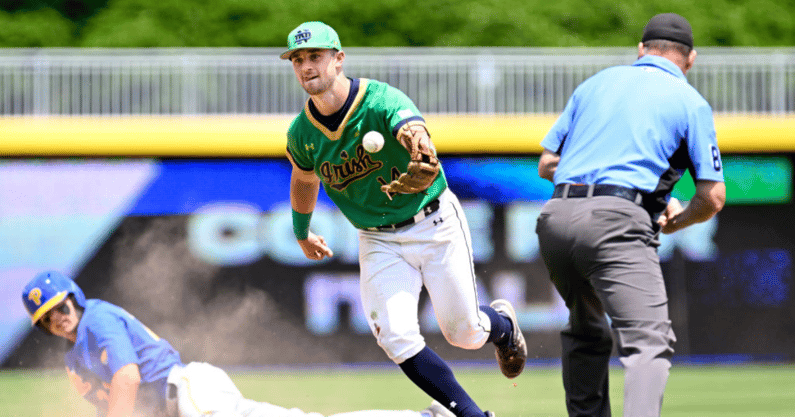 Notre Dame went to Durham, N.C., for the ACC Baseball Championship this week wanting to win it all. Every team that showed up had the same intention.
Some teams needed the wins more than others, though. And Notre Dame needed them badly.
The Fighting Irish are firmly on the NCAA Tournament bubble. Sweeping the pool play portion of the conference tournament could have locked up their spot in the field of 64, especially with one of those wins being over No. 1 Wake Forest. That has yet to happen, though; the Irish and Demon Deacons play on Friday. Wednesday, No. 8 seed Notre Dame was downed, 9-5, by No. 12 seed Pittsburgh.
That noise you heard was a collective gasp from Irish fans everywhere.
Notre Dame (30-23) was stripped of the chance to advance to the weekend's single-elimination part of the tournament. If Pitt (24-30) beats Wake Forest (45-9) on Thursday, Pitt makes it through. If Wake Forest beats Pitt, it'll be the Demon Deacons holding serve as the tournament's top seed and having a chance to play for the title.
The Irish still might have something to play for Friday. A win over Wake Forest, the team with the No. 1 Ratings Percentage Index (RPI) in the country, could be enough of a résumé-booster for the selection committee to put Notre Dame through to its third-straight NCAA Tournament appearance.
The committee might also look at the fact that the Irish have lost four of their last five games and three in a row, though. The Irish also went 2-4 down the stretch in ACC games. They had opportunities to avoid it being this dicey going into selection Sunday.
Notre Dame sent All-ACC Second Team selection Aidan Tyrell to the mound. He didn't deliver. Tyrell was roughed up for six earned runs on eight hits and two walks. He only struck out two of the 22 batters he faced. The Irish scrapped out 15 hits, two more than Pitt, but only managed the five runs. Eleven Irish runners were left on base.
Notre Dame's last-ditch effort to impress the committee comes at 7 p.m. Friday at Durham Bulls Athletic Park. It will be a completely inconsequential game in the context of the ACC tournament, but the Irish will be treating it as a do-or-die situation.
They simply have no other option.
Preorder Blue & Gold Illustrated's 2023 Notre Dame Football Preview magazine before June 12 and get free shipping!!! On3 subscribers should go to The Lou Somogyi Board for discounted pricing.