Notre Dame coach Marcus Freeman shares injury status of five players ahead of Ohio State game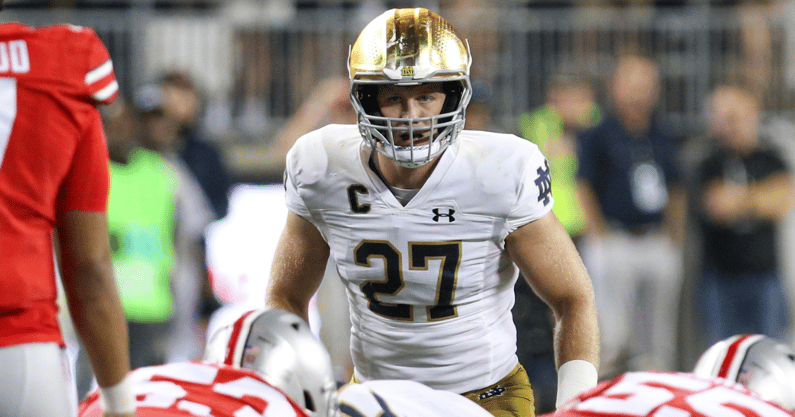 During his weekly Monday news conference, Notre Dame football coach Marcus Freeman provided injury updates on five players ahead of Saturday's game against No. 6 Ohio State. The No. 9 Fighting Irish will get back two starters. Two more players trend to play.
Graduate student linebacker JD Bertrand will return to the lineup after missing last Saturday's game against Central Michigan with a concussion.
"He'll be back," Freeman told reporters.
The 6-foot-1, 233-pound Bertrand registered five tackles, including one solo stop, in the 45-24 victory over the Wolfpack on Sept. 9. He also had a pass breakup and two quarterback hurries in the Week 2 game. 
Freeman also expects safety DJ Brown, also a graduate student, to play after being sidelined in Week 3 with a hamstring injury.
"He'll be back," Freeman said.
The 6-1, 1/4, 202-pound Brown played 61 of 82 snaps against NC State, the third most of any Notre Dame defender. He has nine tackles (seven solo) and an interception through three games.
Brown battled a hamstring injury last season, which caused him to play a season-low 21 snaps against North Carolina on Sept. 24, 2022. However, he did not miss any games.
Junior tight end Mitchell Evans is trending toward playing after being ruled out against Central Michigan with a concussion.
"He's a little behind JD, but I expect him back by Saturday," Freeman said.
The 6-5 1/8, 251-pound Evans played all but four snaps (59 of 63) in Notre Dame's win against the Wolfpack. Evans had a 2-yard catch and a 2-yard rushing attempt. He has five catches for 63 yards on the year.
According to Freeman, junior defensive lineman Gabriel Rubio will return to practice Tuesday. Rubio sustained a knee injury in Week 0 against Navy. He has been out the last three weeks after having arthroscopic knee surgery.
"Expect him, if all goes well this week, to be able to go on Saturday," Freeman said.
The 6-5 1/4, 306-pound Rubio, who played in his 12th game for the Irish in Week 0, had one tackle in the victory. He played 19 snaps and recorded two quarterback hurries, one leading to a sack for sophomore Vyper Joshua Burnham.
Freeman does not expect tight end Eli Raridon, a sophomore, to play against Ohio State as he recovers from ACL surgery. Raridon tore his ACL in his right knee last October.
"No, not yet," Freeman commented when asked if Raridon will play this Saturday.
Raridon appeared in five games last season before enduring the non-contact injury during practice. That was his second torn ACL in his right knee.
Kickoff for Saturday night's primetime game at Notre Dame Stadium is scheduled for 7:30 p.m. EDT.