Notre Dame football transfer tracker: Which ex-Irish players have found their 2022 destinations?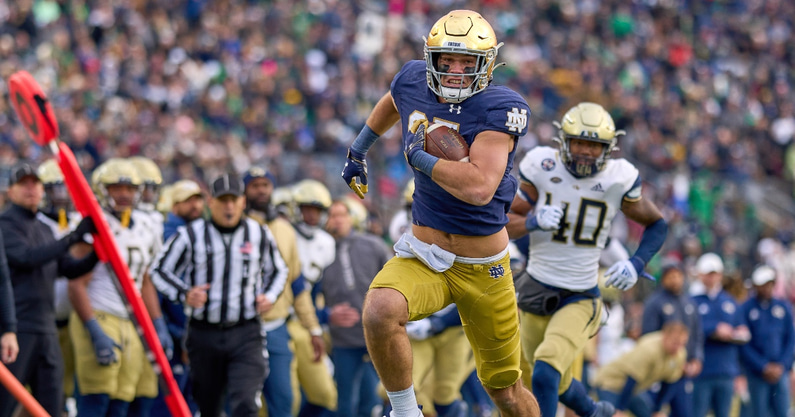 The transfer portal churn is at its slowest point of the offseason. With the May 1 immediate eligibility deadline nearly two months in the past, entries into it are less frequent. Many prior portal entrants have already found their new teams. Summer classes have begun at most schools.
Notre Dame has remained quiet on the transfer acquisition and departure front. Running back C'Bo Flemister is the only scholarship player to enter the portal since early February. He departed the program before spring practice, but did not put his name in the portal until late April. The Irish explored some transfer portal options after spring practice ended, but did not host any for official visits.
PROMOTION: Sign up for just $1 for your first year at Blue & Gold
CLICK HERE to order the 2022 Notre Dame Football Preview
With Flemister's June 19 commitment to Pittsburgh, 12 of the 13 Notre Dame players who have entered the portal since September have found their next destination. Here's a look at each one and his current standing. Players are listed in order of most recent entrants.
(Note: offensive lineman John Dirksen is no longer with the team, but he did not enter the portal).
Running back C'Bo Flemister
Flemister left the team after the 2021 season and did not participate in spring practice. He did not submit his name in the portal, though, until April 29. He graduated from Notre Dame this spring and transferred to Pitt in June. He played in four games last fall, mostly on special teams. He has eligibility through 2023.
2021 stats: three carries, 10 yards
Tight end George Takacs
Notre Dame's No. 2 tight end in 2021 initially stated he would return for a graduate season, but reversed course and entered the portal Feb. 7. He followed former Irish tight ends coach John McNulty to Boston College, where McNulty was named offensive coordinator in January. He has two seasons of eligibility left.
2021 stats: three catches, 36 yards, one touchdown, 407 snaps
Cornerback JoJo Johnson
Johnson did not play as a freshman in 2021 due to a September ACL tear, preserving a redshirt season. He entered the portal Feb. 1. The former three-star recruit and one-time Cincinnati commitment has not found a new destination.
2021 stats: N/A
Safety KJ Wallace
Wallace appeared in 10 games as a junior last fall, mostly on special teams. He competed for the nickel job last offseason, ultimately falling short to TaRiq Bracy. He did not appear outside of garbage time after the home opener, in which he surrendered a 66-yard completion. Wallace entered the portal on Jan. 20 and remained uncommitted for more than three months before choosing Georgia Tech on May 1. He graduated from Notre Dame in May.
2021 stats: 10 games, one tackle, 19 defensive snaps
More Notre Dame football:
• How Oklahoma beat Notre Dame at its own game at the College World Series
• The Gold Standard: Scoop on Notre Dame football's recruiting weekend
Offensive lineman Quinn Carroll
A former top-100 recruit, Carroll appeared in 12 games this season and 15 in his career as a backup offensive lineman and member of the field goal unit. He put his name in the portal as a grad transfer Jan. 3 and committed to Minnesota a few days later. He's a Minneapolis-area native.
2021 stats: 12 games, 23 offensive snaps
Cornerback Caleb Offord
Offord played two games each of his first two seasons, logging defensive snaps at the end of Notre Dame's 2021 win over Navy. His name appeared in the portal Jan. 3, and he committed to Buffalo later that month. He has four years of eligibility left to use with the Bulls.
2021 stats: two games, seven defensive snaps.
Linebacker Paul Moala
No Notre Dame player had worse injury luck than Moala the last two seasons. He tore his Achilles tendon in the Irish's third game of 2020 and suffered the same injury in the 2021 opener. The Mishawaka, Ind. native declared his intent to be a grad transfer a few hours after Notre Dame's Jan. 1 Fiesta Bowl loss. He announced he received an offer from FCS program Idaho in March, took an official visit there April 1-3 and committed shortly after his trip.
2021 stats: one game, no defensive snaps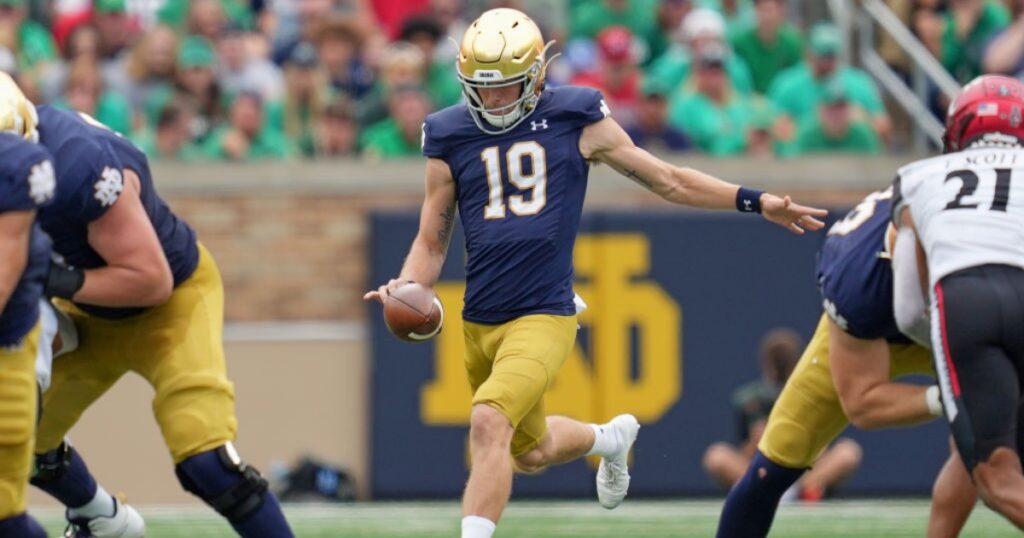 Punter Jay Bramblett
A move that felt inevitable when Bramblett was introduced on Senior Day became official Jan. 1. Bramblett entered the transfer portal as a graduate student following the Fiesta Bowl. He was the Irish's primary punter from 2019-21 and averaged 43.1 yards per kick last season, including a long of 72 yards. The Tuscaloosa, Ala. native is the lone Irish player to follow Brian Kelly to LSU. He has two seasons of eligibility left.
2021 stats: 13 games, 58 punts, 43.1 average, 19 inside 20
Safety Khari Gee
A late addition to the Notre Dame's 2021 class, Gee took a redshirt after flipping from LSU on the last day of the early signing period. The former four-star recruit and Atlanta native entered the portal Dec. 22 and committed to hometown Georgia Tech Jan. 16. He has four seasons of eligibility remaining.
2021 stats: N/A
Linebacker Shayne Simon
Simon started eight games in 2020 at Will linebacker, but began 2021 as a backup after Marist Liufau and JD Bertrand leapfrogged him. His season lasted less than four quarters. He suffered a torn labrum in the opener and missed the next 13 games. He announced his transfer as a graduate student on Dec. 18 and committed to Pitt in January with two seasons of eligibility left.
2021 stats: one game, eight defensive snaps
Safety Litchfield Ajavon
Ajavon was a former top-300 recruit, but played in just 10 career games as a deep reserve and special teamer. He entered the portal Dec. 8 as a graduate. He has three seasons of eligibility left and transferred to Rice in May.
2021 stats: five games, one tackle, seven defensive snaps
Quarterback Brendon Clark
Clark did not appear in a game last fall and entered the transfer portal Oct. 20. The Midlothian, Va., native signed with Notre Dame in 2019 and played in three career games, spending most of 2020 as the No. 2 quarterback. He was a scout-team staple in 2021 until his departure. He chose Old Dominion as his next destination Nov. 28 and was on the Monarchs' roster for the spring semester. He has three seasons of eligibility left.
2021 stats: N/A
WR Lawrence Keys III
Keys left the team a few days after the 2021 opener, in which he played five catchless snaps. He entered the transfer portal Oct. 8. The New Orleans native had 18 catches for 185 yards in his Notre Dame career and graduated in December. He picked Tulane as his next stop and was on the Green Wave's spring roster. He has two seasons of eligibility left.
2021 stats: one game, five snaps