Notre Dame head coach Marcus Freeman clarifies Ohio State academic comments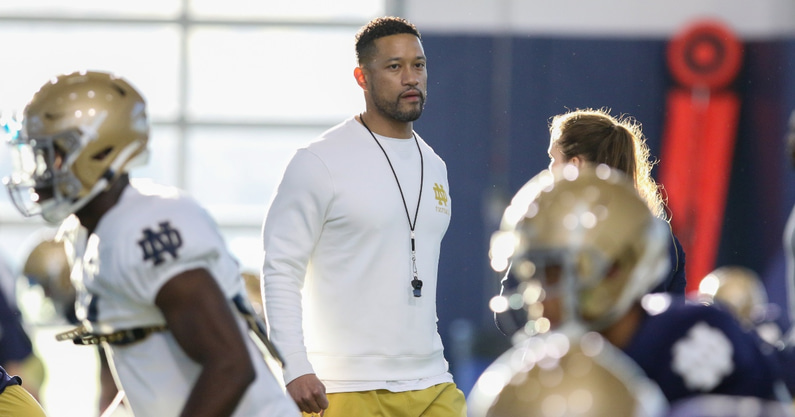 Notre Dame head coach and former Ohio State linebacker Marcus Freeman was under fire for a set of comments he made and wanted to set the record straight. On Wednesday, Freeman joined "Morning Juice," a sports radio show on 97.1 The Fan in Columbus, Ohio, to discuss remarks that circulated on Tuesday that came across as a jab at Ohio State's academics.
"Key words and context were missing from the quote that upset a lot of people that I care about," Freeman said. "I'm very proud of my two degrees from Ohio State. I would never discredit the quality of education those degrees represent."
PROMOTION: Sign up for just $1 for your first year at Blue & Gold
CLICK HERE to order the 2022 Notre Dame Football Preview
Freeman argues the commentary was not a knock on Ohio State academics, and he was misquoted in a story by CBS' Dennis Dodd. Instead, Freeman was trying to make the point that at Notre Dame, a school of just 8,500 students, it's incredibly difficult to skip class and fly under the radar.
"I was specifically talking about the academic rigors at Notre Dame," Freeman said. "Online classes are not a standard part of the curriculum here. In fact, before COVID they weren't even offered."
Freeman said he reached out to Dodd's camp for the audio from the interview he did, and shared the quote he gave in said interview.
"(Notre Dame students') study habits are formulated every day," Freeman said. "You can't cheat academics at Notre Dame. If I didn't go to class at Ohio State, (there were) 60,000 students. Cincinnati (there are) 40,000 students. If you don't go to class, OK. Take some online classes and show up at your final.
"At Notre Dame, you're forced every day to go to class every day. It formulates this work capacity, this learning capacity."
Freeman closed on the topic by summarizing why he included mention of the Buckeyes and the Bearcats in the first place.
"The only reason Ohio State and Cincinnati were referenced was because they are large schools with a large student body in comparison to Notre Dame, which is a small school with 8,500 students," Freeman added. "That's why it was important for me to reach out to you. I wanted to make sure what I said was accurately reported.
"If Marcus Freeman says 'You don't go to class at places like that,' that changes the entire narrative…So I wanted to make sure I get that cleared up. I would never disrespect Ohio State. I would never say you don't go to class."