Notre Dame men's basketball scholarship chart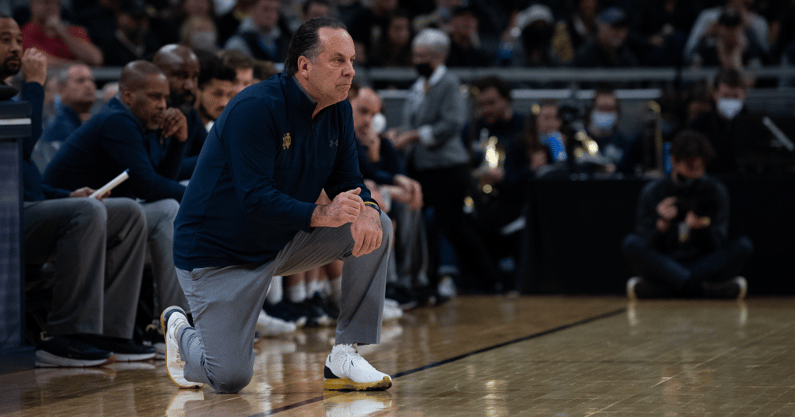 Notre Dame men's basketball began its summer workout and practice schedule June 14, with players starting classes for the six-week summer term one day prior. The Irish reconvened with 12 scholarship players, and barring a late summer addition, it looks like they'll stay at that number this season.
The final pieces of solidifying the 2022-23 roster came together in early June. Forward Nate Laszewski withdrew from the NBA Draft on June – the last day he could do so – and returned to Notre Dame as a "super senior" using the NCAA's COVID-19 exemption that gave all 2020-21 winter sport athletes an extra season. He was not a projected draft pick.
PROMOTION: Sign up for just $1 for your first year at Blue & Gold
CLICK HERE to order the 2022 Notre Dame Football Preview
Guard Robby Carmody is back as a fifth-year senior and will attempt to gain full clearance to play after injuries sidelined him for much of the last three seasons. His only action since Dec. 4, 2019 was a six-second appearance at the end of a March 5, 2022 win over Pittsburgh.
Carmody and guard Cormac Ryan had previous fifth-year eligibility because of the COVID waiver. They can use the COVID exemption to play in 2023-24 as sixth-year seniors. Laszewski, guard Dane Goodwin and guard Trey Wertz used the COVID waiver to come back for a fifth season. Guard Prentiss Hubb did not use it and is pursuing a pro career after four seasons at Notre Dame.
Notre Dame's three-man freshman class of guard JJ Starling, forward Ven-Allen Lubin and forward Dom Campbell enrolled in June. Niagara grad transfer guard Marcus Hammond also began classes and is on campus for summer practices. Those are the new faces on the roster. Notre Dame explored other transfer options throughout the spring and even hosted former Penn forward Michael Wang for an official visit in early June, but did not make any additions.
Hubb, forward Paul Atkinson Jr., guard Blake Wesley, forward Elijah Taylor and walk-on guard Elijah Morgan are the five departures from last year's team. Atkinson was out of eligibility and Wesley declared for the 2022 NBA Draft. Taylor transferred to Quinnipiac and Morgan landed at The Citadel as a scholarship player.
Here's a look at Notre Dame's scholarship distribution for 2022-23 and the next few seasons. This chart will be updated throughout the summer and fall as the Irish build their 2023 recruiting class.