Chris Holtmann, Buckeyes agree to contract extension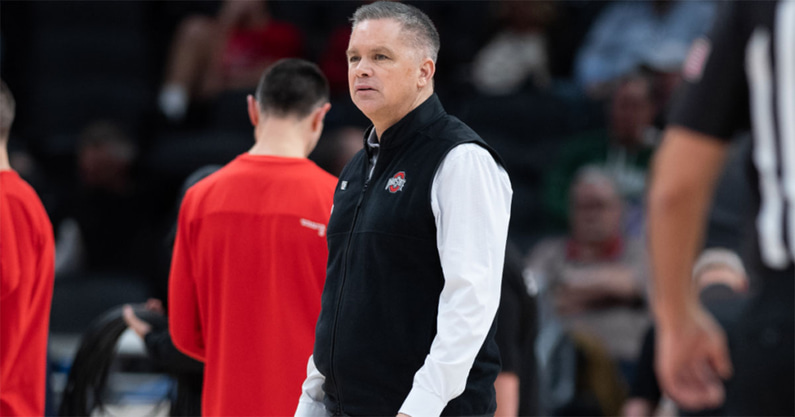 COLUMBUS — Chris Holtmann believes he is building something special at Ohio State.
The athletic department seems to agree, so they decided to give him more time to do it. Holtmann and the Buckeyes agreed to and signed a new contract extension, approved by the Board of Trustees this week.
The 50-year-old Buckeyes head coach was five years into his original eight-year contract before signing the extension to keep him locked in with the program longer than the initial commitment.
Details from the extension:
a three-year extension that will keep Holtmann under contract through the 2027-28 season
salary increase of $500,000, bringing him to a $3.5 million annual deal with a base salary of $1.0 million per year
Ohio State is 107-56 overall since Holtmann took over the program. The Buckeyes have reached the NCAA Tournament all four years it has been played during Holtmann's tenure, reaching the Round of 32 three times in that span. Holtmann has impressed as a recruiter, especially in the loaded class of 2022 and the first few commitments in the class of 2023.
Athletic director Gene Smith is pleased with the direction Holtmann has the Buckeyes program headed in, but he certainly wants to see Holtmann win some championships at Ohio State.
"I really happy with where we are," Smith said in February when asked about Holtmann's contract talks. "We strive for championships. There's no question about that — we need to get there, and we will. But you look at his recruiting, it's off the chain. And I just love the teaching he does. … The guy is dog-gone good. I feel really good about what he's doing and feel good about his recruiting. You know, his hire with [now former assistant coach] Tony [Skinn] was phenomenal. So yeah, I feel good. At some point in time, the same with Ryan [Day], we'll have a contract conversation with him."
The conversation already happened between Gene Smith and Chris Holtmann, and the extension has been signed. Ohio State is giving Chris Holtmann a contract that allows him to keep building his program.
Kevin McGuff receives new contract
In addition to the contract extension for Holtmann, Ohio State announced a new contract for women's basketball coach Kevin McGuff, who is entering his 10th year as the women's hoops coach.
McGuff's contract details:
A new four-year contract that runs through the 2025-26 basketball season
Base salary of $675,000
$1.05 million annual compensation