Justice Sueing returning for final season at Ohio State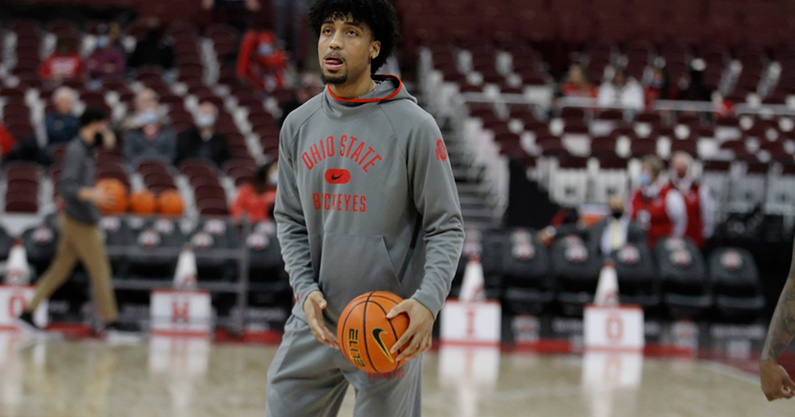 COLUMBUS — Ohio State guard Justice Sueing already announced he wasn't done playing college basketball.
But he didn't make it clear where that would be — until Thursday night.
Just a day after it was reported that Sueing will return to play a final season of eligibility, he cleared the air on his Twitter page, making his intentions public and clear that it will happen at Ohio State.
The return of Sueing allows the Buckeyes to move forward with a massive piece of the puzzle back in play as they attempt to reload after a mixed bag of results last season.
The Buckeyes will gladly take him back on their roster next winter. Sueing averaged 10.7 points per game and 5.5 rebounds per game during his last full season at Ohio State before the injury. He was supposed to be a starter for a Buckeyes team that had pieces to make a deep NCAA Tournament run.
When the injury forced him out of action, Chris Holtmann and the Buckeyes lost a major piece — and had to find a way to replace his production they expected to have. Instead of having an elite roster, the Buckeyes were shorthanded for much of the season.
"I think the injuries played a major role," Holtmann said directly following the NCAA Tournament exit last month. "We didn't have the team we anticipated having. But I was really proud of our last week, really."
That won't be the case next season, so long as Sueing can stay healthy.
Sueing will be the featured offensive weapon at Ohio State next year, especially after the Buckeyes lost E.J. Liddell to the NBA draft and may lose Malaki Branham, who declared for the draft and still could come back, although he is projected to be a first-round pick.
Now with a definitive plan in place, Ohio State and Justice Sueing can make plans as a perfect pairing. And the short-lived speculation that Sueing may be looking to play elsewhere can be put to rest.