Buckeyes highly-anticipated matchup at Notre Dame set for primetime kickoff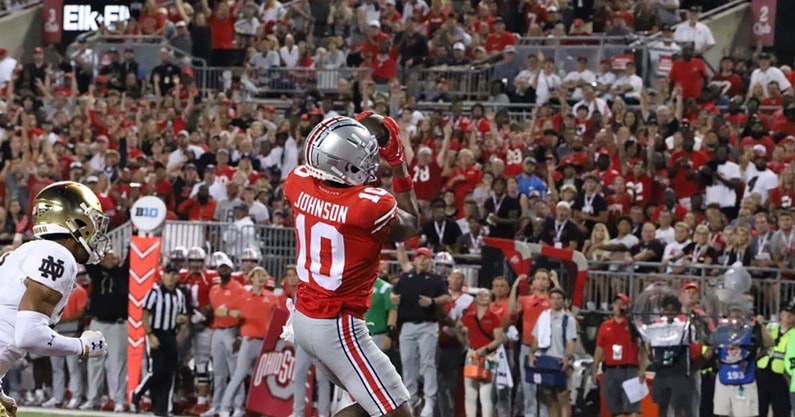 COLUMBUS — Ohio State beat Notre Dame in primetime to open last season with a statement victory at home.
The Buckeyes are making a return trip to South Bend in late-September, and it won't be an easy game to win. It's even harder now that it's officially going to be in primetime.
The highly-anticipated Ohio State matchup against Notre Dame on Sept. 23 will be broadcast on NBC and Peacock, as expected. It'll be under the lights; the blue bloods will square off at 7:30 p.m. on the fourth Saturday in September.
Ohio State has won five straight games over the Fighting Irish. Notre Dame hasn't beaten the Buckeyes since back-to-back wins in 1935 and 1936.
Not a member? SUBSCRIBE TO LETTERMEN ROW
The clash with Notre Dame will be the Buckeyes second road game of the season — and second in the state of Indiana. They play Indiana on the road to open the year on Sept. 2.
Of course, the road trip to Notre Dame will be the first major test for whichever Ohio State quarterback becomes the starter. Kyle McCord and Devin Brown are the candidates to become the next quarterback for the Buckeyes. Whoever wins the job will have to lead Ohio State into a hostile environment and escape with a big, statement-making win over a historic rival.
The next edition of it will happen in South Bend. And it'll be a primetime matchup that is already generating plenty of buzz.
Buckeyes also set for primetime game vs. Michigan State
Ohio State will play host to Michigan State in primetime on Nov. 11, earning a 7:30 p.m. kickoff time on NBC, the new Big Ten network partner announced on Monday morning.
Ohio State has won every matchup against Michigan State since 2015, and the recent history of the series hasn't been pretty. The Buckeyes badly beat the Spartans in East Lansing last season, walking out of Spartan Stadium with a 49-20 win.
Ryan Day has not lost to Mel Tucker since Tucker took over at Michigan State, winning both matchups by at least 29 points in each of them, including the 2021 meeting in the Horseshoe when both teams were ranked inside the top-10.
2023 Ohio State Schedule
Sept. 2 – at Indiana
Sept. 9 – Youngstown State
Sept. 16 – Western Kentucky
Sept. 23 – at Notre Dame (7:30 p.m. on NBC)
Sept. 30 – Off
Oct. 7 – Maryland
Oct. 14 – at Purdue
Oct. 21 – Penn State
Oct. 28 – at Wisconsin
Nov. 4 – at Rutgers
Nov. 11 – Michigan State (7:30 p.m. on NBC)
Nov. 18 – Minnesota
Nov. 25 – at Michigan (Noon, FOX)
Dec. 2 – Big Ten Championship Game
This is a developing story. Stick to Lettermen Row for full coverage as time slots and channel announcements are released.