Zach Harrison proves game-changing ability in Buckeyes opening win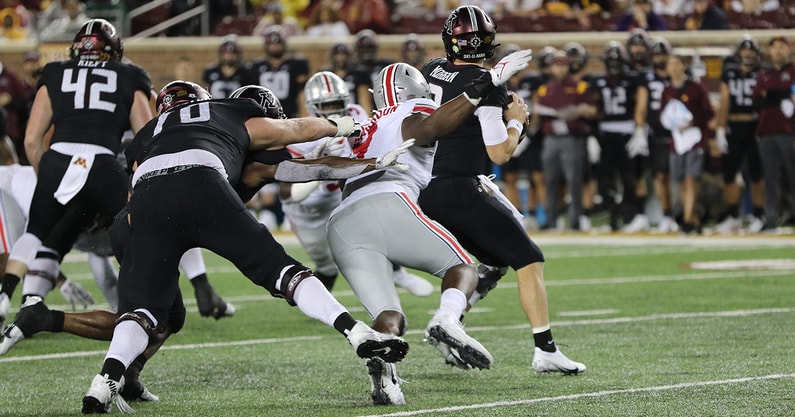 Win or lose, every week there are a handful of Ohio State players who stood out above the rest.
Following the tradition of the helmet stickers that dates back to the days of Woody Hayes, Lettermen Row shares out our version of the award every Sunday morning for the best performers on offense, defense and special teams for the Buckeyes.
---
MINNEAPOLIS — The vision for Year Three at Ohio State hasn't changed for Zach Harrison.
Double-digit sacks. Offensive lines in constant fear. All-American and first-round pick. It was always the standard Harrison was held to after the former five-star chose the Buckeyes during his recruitment.
If Harrison is to live up to those expectations, he is off to a perfect start on the season. In the Buckeyes gritty 45-31 win over Minnesota on Thursday night, he made a play that changed the game. With a three-point lead but not much momentum in the Buckeyes favor, Harrison sacked and stripped Gophers quarterback Tanner Morgan.
The ball landed in the lap of Haskell Garrett, who ran it back for a touchdown. It was a play Harrison has been building toward as he breaks out this fall.
"[Ohio State defensive line coach Larry Johnson] always says that sacks are good but a strip sack changes the game," Harrison said. "As a D-line, we take that to heart. In practice, we're always working every time we come around the edges. Swipe at the ball, swipe at the ball, swipe at the ball. It was just second-nature. Just kind of muscle memory at that point."
Harrison has been compared to Buckeyes greats Chase Young, Joey Bosa and Nick Bosa due to his recruiting accolades. Now he officially has a game-altering play to his name that looked like what Young did during his record-smashing junior season.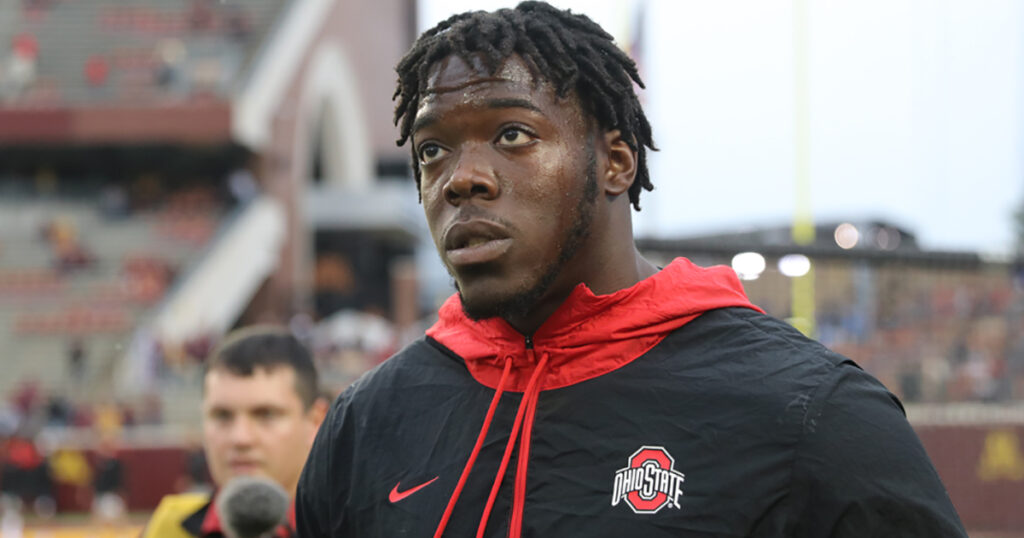 He can do that in his third year, too. He proved it against the Gophers.
"I thought that was that was probably the difference in the game," Ohio State coach Ryan Day said. "Anytime you get a defensive score, whether it's a blocked punt or something like that, that flips the scoreboard. It really is a huge game-changer."
Harrison completely changed the course of the game with his third-quarter strip sack, but he wasn't alone. Lettermen Row is breaking down who shined and earned a Buckeye Leaf in the season-opening win.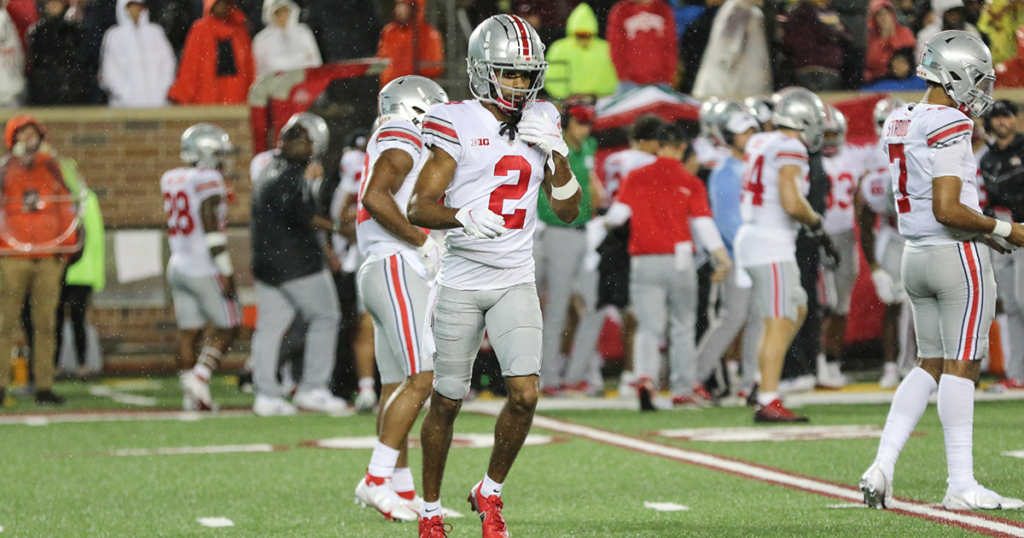 Offense
WR Chris Olave
Olave proved yet again why he's the best returning wide receiver in college football, and he showed why he could have been a first-round pick last spring. The senior captain was targeted six times na d had four catches for 117 yards — and two touchdown grabs. He averaged an absurd 29.3 yards per catch, another example of just how explosive he can be for first-time starting quarterback C.J. Stroud and the Buckeyes. When Ohio State needed a score to put the game away, Olave was there with a 61-yard score to put his team up two touchdowns. Stroud put the ball where it needed to be. Olave did the rest, proving why he is the top pass-catcher in college football.
Defense
DE Zach Harrison
Zach Harrison has had to hear about the expectations that surround him for the last two years, ever since he chose Ohio State. He is expected to finally live up to those high benchmarks this fall, and he started with a game-changing play that gave the Buckeyes a boost they needed to find a way to win. With Ohio State only winning by three, Harrison came off the edge and sacked Gophers quarterback Tanner Morgan. The ball fell to the turf and took a bounce, and Haskell Garrett was there to scoop and score, giving Ohio State a 10-point advantage. Harrison has always had high expectations for the Buckeyes. It seems he is ready to live up to them.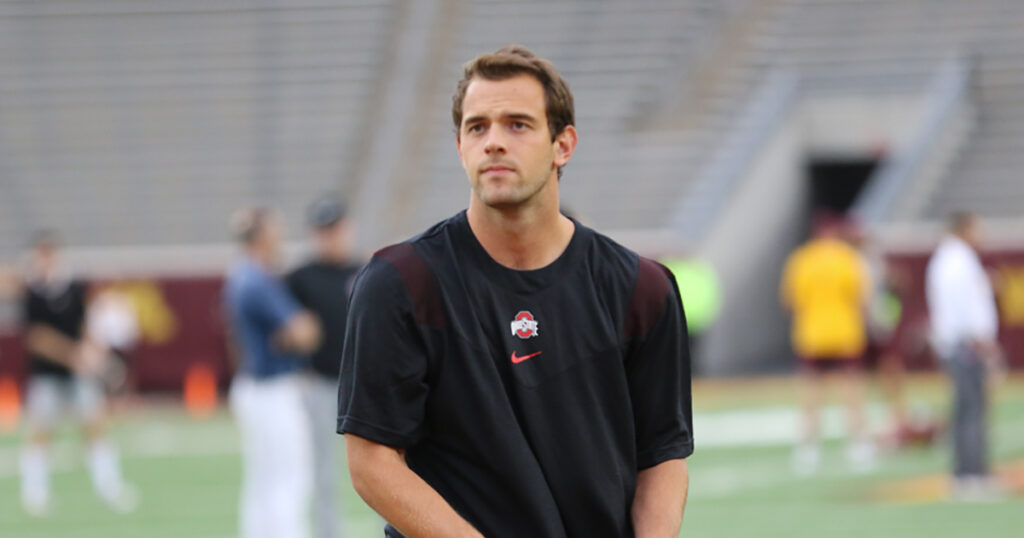 Special teams
K Noah Ruggles
Ohio State had a heated battle for the starting kicker in training camp. It became clear North Carolina transfer Noah Ruggles won the job when he was on the travel roster — while Jake Seibert was not. Ruggles was impressive in his Buckeyes debut, hitting all six of his extra points and knocking in a 35-yard field goal. Ruggles may still need to hold Seibert off to officially become the full-time kicker. But he was everything Ohio State needed him to be in his Buckeyes debut.