Scarlet Sunrise: Buckeyes name champions from tuneup win over Akron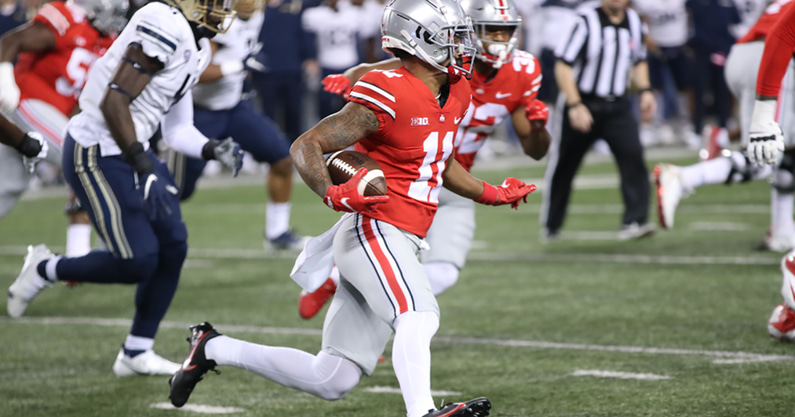 Good morning, Ohio State fans, and welcome to the Scarlet Sunrise. Football will always be our focus, but every day we'll cover news, notes and analysis from across Buckeyes sports. Join us each morning to get caught up on everything you missed in the world of Ohio State football, recruiting, basketball and more in Scarlet Sunrise.
Buckeyes name champions from tuneup win over Akron
Ohio State dismantled Akron on Saturday night, and plenty of young stars are starting to emerge as difference-makers.
The Buckeyes still aren't a finished product, but they are making progress. Before they get back into Big Ten play at Rutgers this week, the program made sure to name champions, including three first-year players and new faces on both sides of the ball.
The full list of champions can be found below.
Defense: DT Haskell Garrett, DB Ronnie Hickman, LB Steele Chambers, LB Teradja Mitchell
Defensive Player of the Game: DT Tyleik Williams
Offense: OL Luke Wypler, OL Paris Johnson Jr., OL Nicholas Petit-Frere, OL Matthew Jones, RB Master Teague, RB TreVeyon Henderson, TE Jeremy Ruckert, WR Chris Olave, WR Jaxon Smith-Njigba
Offensive Players of the Game: OL Dawand Jones, WR Garrett Wilson
Special Teams Player of the Game: P Jesse Mirco
Lettermen Live hosted by Roosters
Ohio State finally seemed to get its confidence back in a 59-7 beatdown of Akron on Saturday.
The all-star Lettermen Row crew is back at Roosters to break it all down on the latest episode of Lettermen Live.
Lettermen Row senior writer Austin Ward quarterbacks a team of former Buckeyes linebacker Bobby Carpenter, Nicole Cox of Roosters and Lettermen Row Director of Recruiting Jeremy Birmingham to analyze the Buckeyes performance and where they can go from here.
Day's offense exploded for more than 600 yards of offense behind quarterback Kyle McCord and an efficient rushing attack. Did McCord prove that he can challenge C.J. Stroud as the Buckeyes starter even if Stroud is healthy?
Of course, the crew had to hit on the K'Vaughan Pope news as well.
You won't want to miss all that and more Buckeyes news that is featured in the latest episode of Lettermen Live hosted by Roosters.
Kyle McCord named B1G freshman of week, third Ohio State player to do so
Kyle McCord wasn't flawless in his Ohio State debut.
But the Buckeyes freshman did enough to earn his first Big Ten conference honor.
The league named McCord its Freshman of the Week following for his work on Saturday night against Akron. McCord is the fourth straight Ohio State freshman to win the award and second quarterback this year to be tabbed. Fellow signal-caller C.J. Stroud picked up the honor for his work against Minnesota and Oregon while tailback Treveyon Henderson got the call after decimating Tulsa a week ago.
McCord completed 13-of-18 passes for 319 yards in his first college game and connected on a pair of touchdown throws in his debut. He played the majority of the first half and two series in the second before giving way to redshirt freshman Jack Miller who completed the game for Ohio State.
Weekend Kickoff presented by Bryant Heating and Cooling Systems
Lettermen Row Weekend Kickoff presented by Bryant Heating & Cooling Systems: The Whatever It Takes Pregame Show is back!
The Lettermen Row crew will be live from Urban Meyer's Pint House in Dublin's Bridge Park on Thursday night for a full preview of the Buckeyes next road trip, this time at Rutgers in a return to Big Ten play.
The next edition of the show will be Thursday, Sept. 30 at 7 p.m., and there will be plenty of Ohio State guests on hand to break down the pursuit of a win. Come out to see Zach Boren, Bobby Carpenter, Tyvis Powell, Robert Landers and other former Buckeyes greats give their insight about the upcoming game with the Scarlet Knights and give predictions about the return of conference play in Piscataway.
Get set with the panel of former Buckeyes with analysis, stories, delicious food from Urban Meyer's Pint House in Dublin and some cold Coors Light. Don't miss the next show Thursday at 7 p.m.
Lettermen Row Weekend Kickoff presented by Bryant Heating & Cooling Systems: The Whatever It Takes Pregame Show is proudly sponsored by Coors Light and Byers Auto!
Download Lettermen Row's free app
Want an easier way to get free premium content from Lettermen Row?
The Lettermen Row app is here! Get all of the Ohio State news, analysis, videos and everything else you've come to expect from us in one free, convenient spot. It's now available in both the App Store and Google Play. Check it out!
The Lettermen Row app can be found for free here:
Sign up for the Scarlet Sunrise newsletter
If you enjoy the Scarlet Sunrise posts, please consider having our newsletter delivered to your inbox every weekday morning.