Scarlet Sunrise: Buckeyes hit impressive milestone for NIL deals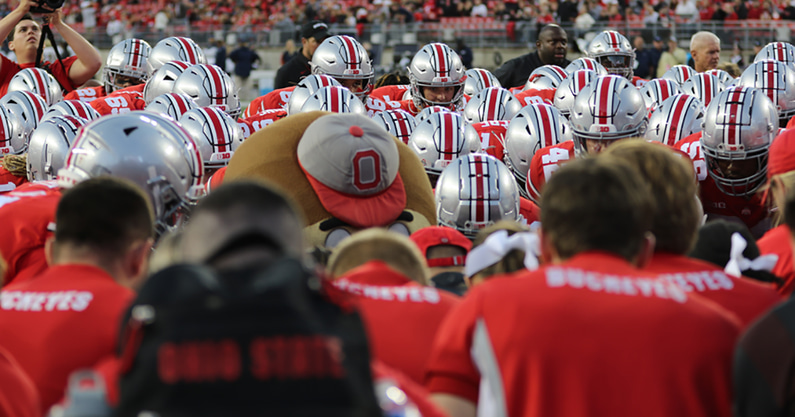 Good morning, Ohio State fans, and welcome to the Scarlet Sunrise. Football will always be our focus, but every day we'll cover news, notes and analysis from across Buckeyes sports. Join us each morning to get caught up on everything you missed in the world of Ohio State football, recruiting, basketball and more in Scarlet Sunrise.
Ohio State hits impressive milestone for NIL deals
Ohio State has been proactive in the Name, Image and Likeness space since it began a year ago.
The athletic department as a whole has hit an impressive milestone as a direct result. Buckeyes student athletes have signed 1,000 NIL deals since the legislation went into effect last July, according to the Ohio State NIL twitter page.
That doesn't just include the incredible car deals C.J. Stroud and other football players have signed. It doesn't just mean the football and hoops teams are making money. No, the athletic department as a whole has made sure every Buckeyes athlete has the chance to do NIL deals.
So the major milestone of 1,000 NIL deals this year? It's impressive, but it's certainly not surprising.
Five-star quarterback commit expected to camp at Ohio State next week
Ohio State has just one camp next week. Turns out it might be the biggest showcase yet for the Buckeyes future quarterback.
Five-star quarterback and Ohio State commit Dylan Raiola is expecting to be in Columbus to camp with the Buckeyes next Tuesday. It'll be his first trip to visit the Buckeyes since he committed to Ryan Day's program last month.
Raiola is certain to draw some other top prospects to the Buckeyes. He is already the No. 1 overall player in the 2024 class. Now he's taking a trip to Columbus to camp with the Buckeyes coaching staff next week.
ICYMI: New Ohio State Recruiting Podcast
Unofficial and official visits. New offers. Camp dates and surprising new targets. And, of course, the Buckeyes have plenty of top targets nearing a decision date.
That's where the conversation begins on Talking Stuff: The Ohio State Recruiting Podcast from Lettermen Row. The Buckeyes just wrapped up one official visit weekend. Another is on deck for this upcoming weekend. And camp dates are providing new and intriguing names that could be the future of the Buckeyes program.
It has been a busy month for the Buckeyes. What recruitments are they making up ground on as they make their way through June? Who are the biggest remaining visitors for the Buckeyes over the next two weekends? Who is impressing the Buckeyes coaching staff at camps in the last week?
Those are some of the key discussion points on this week's episode of Talking Stuff: The Ohio State Recruiting Podcast on Lettermen Row. The latest episode features Lettermen Row staff writer Spencer Holbrook alongside staff member Andrew Ellis. The duo of Lettermen Row staffers breaks down the big recruiting weekends ahead along with a rundown of the latest visits from the Buckeyes top prospects.
Are you subscribed yet?
Are you ready to get all your latest Ohio State news in one place? Become a member of Lettermen Row today. With your Lettermen Row/On3+ membership, you'll not only have access to the everything that's happening with the Buckeyes, but you'll also be able to peruse other fan sites within the network to hear just how rivals are feeling about Ohio State, as well. Make sure to follow along on Twitter, Instagram and on Youtube for all the latest Buckeyes news you need to know.
Already signed up? Don't forget to join us in the Lettermen Lounge to talk about the latest Ohio State sports news.