Everything Tosh Lupoi said following Oregon's second fall practice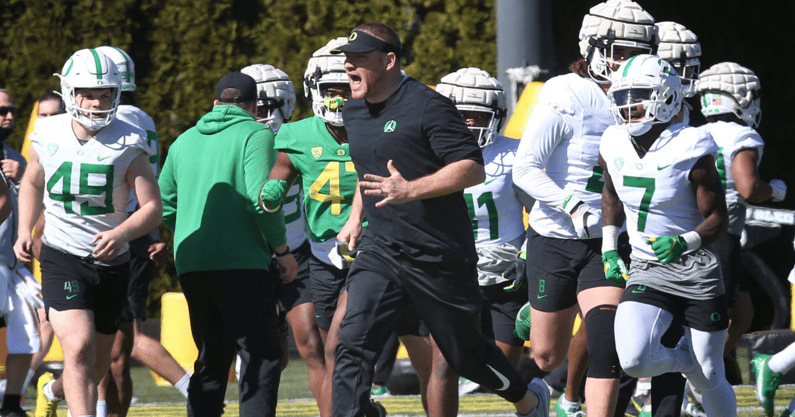 Oregon's second day of fall camp is officially in the books.
The Ducks were in shorts and no pads once again on Saturday. As head coach Dan Lanning explained on Friday, the program is practicing during the hottest part of the day in order to prepare players for a "tough" environment.
Following Saturday's practice, Oregon defensive coordinator Tosh Lupoi met with reporters to discuss his thoughts on the first two days of fall camp.
Here's a full transcript of his media availability.
What are your takeaways from day two?
"Guys are coming out and attacking. I'm really respecting how the group is answering the challenges. Now, it's kind of like the honeymoon, right? We're all excited. Day two: beginning, new crew, new defense, new staff, all that stuff. We're building this culture all together, coaches included. But I'm excited about the direction we're going."
How different is the interior defensive line with everybody healthy and the transfers here?
"Really excited to have the individuals we have. To be honest, and it is always like this at this level of play, it's difficult to assess those guys with no pads on. Sometimes guys will look a lot better, like, in underwear Olympics. And we'll find out probably a lot more stating tomorrow when. We're gonna have some pads on, I believe, so we'll find out up front what we're really made of."
(Dan Lanning) has credited Brandon Dorlus for his offseason work. What have you seen from him?
"Yeah, he's worked for it. I think he's got definitely tunnel vision focus on what he wants to do this season. The challenge is doing it one day at a time. I know his sights are set on some really big goals and that's our job, along with him, to really understand the importance of attacking it on a daily basis."
Where do you see room for improvement for Dorlus?
"Shoot, I could be here for a couple of hours probably per individual. We all have a long ways to go, a lot of improvement ahead. But there are some things — he offers us some versatility. So he's someone that we can tax, if he can handle it mentally, in multiple spots on our defense, because of that versatility. He's a bigger guy who can move well. So once again, once we get our pads on, we'll start to find out a lot more about him and everybody else on our defense."
In what ways does (Justin Flowe) show his personality on the field, and what is it like having him and Noah Sewell in the middle of your defense?
"I'm excited to have his presence. The thing I love about Justin is we've got to constantly tell him to slow down. I'd rather do that than have to demand someone every day to speed up. He's a guy that you've constantly got to remind to slow down. Sometimes a walk-through looks like it's 4th-and-1 with the game on the line. But I love his intensity. I love his mental focus. I'm really excited about the potential that he can serve in our defense."
Where does the improvement have to come in Flowe's coverage?
"I think he's challenged himself. If you just look at his body and his body weight, he's really committed to that. He's a guy who can move from point A to point B with a lot of speed and violence. He's a guy that has some versatility to his game, really, as well. We put a lot on that position at times, and what he needs to do from a coverage standpoint. He's done a nice job of answering those for us."
Coach Lanning wanted to see more toughness. Did that come out today?
"I think it was really good to see how the defense responded at the end after at times giving up way too many explosive plays to finish. However, again, I think a lot more will be telling as we get pads on."
Does the "honeymoon" phase end when the pads are on?
"Yeah, a little bit. It's still the first day of pads, so we'll be really excited. So will everybody else in the country who gets that day. I think toughness will come along as you do it each day. Can we wake up? Can we come to the meetings with the right intensity? Can we have the attention to detail that's required? Can we mentally lock in when we need to and when we go out on the field can we execute it with some physicality and violence?"
Positionally, where do you plan to play Khamari Terrell, Trejon Williams, and Jalil Tucker?
"I think it's important in this defense — there's a lot of variety we ask of these guys. We're a multiple defense, alright, so we're not gonna typically play a guy at one position. We want to move them around. It can tax them mentally at times, but we wanna find out how we can get our best 11 on the field. That's, to me, my opinion of what a good coach and a program can do — utilizing their best 11. So, per situation of football, whatever that requires, we're gonna do our best to put the best 11 out."
What is your philosophy when it comes to relying on freshmen since you didn't necessarily have to (as defensive coordinator at Alabama)?
"I wouldn't agree with you as far as the tradition where I was at — the place that you mentioned. We played true freshman all over the place. It's gonna come down to who can handle it mentally and who the best on the field is. So, if there's a younger guy that can offer us an advantage, he's gonna play for us. It's gotta be my job and the coach's job that we make complexities clear."
How do you evaluate progress for the defense during fall camp?
"I think we challenge them every day to operate to the standard. During spring ball, we gave a lot of positive reinforcement. Now, we've got a reality check. Now, we're gonna point out what's not to our standard and we're gonna celebrate what is."
How active were the referees at practice?
"How active were the referees? I think they executed their jobs. There were a lot of flags."
More than you would like?
"No, but both sides of the ball, we're gonna try to replicate game day every possible way. That's another one right there."
Adding Casey Rogers and Jordon Riley, what do you see from two veteran D-linemen who came from the transfer portal?
"Excited. Mostly, too, about the additions to our culture with those guys. Those guys have done everything we've asked of them from a nutrition standpoint, what they're doing in the weight room, on and off the field, and now on the field. Now, again, we'll find out a lot more as we move forward in camp. Hard to assess right now where we're at from that standpoint, but definitely love having them as people and having them as part of this program. Really excited to be coaching them."
At what point do you start implementing a game plan for Georgia rather than a general install?
"We have a major focus on us right now. That's kind of sacrilegious for us; we're so far away from where we want to be. Heading that direction, but we're not referring to any other team. It's all bout us and how we can improve. Morning and afternoon — we're gonna go up and correct this film right now as an entire staff and we're gonna go right back in and coach our asses off in the meeting room to improve. That's all we're focused on right now."