Five-Star EDGE Sets June Official Visit to Oregon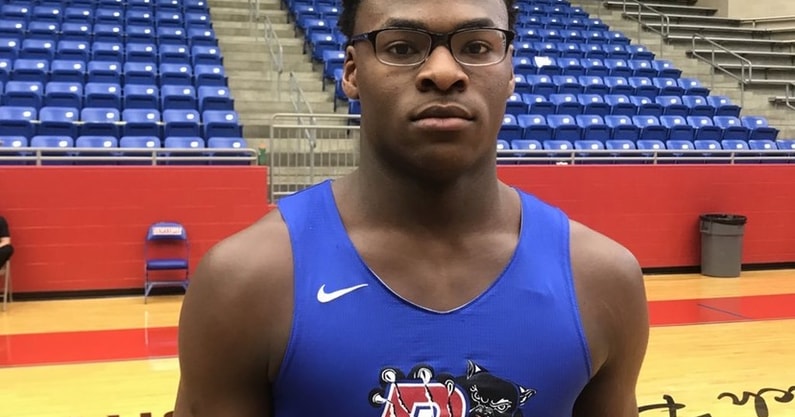 Stop me if you've heard this before, but Oregon will host yet another five-star on campus in the month of June for an official visit.
Duncanville (Texas) EDGE Colin Simmons will be one of them. The 6-foot-2, 225-pounder is the No. 1 ranked EDGE in the country and No. 3 ranked player in the On3 Industry Rankings.
On3's Sam Spiegelman caught up with Simmons to get the latest on his recruitment including the Oregon visit.
"I'm excited t go back to Oregon, see the coaches and Dan Lanning," Simmons said. "I'm very excited to see what they've got to show me and what they've got laid out for me."
Simmons is expected to visit Oregon the weekend of June 16. He will also visit Miami on June 9 and Texas on June 23.
Currently LSU holds a lead in the On3 RPM for Simmons. The Tigers lead Texas 43% to 24%.
Alabama, LSU and Texas A&M are expected to get official visits later this Fall.
On3 Scouting Report:
Long-limbed EDGE prospect who stars for one of the top high school programs in Texas. Measured at around 6-foot-2.5, 225 pounds with a 34-inch arm prior to his junior season. Grew around an inch as a sophomore. Primarily lines up at defensive end for Duncanville. Uses first-step quickness, play speed and dip to create issues for opposing offensive tackles. Shows good curvilinear movement with his ability to turn corners as a pass rusher. Length aids in disengaging from offensive linemen, finishing plays and disrupting passing lanes. Looks to play with a good effort level. Plays against top competition and made an impact on a defensive front that featured older, Power 5 prospects.