Oregon MBB Announces 2021-2022 Schedule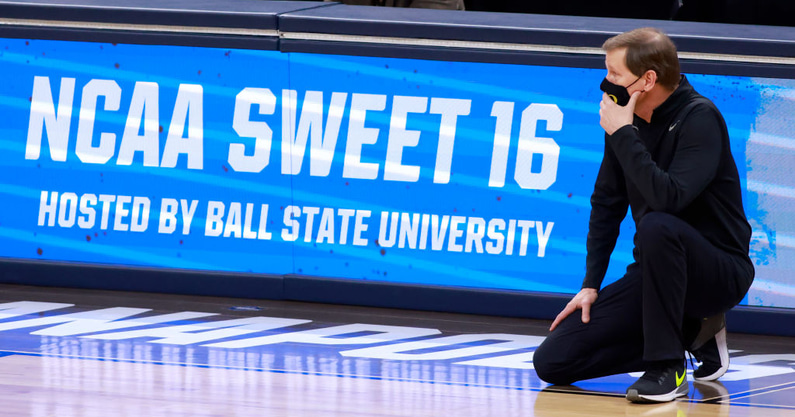 EUGENE, Ore. – Oregon will be featured in 17 national broadcasts by either the ESPN family of networks, Fox Sports 1 or CBS during the 2021-22 season, as the Pac-12 announced the league schedule and television selections on Wednesday.
Season tickets for the 2021-22 season are on sale now, starting at only $165. Fans can use the link below to personally select their season ticket locations.
SEASON TICKETS: Men's Basketball Season Tickets
ONLINE SCHEDULE:  Men's Basketball Schedule 
The first nationally televised game is the Nov. 16 Phil Knight Invitational contest versus BYU, taking place at the Moda Center in Portland and airing at 7 p.m. PST on ESPN. On Dec. 18, the defending-champion Baylor Bears will visit Matthew Knight Arena to face the Ducks at 7 p.m. PST on ESPN2. Oregon opens its 20-game Pac-12 conference schedule as hosts to Arizona State on Dec. 5, before traveling to Stanford to face the Cardinal in the team's only December road game on Dec. 12.
On Jan. 1, the Ducks ring in the New Year at home against Utah, before traveling to Corvallis the following week as guests of Oregon State on Jan. 8. The first nationally televised conference game for Oregon is on Jan. 13, when the team travels to Los Angeles to face UCLA on ESPN. After the two-game trip to Los Angeles, the Ducks return for a three-game homestand that features the Jan. 29 contest versus Oregon State on ESPN2.
Both Los Angeles schools visit Eugene to close out the team's home schedule, with the Feb. 24 UCLA game airing on ESPN, while the Feb. 26 USC contest can be seen on ESPN or ESPN2. Oregon wraps up the season with a two-game trip to the state of Washington, including the season finale against Washington State, which is being showcased nationwide on CBS.
– www.GoDucks.com –
2021-22 Oregon Men's Basketball Schedule
Nov. 9 (Tue.) – TEXAS SOUTHERN
Nov. 12 (Fri.) – SOUTHERN METHODIST
Nov. 16 (Tue.) – vs. BYU (PK Invitational)
Nov. 22 (Mon.) – vs. Chaminade (Maui Invitational)
Nov. 23 (Tue.) – vs. TBD (Maui Invitational)
Nov. 24 (Wed.) – vs. TBD (Maui Invitational)
Nov. 29 (Mon.) – MONTANA
Dec. 1 (Wed.) – UC RIVERSIDE
Dec. 5 (Sun.) – ARIZONA STATE*
Dec. 12 (Sun.) – at Stanford*
Dec. 15 (Wed.) – PORTLAND
Dec. 18 (Sat.) – BAYLOR
Dec. 21 (Tue.) – PEPPERDINE
Dec. 30 (Thu.) – COLORADO*
Jan. 1 (Sat.) – UTAH*
Jan. 8 (Sat.) – at Oregon State*
Jan. 13 (Thu.) – at UCLA*
Jan. 15 (Sat.) – at USC*
Jan. 20 (Thu.) – Washington State*
Jan. 23 (Sun.) – Washington*
Jan. 29 (Sat.) – Oregon State*
Feb. 3 (Thu.) – at Colorado*
Feb. 5 (Sat.) – at Utah*
Feb. 10 (Thu.) – Stanford*
Feb. 12 (Sat.) – California*
Feb. 17 (Thu.) – at Arizona State*
Feb. 19 (Sat.) – at Arizona*
Feb. 24 (Thu.) – UCLA*
Feb. 26 (Sat.) – USC*
Mar. 3 (Thu.) – at Washington*
Mar. 5 (Sat.) – at Washington State*
Mar. 9-12 (Wed. – Sat.) – Pac-12 Tournament
Home games at Matthew Knight Arena are in BOLD CAPS
* Denotes Pac-12 Conference game