Third-down struggles doomed Ducks in blowout loss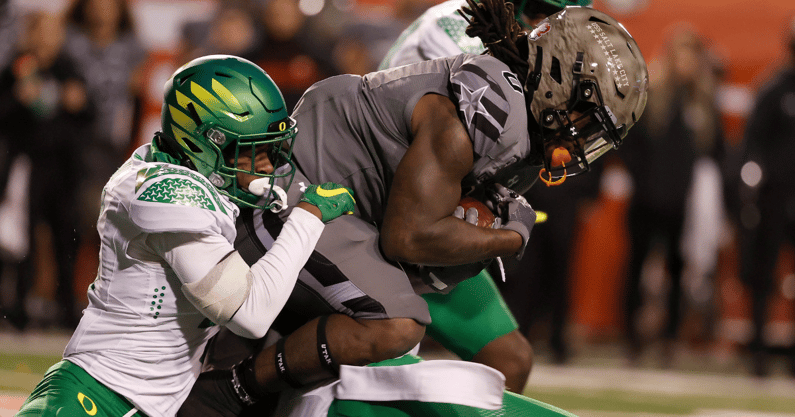 SALT LAKE CITY — Mario Cristobal sat in a cramped media room just beyond the South endzone at Rice-Eccles Stadium late Saturday night and tried to articulate what, exactly, went wrong for his prized defense.
Where do you start?
In the biggest conference game of the season, a typically dominant unit was steamrolled. The Ducks were run off the field by a Utah team that beat them at their own game and bulldozed their way to a 38-7 victory.
"I'm always gonna say that we've gotta coach it better," Cristobal said.
Oregon's head coach chose to fall on the sword. But there were issues all over the field for the Ducks Saturday as they were battered by a rugged Utes' offense.
Oregon has one the stingiest run defenses in the Pac-12 and had been particularly dominant in that area of late. But the Ducks surrendered a season-worst 208 rushing yards on Saturday. They allowed 15 first downs — also a season-worst.
If you're trying to pinpoint the root of the problem in Salt Lake, though, the Ducks were simply terrible in third-down scenarios. On both sides of the ball.
"They sustained drives," Cristobal said. "They were, I believe, 80-percent on third down. Extended a couple of drives with a couple of third-down scrambles."
He was close with his estimation; the Utes converted 78.5 percent of their third downs and went 11-for-14.
The Ducks were labeled as a bend, don't break defense early in the year. But over the past few weeks, they weren't doing much bending. They beat opposing offenses to a pulp.
Oregon held Washington to 3-of-12 on third-down and held a good Washington State offense to 7-for-13 in such scenarios.
On Saturday, though, a Ducks' defense that has been thinned by injuries ran out of gas.
"Offensively, we didn't do a good enough job sustaining drives," Cristobal said. "We didn't give the defense a chance to recover. That combination, not a real good one."
Oregon's offense finished with a season-low 294 yards — its worst output since last season's victory over USC in the Pac-12 title game, when the Ducks accumulated just 243 yards of total offense.
For as good as Utah's offense was on third down, Oregon's was the polar opposite. The Ducks went 6-for-14 on third down and 0-for-2 on fourth down.
Throughout the evening, Oregon's defense became visibly exhausted. Verone McKinley III, Mase Funa, and Mykael Wright all suffered injuries during the game.
"We didn't have gap discipline as a front-seven, as a whole team," Oregon defensive end Brandon Drolus said. "Everybody wasn't doing their job — me, I wasn't doing my job.
"We've gotta watch some film. I've gotta see what I can improve on so this doesn't happen again."
In the instances that Oregon's offense did find success early in its drives, the defense still wasn't given much of a breather. The Ducks moved the ball into Utah territory three times in the first half and reached the red zone twice, but did not put a single point on the board.
One of those red-zone trips resulted in a blocked field goal, and another ended with a missed field goal.
"It's tough because that's a whole momentum shift," Dorlus said. "We allowed the crowd to get into the game. That was tough — after that blocked field goal, everything went downhill."
It doesn't get any easier for the Ducks moving forward. Oregon State will watch Saturday's film and have every reason to believe it can replicate Utah's offensive gameplan.
The Beavers have the most productive rushing attack in the Pac-12 and average 229.5 yards per game on the ground. They also have a talented, veteran-filled offensive line that would love nothing more than to turn next weekend's rivalry game into a backyard brawl.
"A lot of our goals — most of our goals — are still ahead of us," Cristobal said. "We've gotta get ready for them quickly by going back to work. They're not going to fix themselves."