Watch: Matt Powledge discusses progress of Oregon Ducks' secondary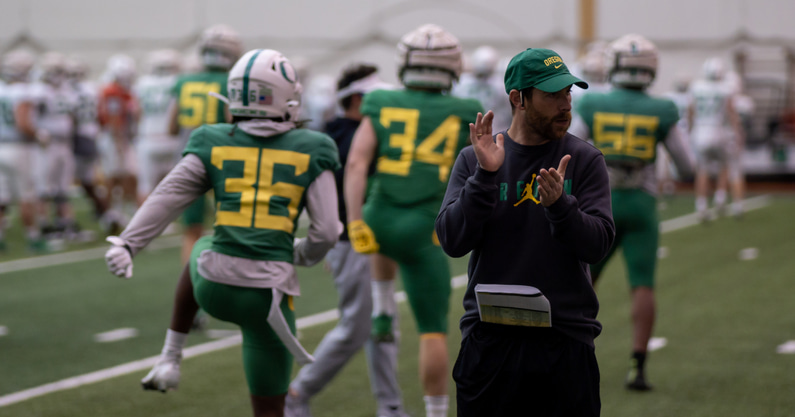 The ongoing battles within the Oregon secondary have created some of the more intriguing storylines during the Ducks' 2022 fall camp.
As the program looks for new starters at boundary cornerback, boundary safety, and field cornerback, there is no shortage of candidates ready to step up. Christian Gonzalez, Bryan Addison, Trikweze Bridges, Steve Stephens IV, and a handful of others are in the mix for starting jobs.
According to Oregon co-defensive coordinator and safeties coach Matt Powledge, the versatility of some of the Ducks' top defensive backs will be a major asset in 2022. Powledge was asked specifically about the versatility of Bridges, who got significant playing time at cornerback last season and now is competing for snaps at safety, too.
His answer provided some insight into how Oregon plans to get the best out of its deep, versatile group of corners and safeties.
"(Bridges) has got positional versatility, without a doubt," Powledge said. "I think anytime you have a guy like him — and there are multiple guys just in the back end in general — that have that type of versatility. They are a little bit bigger bodies. They run just like corners. They have coverage ability.
"So you're really just trying to find the right matchup and trying to play to your personnel. We're not trying to fit a square peg into a round hole. Really just trying to play to our players. (Bridges) has done a great job of learning multiple spots and really just progressing this fall."
Watch Powledge's full interview below.