Penn State Q&A: Juice Scruggs talks move to center, first-year Lions linemen, and more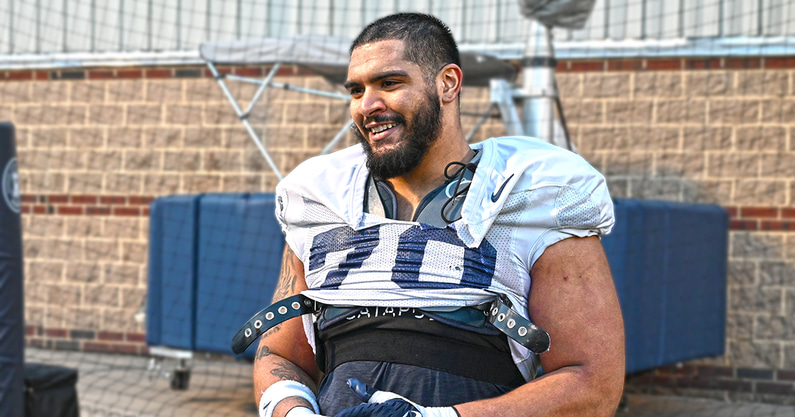 Penn State enters the 2022 season with a new center. It's a job Juice Scruggs has been preparing for since long before he ended up in State College.
The Erie, Pa., native was ranked as a four-star recruit in the On3 Consensus player rankings for the Class of 2018. He was recruited as a center and is now ready to play there after starting last fall at guard. However, ever since he showed up on the Lasch Building practice fields, he has worked to perfect his craft as both a snapper and leader of the offensive line.
"When I first got here, my snaps were over heads and all over the place," Scruggs said. "It really just was reps, just consistent reps every day, after practice.
"Coach Franklin makes us do fifty live reps every day with the quarterbacks. That just really, after doing that every day, it just started to improve. At the end of my freshman year is when my snaps just became second nature."
Scruggs did not immediately move to that spot, of course. He waited behind Mike Miranda a season ago. But, this was always the Penn State plan.
"Wherever coach wants me to go, that's what I'm going to play," Scruggs said. "And that's where he wants me to play right now, and that's what he thinks is best for the team. So, that's where I'm at right now."
We caught up with Scruggs on a few other topics. He's the feature of this week's Q&A.
On backup center Nick Dawkins
"He came in, and his stats were a little off," Scruggs said. "But since then, he's been the dude. I tell him every day, that's the GOAT man. That's who I look up to. He gets me better every day, and we get each other better every day.
"Nick Dawkins has been improving since the day he got here."
Scruggs talks battling Penn State guards
Here is what he had to say on the three players fighting for two starting jobs:
On Sal Wormley and Hunter Nourzad:
"[Sal] showed me this the whole time he's been here, but unfortunately he got hurt last year. So, you guys didn't get to see him, but he's just doing what he was doing last year: Being aggressive in the pass game and really coming off the ball in a run game.
"And Hunter just came in, and he's been ready to work. He put his head down and done that, and he's getting better every day. And those two guys I think are gonna be big for us."
On Landon Tengwall, Scruggs said:
"Landon's 19 [years old] and is humongous. Like, he's made in an o-line factory. He's just getting better every day and improving. He still has little things to work on. But, we all do. We're never settling, and we're always trying to improve and get better. And he's getting better every day."
How are two first-year Lions linemen fitting in?
Coaches and players have raved about first-year Penn State lineman Vega Ioane and Drew Shelton this summer. How have they stood out so far?
"They both came out and made a good impression on coaches," Scruggs said. "Me, personally, I seen it this summer working with them, that they were going to come out do good things. But yeah, they just came in ready to work with a great mindset, focus, and the sky's the limit for them. Future's bright.
"Drew, he's smart. He picks up quick. He learns fast. And with Vega, Vega's just a monster. A freshman coming in that big, that size; he's going to be great. He just has to get his technique down and be polished."
Penn State focus is better in 2022, Scruggs said
Asked about what's different this year compared to last during camp, Scruggs had this to say:
"One of the things that impressed me is the team in general, how we've just been coming out with the intensity and the focus. I think our focus is way better than last year at this time, and we're coming out with attention and really paying attention to the details.
"Really, I'd just say we're more motivated. You're always motivated going into the new year. But this year, I just feel like we got that chip on our shoulder. And, we're coming out with a sense of urgency, and everybody's on the same page."